20 January 2021, 16:52
Mobile concrete mixing plant kick-starts Ventur precast plant
SBM Mineral Processing and Ventur Group have a lot in common: a long-standing company tradition, highest demands on quality, sustainability and efficiency, technical sophistication, and the passion to offer perfect solutions to their clients. Precisely in this sense the Austrian market leader for concrete mixing plants equipped a EUROMIX® 3300 SPACE SM 84 L with a mixing plant to produce UHPC especially for Ventur, the German specialist for post-tensioned precast concrete construction, and managed to convince a new client.
With more than 80 years of experience from producing precast parts the Ventur Group focuses on future industries such as environmental technology and wind energy. The product range covers various serial products made of precast concrete parts, high-tech facades, and large prestressed concrete tanks. Since 2010, the focus is on production and assembly of concrete hybrid towers for wind power plants with an in-house developed construction system: high-tapered wall elements are cast in open formworks and then securely interlocked in a building block principle.
The successful company group has now upgraded its business location in Siegen with the highly advanced concrete mixing technology supplied by SBM. A supermobile plant EUROMIX® 3300 SPACE was delivered in May 2020 and put into operation only two weeks later despite of the Corona pandemic. The new concrete mixing plant to produce special ultra high performance concretes especially for innovative wind turbine towers constructed in post-tensioned precast climbing construction is installed upstream of the precast plant.
UHPC from the high-performance mixing plant
To meet the specific demands of Ventur, EUROMIX® 3300 SPACE was equipped with a 3.33 m³ twin shaft mixer of the company BHS Sonthofen with double mixing tools to produce special concretes such as HPC (high performance concrete) and UHPC (ultra high performance concrete).
Production speed and capacity for HPC/UHPC could be significantly increased thanks to the SBM plant EUROMIX® which was especially configurated for this client
The mixer and all aggregate chambers are equipped with sensors to measure the moisture. The temperatures of all ingredients (sand, gravel, cement, water) are measured by temperature probes; the concrete temperature is regulated by a Sauter control. An integrated high-pressure cleaning system ensures cleaning of the mixer.
As a second expansion the plant delivered to Westphalia for Ventur can be provided with a bucket conveyor to transport the fresh concrete from the mixer discharge hopper to the place where the fresh concrete is processed to prefabricated parts. The sophisticated technology, the profitable operation, and the excellent performance ensured by the EUROMIX® plant can even now be seen at Ventur every day.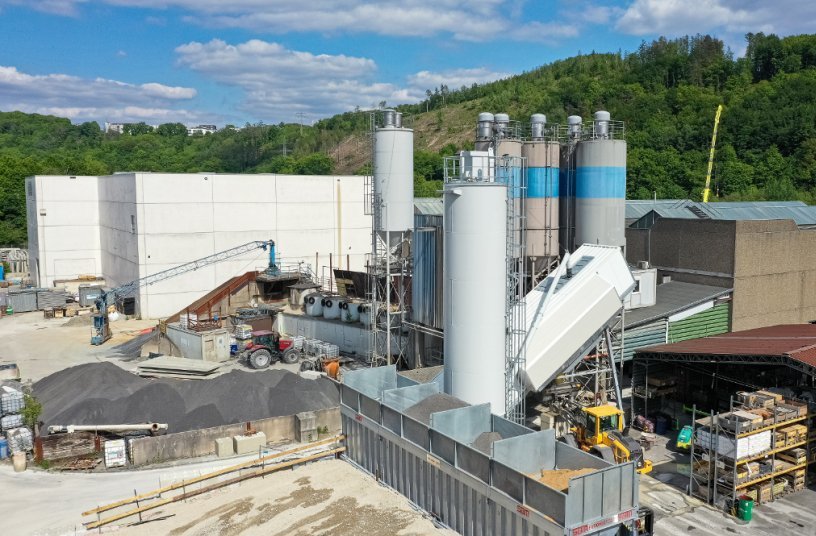 "Due to SBM's mobile plant system we were able to fully replace an already existing old mixing plant and to bring it right up to date in a very short time. The fully-fledged equipment of the plant allows us to use it independently from the already existing infrastructure," explains Christian Drössler, Managing Director of Benno Drössler GmbH (Ventur Group).
Supermobile space miracle
In the industry, the series EUROMIX® made by SBM is well-known for high-performance and reliable concrete mixing plants made of premium-quality components. The name "SPACE" stands for modern design as well as a substantial increase in space due to the sophisticated engineering concept which was optimised to facilitate easy operation and simple maintenance. Both the hopper and the mixing plant are designed as supermobile units, and due to their supports, they can be placed on practically every site accessible to lorries. As usual at SBM, the modular concept allows for customised adaptations and expansions at any time.
Source: SBM Mineral Processing GmbH