12 August 2022, 11:00
The world's largest construction trade fair is returning after 3 years! The last edition that took place in 2019 attracted over 3,600 exhibitors and almost 630,000 visitors from 217 countries to Messe München in Bavaria, Germany. The organizers had to postpone the show from its regular April date to October 24-30. Although a few manufacturers stepped away from exhibiting due to safety reasons, we can still expect thousands of showcased products, solutions and machines. Stay tuned to LECTURA for the lastes news about bauma 2022 trade fair!
Check out all the innovations in the following summary and click out to full article on demand.
Komatsu C6.222 – C6.232 / FM.713/1

The Japanese brand is going to present 27 innovations in total. The impressive number of products will be supported by other already launched machines so the total number is 42 products. The visitors will be able to walk around the models at 4,550 m² stand in hall C6. Furthemore, some machines will be available within the demo show area (2,800 m²) and shown in action right outside the main stand.
Read full article about Komatsu at bauma 2022 >>
 
Komatsu PC4000-11 electric drive excavator
Komatsu will showcase its most innovative 400-ton-heavy mining shovel at this year's bauma show. The excavator is equipped with KOMTRAX Plus monitoring system that provides real-time data and status of the machine. Moreover, the machine offers Argus PLM, a Payload Meter that constantly measures and identifies the bucket payload thus enabling the operator to see the exact bucket fill and enhancing the workflow. The standard bucket capacity is 22 m³ and the engines are rated at 1400 kW / 1875 HP.
Read full article about PC4000-11 >>
 
Komatsu PC88MR-11 Midi Excavator
The Japanese OEM will present the successor of the PC88MR-10 model at bauma 2022. The PC88MR-11 weighs up to 9 tonnes and mixes the advantages of a powerful EU Stage V engine (50.7 kW / 68hp) and low fuel consumption (6% in average). The midi excavator also features a redesigned blade for better dozing performance or upgraded ergonomic elements. The PC88MR-11 offers an increase productivity by 7% compared to its predecessor.
Read full article about PC88MR-11 >>
Hitachi FN.718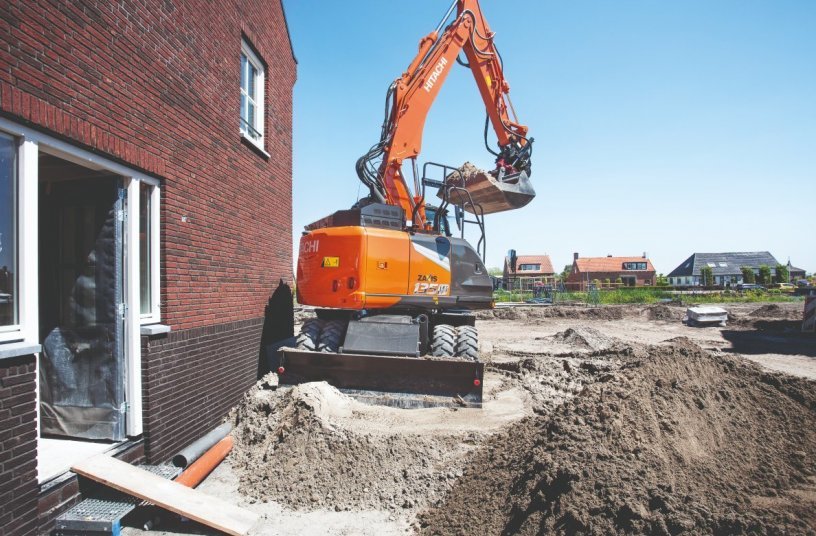 Hitachi is going to present various novelties for the earthmoving and demolition industries such as new series of wheel and electric excavators or special purpose machinery for demolition tasks.
 
Hitachi ZX400MC-7 multi-carrier tool crawler excavator
The 40-tonne-class multi-carrier crawler excavator ZX400MC-7. The model is designed for demolition applications and offers front reach of 21 or 24 meters. The Tool Quick Connect technology ensures that the operator can easily switch the desired attachment and therefore boosts the overall performance.
Read full article about ZX400MC-7 >>
 
Hitachi ZX210LC-7 crawler excavator with 3D machine control solution
Hitachi will also demonstrate the expansion of its connected machinery portfolio by presenting ZX210LC-7 crawler excavator with factory-fitted 3D machine control solution by Leica Geosystems. The software solution should enhance the machinery uptime and boost the productivity when simplifying the machine control.
Read full article about ZX210LC-7 with Leica Geosystems solution >>
 
Hitachi ZX135W-7 wheeled excavator
New ZX135W-7 wheeled excavator offers 360-degree swing radius and therefore suits confined areas. The excavator is powered by 105 kW / 140 hp rated engine and weighs approximately 15 tonnes. The suitable buckets range from 0.19 to 0.66 m³.
Read full article about ZX135W-7 >>
Doka FN.421 – FN.423
Doka is going to fulfil its motto "DOKA CONNECTS" and present new scaffolding and formwork advancements. The visitors will be able to catch a glimpse of 45 exhibits in total and watch 110 live shows. In addition to formwork and scaffolding innovations, Doka will also display new products focused on digitalization and sustainability.
Ringlock DiBt-certified scaffold will debut at bauma 2022. The 30-meter-high structure was manufactured under AT-PAC brand.
Doka will also showcase new floor formwork systems that are versatile and thus suitable for construction sites of various sizes.
The Austrian brand will display the upgraded version of Framax Xlife Plus framed formwork in a 3-meter-high configuration. Moreover, the Doka Xlight aluminium framed formwork will be available at the stand.
The visitors can also walk around the UniKit system – a new universal engineering kit. Doka will show the structure consisting of many innovative components including the tower 480.
Within the field of digitalization, Doka has developed the Easy Formwork Planner – a mobile app that simplifies planning formwork processes.
Read full article about Doka at bauma 2022 >>
Ruthmann FS.1006/4
Ruthmann will present the new STEIGER® T 300 XS with hybrid drive for the first time. The latest development of the BLUELIFT tracked access platforms, ST 31, as well as the SA 18 will also be on site as hybrid versions. The 3.5 t truck mounted platform TBR 260 and the compact 70 m platform T 700 HF round off the programme. Visitors can look forward to a new introduction in the ECOLINE series. There will also be digital innovations such as the Ruthmann Technology Connect (RTC).
Read full article about Ruthmann at bauma 2022 (DE) >>
Versalift FS.1006/4
At this year's bauma Versalift are delighted to be showcasing a range of our market leading products, including the new VTX-240 G3 - with an impressive 24 m working height and 12.5 m outreach roof-top maintenance is made easy with the up and over capability. There will also be digital innovations from Versalift.
Read full article about Versalift at bauma 2022 (DE) >>
France Elévateur FS.1004/7
This year France Elévateur and Movex will be present in the same booth and will exhibit their most recent models.In exclusivity, France Elévateur will introduce the first model of its new range. Between innovation and research & development this range will surprise you! Stay tuned!
The TOPY, our mythical AWP which has been updated, will also be showed in its Topy Hybrid version. This model which is already appreciated for its ruggedness, reliability and attractive price comes now with even more benefits. Created in 1998 TOPY is back with optimizations using state of the art technology.
From Movex the new ATL 15 on Ford Ranger 4x4 will be for the first time at the bauma together with other brand such as the TLR 16, which is the universal tool for many types of activities. The use of proven technology makes it simple and reliable.
FE Training, i.e. our training center, will also take part to introduce all our training courses in the field of work at height.
Read full article about France Elévateur at bauma 2022 (DE) >>
HIMOINSA A5.149
The spanish manufacturer will be showcasing its series of Stage V generator sets that are suitable for use with HVO biofuel.  Moreover, HIMOINSA will display powerful HBOX+ lighting towers that are equipped with two-cylinder Yanmar engines. Last but not least, visitors will be able to examine recently introduced EHR | Battery Power Generator that features HICORE System, a smart management technology designed by HIMOINSA.
Read full article about HIMOINSA at bauma 2022 >>
Sinoboom FS.1002/3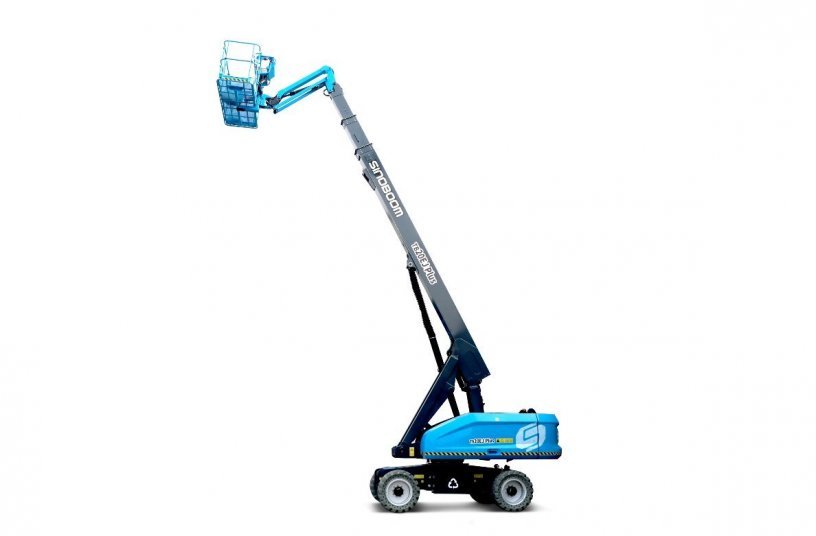 The Chinese manufacturer will present series of new MEWP models including articulating boom lifts (450 kg lifting capacity), Plus series telescopic boom lifts, rough-terrain scissor lifts or vertical mast lifts.
Read full article about Sinoboom at bauma 2022 >>
Sinoboom will showcase the TB20EJ Plus telescopic boom lift for the first time. The TB20EJ offers working height of 22 metres and loading capacity of 330 kg/454 kg. The electric boom lift with 4WD is designed for applications within urban areas.
Read full article about TB20EJ Plus >>
The vertical mast lift segment is going to be represented by Sinoboom's flagship model, the ML10EJ. This mast lift offers working height of 10.3 m, loading capacity of 200 kg and horizontal reach of 3.3 m. The ML10EJ is designed for restricted areas and features zero tail swing and minimal turning radius.
Read full article about ML10EJ >>
Chinese company Sinoboom will also display the full range of scissor lift models that range from 4.5 m to 13.8 m platform height and feature standard lifting capacity of 350 kg. All models are equipped with electric engines and designed with focus on flexibility and easy transport. Visitors will be able to observe the following scissor lift models: 0407SE, 0607SE, 0608ME, 0808E, 1212E and 1414E Plus. Moreover, two new rough-terrain scissor lifts will be available at the booth: the 1218RH with hybrid drive and the 1623ER full-electric version.
Read full article about Sinoboom scissor lifts >>
Source: LECTURA Verlag GmbH