10 January 2022, 10:51
Ergonomics, Visibility and Optimization
HARDI updated the self-propelled sprayer ALPHA family with ambitious specifications in terms of better performance, reliability and driving comfort. ALPHA evo III features a fine balance between front and rear and has a low total weight giving an optimal weight/capacity ratio and high performance even under wet field conditions.
ALPHA evo III is standard equipped with cat 4 cabin and offers an excellent peripheral vison. In the 2021 update the focus was on a new design bonnet and a better lighting.
The pneumatic FloatRide suspension is optimized in that way, that the distance between the axle and the linkage to the frame has been extended (440 mm) in order to improve the comfort and the suspension efficiency.
The changed design includes a new bonnet, new LED lights and changed grey rims.
The fluid system is protected behind a complete cover and the TurboFiller is now hydraulically operated, protected by casing and integrated in the machine dimensions (width & clearance)
Hydraulic track width adjustment
The mecanism is now based on cylinders with embedded linear sensors for position detection this gives an accurate track width

The in cab management is now integrated as an ISOBUS app in the HC display

Possibility to set a different width for front and rear axle
The ALPHA is available with 4200 and 5100 l tank size and 24 to 39 m booms.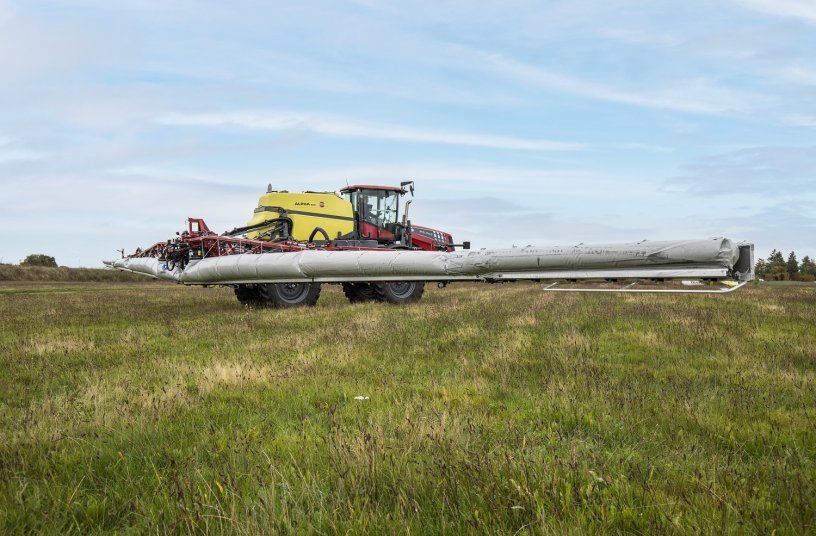 Source: HARDI INTERNATIONAL A/S