Kramer: industry news, company information, media
Kramer-Werke GmbH from Pfullendorf belongs to Wacker Neuson SE with its headquarters in Munich. The globally active group of companies is characterised by innovative products in the areas of construction equipment and compact construction machines. Kramer-Werke GmbH is a medium-sized manufacturing company that places high value on its own research and development. Compact wheel loaders, tele wheel loaders and tele handlers are sold under the brand name Kramer in the construction industry, agriculture, horticulture and landscaping, municipalities, rental parks and recycling companies. All products of the Kramer brand are characterised by advanced technology and the highest quality.
Product overview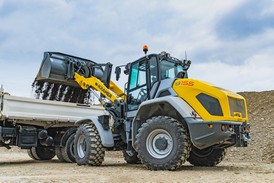 Construction industry
The wheel loaders of the 8 series are truly multi-talented and particularly convincing in the construction industry segment due to their flexibility, economy and high machine utilisation. They also offer more comfort, ergonomics and functionality. Especially when working on inner-city construction sites, the Kramer models, which automatically switch off after a certain period of inactivity, impress with their sustainability and resource conservation. In addition to these applications, the 8 Series models are also predestined for transporting materials on large construction sites as well as for loading and unloading heavy transport chains and carriers.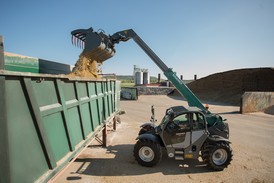 Agriculture
The telescopic handlers are characterised by their constant technical development, newest features and powerful engines with exhaust emission level V. The wide range of products is completed by increased comfort, work facilitated by driver assistance systems, a wide variety of options and an attractive selection of attachments that allow flexible use. In addition, the models from the KT306 to KT559 can score with a fourth steering mode as standard equipment, the "flexible crab steering". In this mode, the rear axle is locked, but the front axle remains freely steerable - a clear gain in flexibility, e.g. when compacting the silo, driving parallel along a wall when mucking out or even when maintaining the hedges. Kramer now also offers various options for optimum all-round visibility. The new Kramer models of exhaust emission level V are therefore versatile and powerful machines for the highest demands in agriculture.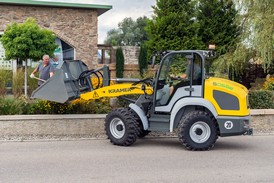 Horticulture and landscaping
The wheel loaders of the 5-series models are compact and manoeuvrable wheel loaders. With their dimensions, they are predestined for low clearance heights and tight passages, therefore an indispensable companion for the horticulture and landscaping industry. The three types of steering also provide a plus in terms of flexibility. The all-wheel steering in the series continues to favour maximum manoeuvrability and fast loading cycles in the tightest of spaces. These useful and flexible properties make it easy to maintain limited areas such as parks. Ergonomically arranged controls also ensure safe handling of the machine - for both professional and occasional drivers.
Industry and recycling
The wheel and telescopic wheel loaders of the premium 8 series are truly multi-talented and therefore perfectly suited for use in industry and recycling. Six wheel loaders (8085, 8095, 8105, 8115, 8155, 8180) as well as three telescopic wheel loaders (8085T, 8095T, 8145T) ensure that the customer finds the right machine for his requirements. Whether pushing, sweeping or milling, the Kramer wheel loader and telescopic wheel loader can replace several units and impress with high efficiency and machine utilization. The 8-series offers more comfort, ergonomics and functionality. In addition, the machines achieve an immense increase in overloading height, stacking height, dumping height and reach due to their telescopic loading system.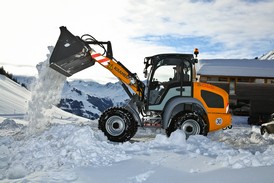 Municipalities and local authorities
Thanks to the wide range of attachments availability, Kramer machines have become true all-rounders in local authorities. Whether it's removing snow, loading salt stores, filling gritting vehicles, sweeping roads or climbing high with a work platform - Kramer models are impressive with their full flexibility. The compact dimensions of the smaller machines also make them ideal for working in underground car parks and buildings as well as for easy movement on the pavement. The 5055e, an electric wheel loader which is compact, cost-efficient and, above all, emission-free, offers an optimal solution for noise and soot particles in the wide range of the Kramer series while maintaining the same advantageous performance parameters.
Contact
Kramer-Werke GmbH
Wacker Neuson Straße 1
88630 Pfullendorf
Germany
info@kramer.de
Tel.: 0080090209020
Fax: +49 (0) 7552 9288-234
Impressions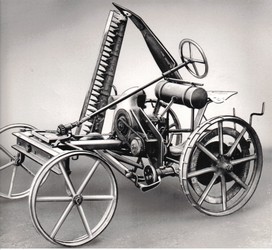 1925 // The Kramer brothers found the company in Gutmadingen. It quickly developed into a leading manufacturer of tractors. Over 100,000 machines were sold to the agricultural sector. 1925 also brought the first small tractor with petrol engine and 4 PS engine power to completion and was presented to the specialist circles during the christmas weeks.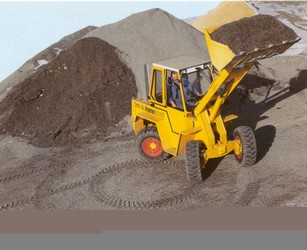 1987 // The Kramer 312 SL is the first wheel loader to go into series production with all-wheel steering. It was the best-selling wheel loader of its time, with more than 10,000 units sold in total.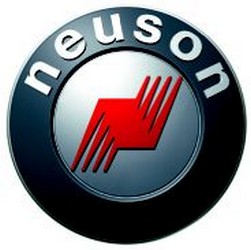 2000 // Kramer merged with the austrian company Neuson Baumaschinen GmbH and Neuson Kramer Baumaschinen AG was formed with headquarter in Linz.

2007 // Neuson Kramer Baumaschinen AG and Wacker Construction Equipment AG signed the contracts for the alliance. The new company is now called Wacker Neuson SE.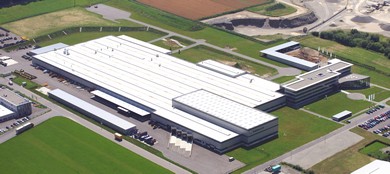 2008 // Due to increasing demand for compact wheel loaders and telescopic handlers from Kramer, the company moves from Überlingen to Pfullendorf after a one-year construction phase.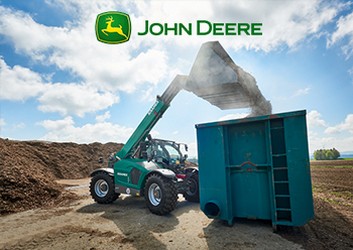 2017 // On July 6, 2017, Kramer-Werke GmbH and John Deere GmbH & Co. KG, a member of the Deere & Company Group, USA, announced that they have entered into a strategic alliance for the sale of telescopic handlers and wheel loaders under the Kramer brand for the agricultural sector.