14 January 2022, 13:58
Ballast Nedam and its subsidiary Heddes Bouw & Ontwikkeling have added two Potain MDT 319 tower cranes to their rental fleet to help construct student halls of residence at the Leiden Bio Science Park in the Netherlands.

The MDT CCS topless cranes provided the Dutch construction and engineering company with the flexible configurations needed to meet the complex challenges of the job.

A Potain customer for more than 30 years, Ballast Nedam's previous positive experiences with the brand's quality, reliability and innovative technology gave company leadership the trust and confidence to commission the two MDT 319 cranes.
Through its subsidiary Heddes Bouw & Ontwikkeling, Dutch construction and engineering company Ballast Nedam has deployed two Potain MDT 319 top-slewing cranes to help construct two new student halls of residence at the Leiden Bio Science Park.
The tower cranes were commissioned in September 2021 and will remain on site until June 2022 to lift structural elements for the two new buildings and to transport construction materials.
The buildings will provide approximately 23,000 m2 of living space, including 703 independent student residences, as well as communal areas and facilities, such as study areas, dining rooms, laundry rooms and roof gardens.
"As far as we were concerned, Potain was the only crane brand for the job," said Eric Tukker, who has been the tower crane specialist at Ballast Nedam for more than 25 years. "We have relied on Potain's quality and innovative technology to keep our projects on schedule for more than 30 years and it is the only brand we have invested in so far."
For this job, the cranes had to be located outside the buildings and the most economic choice was for them to be placed on a 6x6 m chassis. The maximum height of the buildings is 43 m, so the lowest crane had to have a minimum height under hook of 54 m – and because the distance between the center of the cranes had to be 52 m, the jib of the highest crane had to be at least 10 m higher. In other words, the height of this crane had to be at least 64 m.
"The 12 t Potain MDT 319 had the perfect specifications for our needs on this project and the trust and confidence Potain has earned from us over the years meant it was a no brainer to add two units with a V63A chassis to our fleet of rental cranes," Tukker said.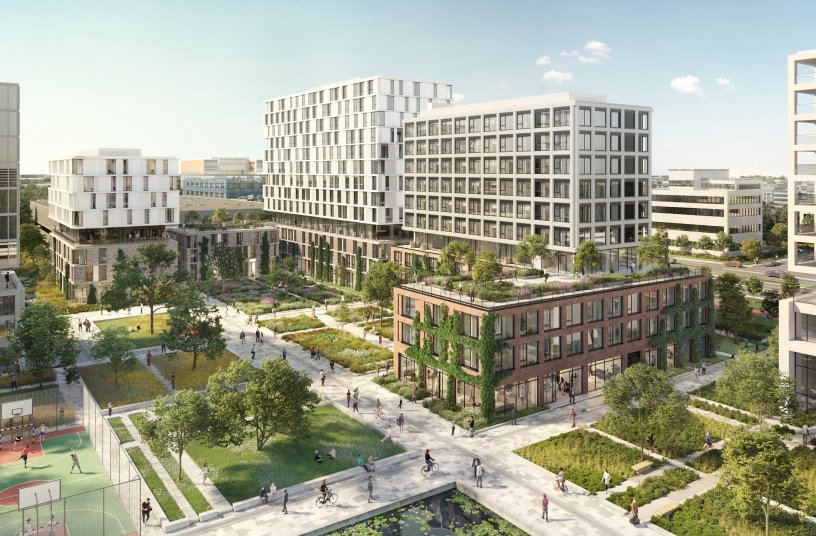 Ultimate flexibility
The Potain MDT CCS (Crane Control System) Topless crane is designed for complex multi-crane installations and makes transport and maintenance both quick and easy. Furthermore, the comfortable and user-friendly operation translates to greater efficiency and productivity – and a better return on investment.
The first of Ballast Nedam's MDT 319 cranes was duly assembled with a 53.9 m hook height, 45 m jib and 84 t of ballast at the base, while the second was configured with a 63.9 m hook height, 60 m jib and 156 t of ballast. On this jobsite, the cranes will lift loads up to 5 t and 3.5 t respectively, including the weight of the rigging equipment (while at this radius the cranes have maximum tip load capacities of 6.4 t and 4.7 t respectively).
"We already have five 16 t MD 365, two 16 t MDT 389 and two 25 t MD 560 cranes from Potain so the two 12 t MDT 319 models are welcome additions to our rental fleet," Tukker said.
Ballast Nedam has been exploring new ways of creating landmarks for a better living environment for more than 140 years. These range from small-scale local projects to large infrastructure works and complex high-rise buildings. The company is headquartered in Nieuwegein in the Netherlands and employs approximately 1,900 people. A subsidiary of Ballast Nedam, Heddes Bouw & Ontwikkeling is an integral builder carrying out all aspects from design to implementation.
Source: Manitowoc Cranes