16 November 2023, 12:04
Hamm's battery-powered electric tandem rollers, HD 10e - HD 12e, have been successfully utilized in Sweden, the Netherlands, and Germany since their debut at Bauma 2022, offering zero local emissions and high compaction power with familiar operation.

The demand for Hamm's zero-emission electric rollers is growing in the DACH region, Central Europe, and Scandinavia, with eight different models available, including some with oscillation drums, matching the compaction power of traditional combustion engine models.

Hamm's electric tandem rollers are designed for energy efficiency, with a 23.4 kWh Li-ion battery providing enough power for a typical workday and rapid charging capabilities allowing for a full recharge in approximately 4 hours.

The electric rollers, particularly those with oscillation drums, provide quiet operation and minimal vibrations, making them suitable for use in noise-sensitive and vibration-sensitive areas like hospitals and historical sites.

Hamm's electric rollers feature zero-maintenance electronic components, including compact synchronous motors for the vibration or oscillation unit, resulting in over double the efficiency, reduced energy demand, and 70% less hydraulic oil volume.

The sustainable design of Hamm's electric rollers includes features like an automatic motor-off function, ECO mode for working speed control, and HAMMTRONIC machine control for monitoring and precision, leading to significant energy savings and resource conservation.

Electric rollers from Hamm offer competitive advantages in European tenders, where low emissions can lead to higher evaluations and a better chance of winning contracts due to environmental points systems favoring electrically driven machinery.
The HD 10e - HD 12e in action in Sweden, the Netherlands and Germany, producing zero local emissions
Since their world première at Bauma 2022, the compact electric rollers have been impressing users on a daily basis in the road-building, gardening and landscaping sectors. Quiet, high compaction power and few changes when it comes to operation – these are the key benefits repeatedly highlighted by customers. Hamm has reached a major sustainability milestone for the compaction industry in the shape of its tandem rollers with battery-powered electric drive. 
HD CompactLine with electric drive in demand in Europe
Customer demand for zero-emission rollers confirms the worldwide shift in thinking towards eco-friendly drive solutions. The Hamm rollers with electric drive are initially available in the DACH region, Central Europe and Scandinavia. The compact models have the same compaction power as their sister models with combustion engines, yet they produce zero local emissions. The electric rollers are operated in almost the exact same way as the diesel-powered models of the HD CompactLine series. There are eight different battery-powered electric tandem rollers to choose from, some with oscillation drums.
Energy for a typical working day
With their battery-powered electric tandem rollers, Hamm has created the best possible solution to the issues of energy efficiency and energy availability. The low-voltage system supplies the energy for operating in ambient temperatures of up to 45 °C. At temperatures below 0 °C, the battery is heated. One Li-ion battery with a capacity of 23.4 kWh provides the energy for the travel, steering, and vibration or oscillation drives via a 48 V system, delivering enough energy for a typical working day. To be ready for use again the next day, the battery can be charged overnight. Charging the battery from 0% to 100% at 400 V using a rapid-charge plug only requires approx. 4 hrs.
Zero local emissions and quiet operation – benefitting people and the environment alike
Four of the electric models from Hamm are equipped with oscillation drums, including two combination rollers. This is where the already quiet oscillation meets the quiet electric drive. The result of this is quiet compaction machines that cause very few vibrations in the surrounding area. They are ideal for compacting in noise-sensitive and vibration-sensitive areas, such as near hospitals or historical buildings.
Cost efficiency with zero-maintenance electronic components
The vibration or oscillation unit is driven by electric via specially designed, compact synchronous motors. As a result, the efficiency rating more than doubles and the energy demand decreases accordingly too. The extensive electrification reduces the hydraulic oil volume by 70%. Furthermore, a large portion of the braking energy is fed back into the system by means of regenerative braking. Across the entire system, there are very few wear parts. Plus, all electric components, such as the battery, electric motors, inverter or DC-DC converter are completely maintenance-free.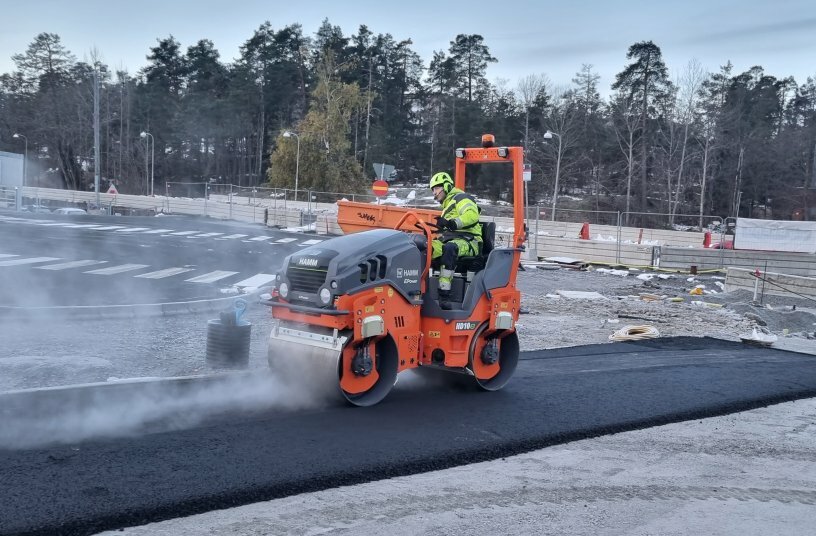 Sustainable overall concept delivers high energy savings
With their electric rollers, Hamm has focused on conserving resources in all aspects. The standard automatic motor-off function preserves precious battery capacity, as does the control of the working speed in ECO mode. No energy is consumed in park position. The steering motor is only activated once the electric driving lever is actuated. The high power is continuously available and peak power can be called upon at any time. The HAMMTRONIC machine control system monitors and controls all components. This means convenience and precision for the operator.
Advantages for tenders in Europe
In some countries, specifications regarding emissions are already an important element of tenders. The lower the emissions, the better the evaluation of construction companies in the awarding process, e.g. via a points system. In some instances, these points systems effectively mean that construction companies only have a chance of being awarded the contract if they use electrically driven machines. With their electric rollers, Hamm provides the right solutions to be taken into consideration during the awarding process.
Source: WIRTGEN GROUP