New Doosan wheel loaders boast improved fuel efficiency, operator comfort, serviceability and remote monitoring
25 April 2017
Doosan has introduced its first Tier 4-compliant wheel loaders — the DL300-5, DL350-5, DL420-5, DL450-5 and DL550-5 — with a horsepower range of 271 hp in the DL300-5 to 379 hp in the DL550-5. Improvements in fuel efficiency, operator comfort, serviceability, reliability and remote monitoring with Doosan Telematics are all features that make the new Doosan wheel loaders stand out from other brands.
Tier 4 solution
The five new Doosan wheel loader models replace the previous interim Tier 4 (iT4) models and are powered by Scania diesel engines. The engines are optimized for use with a high-pressure common-rail (HPCR) fuel delivery system and a cooled exhaust gas recirculation (CEGR) system. They utilize a diesel oxidation catalyst (DOC) to reduce particulate matter (PM) and selective catalyst reduction (SCR) aftertreatment to reduce nitrogen oxides (NOx) — the same technology used to achieve iT4 compliance in this size class. Additionally, the wheel loaders use a variety of aftertreatment systems as part of the Tier 4 compliance, such as diesel exhaust fluid (DEF), which is used with SCR technology and stored in a DEF tank.
Doosan added a mass airflow sensor and exhaust brake to its existing diesel technologies to help meet Tier 4 emission standards. The mass airflow sensor allows the electronic control unit (ECU) to improve the management of airflow from the variable geometry turbocharger (VGT), and to optimize fuel delivery to the combustion chamber based on engine air intake volume and rpm. The VGT is utilized to enhance boost pressure throughout a wide rpm range of the engine, resulting in improved fuel efficiency at lower rpms. This also generates higher torque levels and faster engine response even at low rpm. The exhaust brake helps to maintain consistent engine temperatures at lower engine speeds to improve operating efficiency. Consistent engine temperatures reduce harmful emission levels in the exhaust when the engine is running at lower rpms. Under normal operation, with high rpms, the exhaust brake is inactive.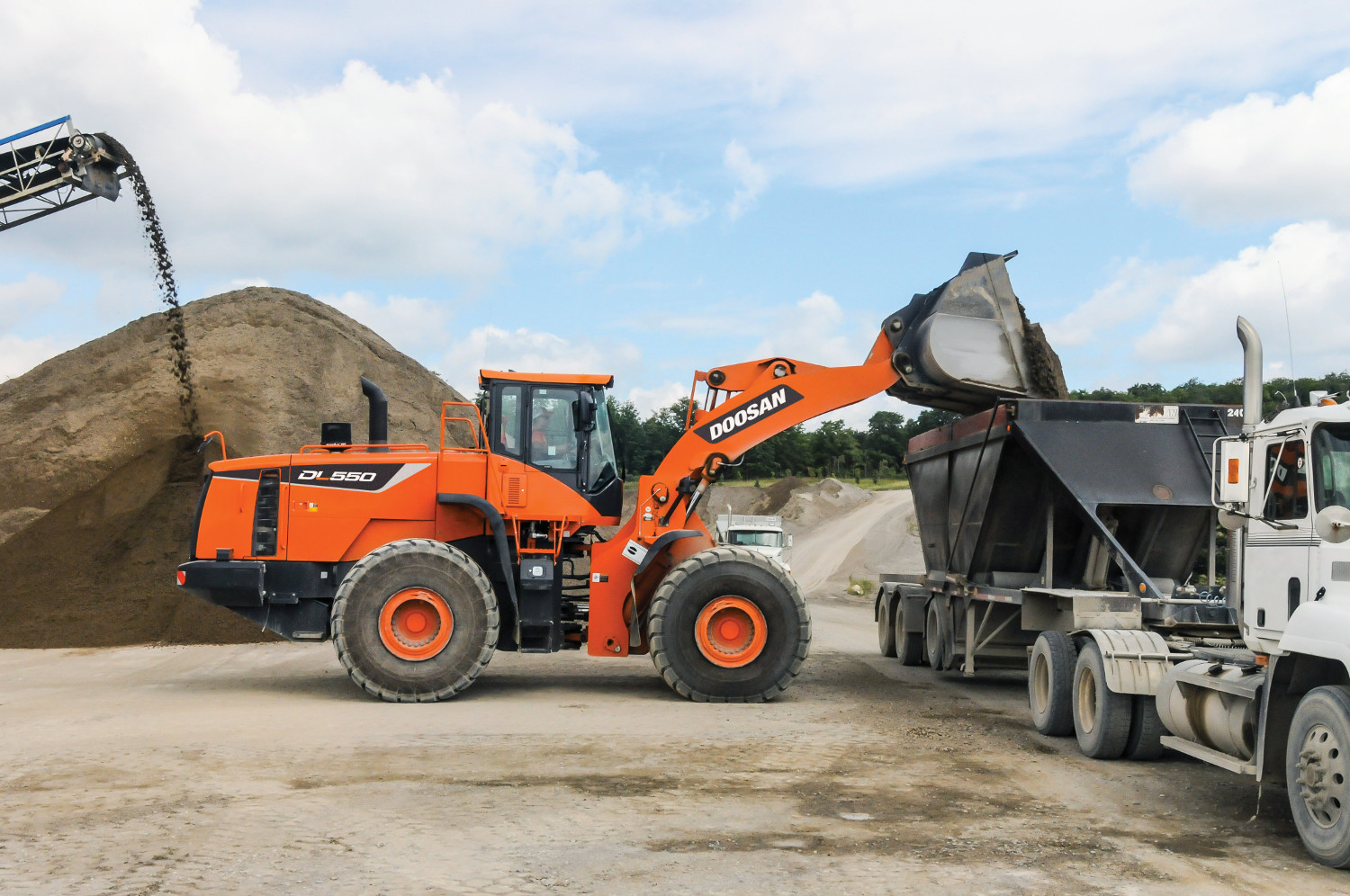 New wheel loader features
New Doosan wheel loaders feature cab enhancements including an improved adjustable steering column to provide more leg room, ease of operation and more floor space. Also inside the cab, a new fuel consumption gauge informs operators how much fuel the machine is using in real time. Updates to the keypad on the dashboard make it easier for operators to review, adjust settings and to clean and maintain it. Overall, visibility within the cab and around the machine has been improved too.
All five new Doosan wheel loaders have an auto-shutdown system to help reduce fuel consumption when the machine is sitting idle. Operators can configure the idle time from 3 to 60 minutes. When enabled, the feature will shut down the wheel loader's engine when the preset idle time is met. This is particularly helpful in California where state regulations require idling for only 5 minutes for off-highway machines. Rear LED lamps provide better visibility, especially when working on a jobsite at night. Limited slip differentials are also included and allow the machines to have more traction when working.
Updates to improve serviceability include a new air cleaner with longer replacement intervals. Additional oil sampling ports improve predictive maintenance procedures and various fluid pressures are now viewable via the dash panel, allowing monitoring from the cab. Available as a factory-installed option, an auto-greasing system replaces daily greasing and helps to extend bearing bushing life. The optional auto-greasing system will grease the correct amount and when it's needed to avoid over-greasing and under-greasing, which represents a considerable time savings for fleet owners and rental companies.
For applications in mining and infrastructure market segments, Doosan offers a high-lift configuration for all five new wheel loaders, providing additional dump height. Added dump height is particularly useful for operators who regularly load trucks and need additional lift height to efficiently dump material into the truck.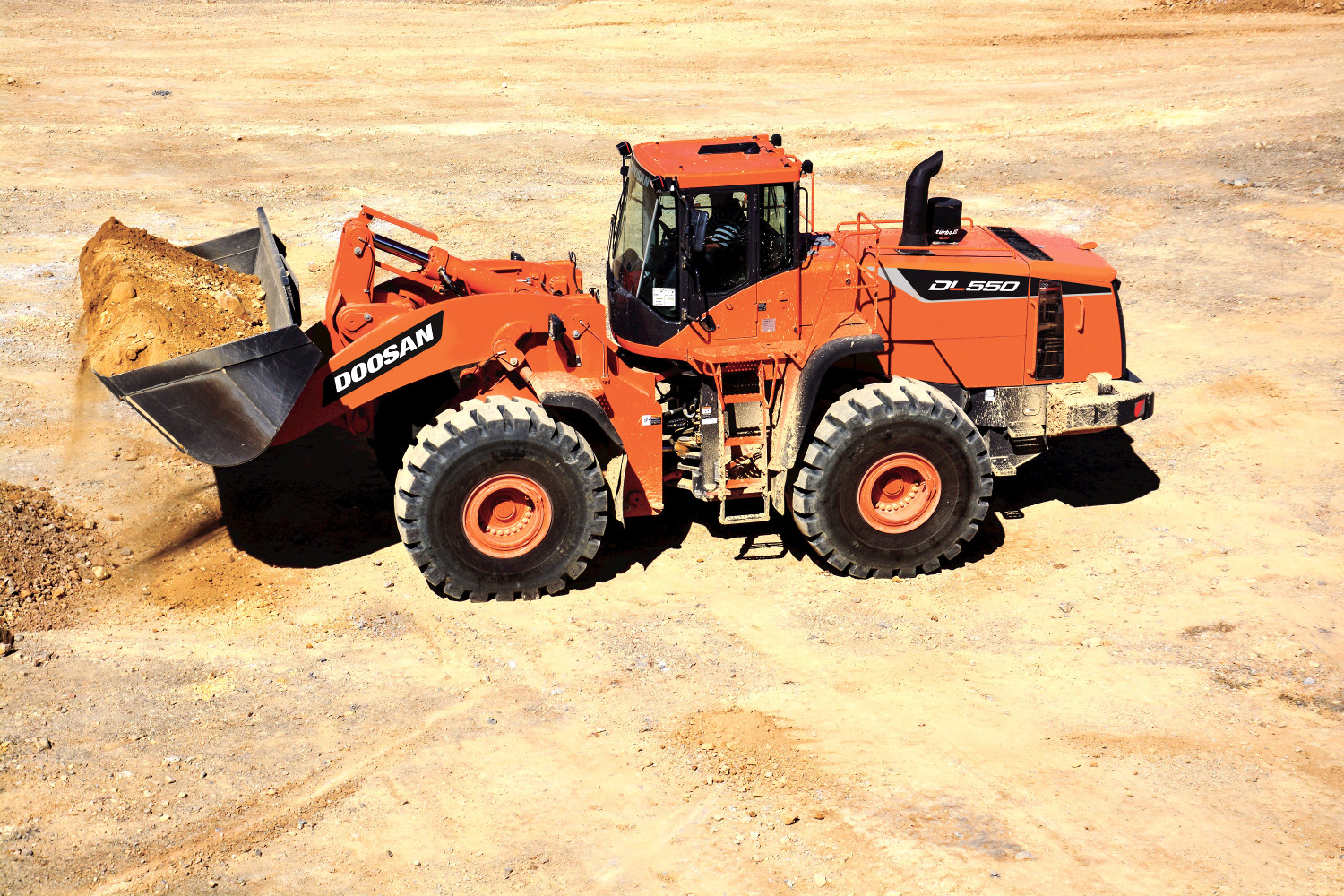 Options for the DL300-5 through DL450-5 wheel loaders include the following:
Hydraulic locking front and conventional rear differential

Axle oil cooler (DL420-5 and larger)

Emergency steer

5-gear with lock-up clutch

Hydraulic load isolation system

Fingertip 3-lever controls

Electric joystick steering

Rotating beacon

Rearview camera

110-volt plug heater
Rubber fender protectors and full fender with rubber protector
The DL550-5 includes all the same options as the DL300-5 through DL450-5, except for the hydraulic locking front and conventional rear differential, which are standard equipment.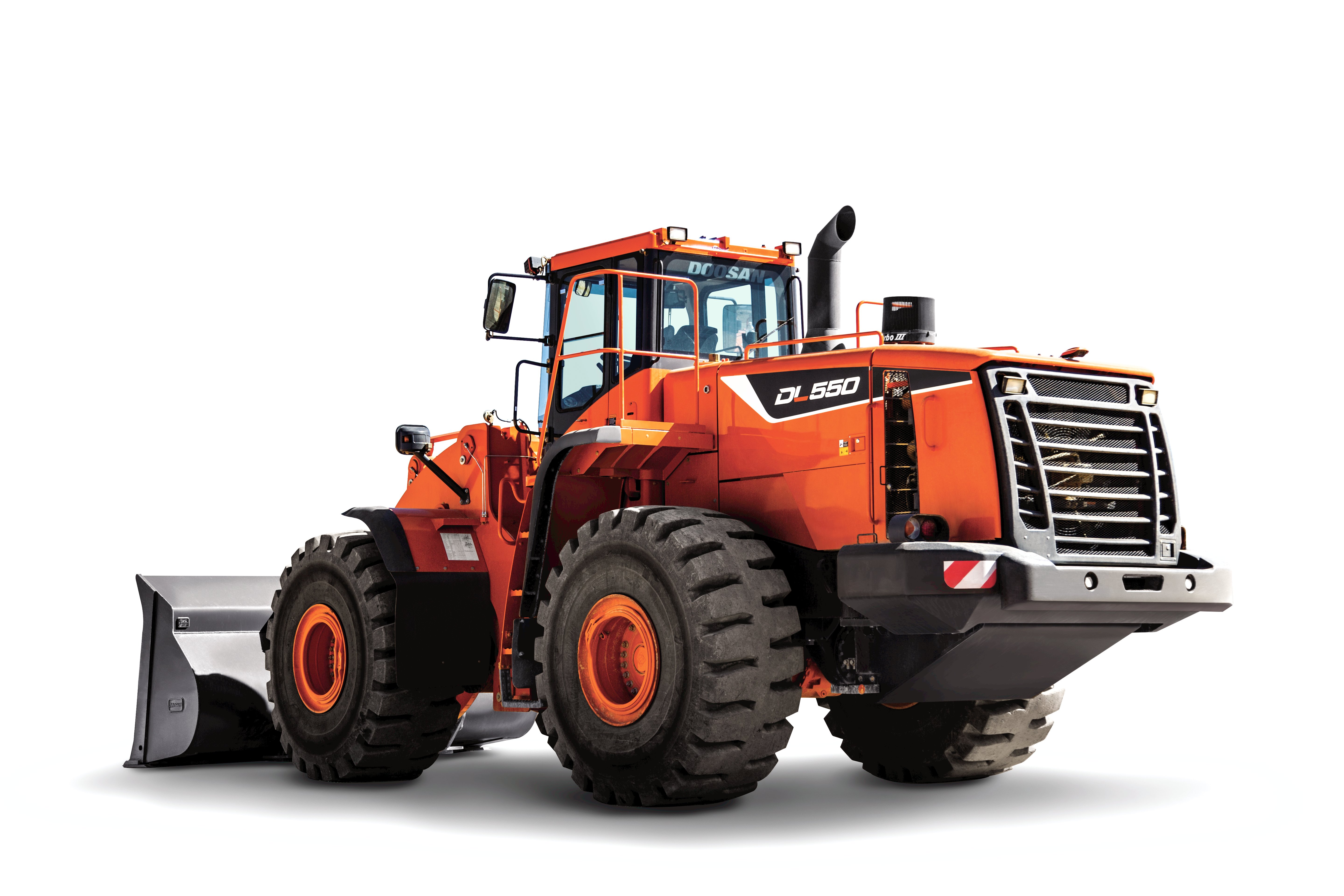 Selectable work modes
The DL300-5 through DL550-5 wheel loaders feature three selectable work modes — Economy, Standard and Power — to better balance fuel consumption and machine power to the working conditions.
Economy mode: reduces fuel consumption for low-demand applications and slows down machine movement for conditions that require extra precision

Standard power mode: balances the wheel loader's fuel consumption for everyday digging, grading and lifting tasks

Power mode: provides superior power and performance for tough digging conditions and truck loading tasks
Doosan Telematics
Doosan wheel loaders come with a standard 3-year subscription to Doosan Telematics, which allows equipment owners and fleet managers to remotely monitor machine location, hours, fuel usage, engine idle versus work time, error codes and engine as well as hydraulic temperatures. Machines can be monitored via an online Doosan Telematics account. In addition, Doosan dealers can provide improved customer support using the system by responding to machine warning messages and alerts, by troubleshooting machine issues, and then sending a field service vehicle to help with repairs and the proper parts.