13 November 2023, 08:52
New Holland showcases its latest Precision Land Management (PLM) solutions in the 'New Holland Technology' area at Agritechnica, focusing on digitalization and automation in farming.

The IntelliView™ 12 Guidance Kit, an aftermarket installation for enhanced precision and connectivity, will be available from February 2024 for most IntelliSteer-ready New Holland standard tractor models produced since 2018.

New Holland introduces the IntelliCentre for remote diagnosis and proactive support of connected machines, enhancing dealer-customer communication and maximizing uptime.

Launch of MyPLM Connect EasyLink, a connectivity device enabling a broad range of machines, including competitive and construction machinery, to connect to the IntelliCentre for monitoring.

Upgrades to the Raven Industries portfolio include new display generations, CR7+ and CR12+, and the Raven DirecSteer™ electric steering motor, with a free display upgrade offer for existing customers.

New Holland announces new digital partnerships to expand data exchange capabilities on the MyPLM Connect digital platform, with direct data connections to various Farm Management Information Systems (FMIS) and data management services.

The company continues to develop in-house Precision Farming solutions and expand its portfolio, with more details on partnerships and integrations to be disclosed in the coming months.

Exhibition stand will host a 'New Holland Technology' area with the latest Precision Land Management (PLM) solutions

New IntelliView™ 12 Guidance Kit shown to reinforce New Holland's commitment to simple, effective technology that meets the diverse needs of customers

Upgraded Raven Industries portfolio including new GNSS receivers and display generations

IntelliCentre for remote diagnosis of connected machines, proactive analysis and preventive uptime support via seamless machine-dealer communication

New digital partnerships to be introduced to further strengthen productivity and data exchange possibilities of New Holland MyPLM Connect digital platform 
New Holland continues the expansion of its Precision Farming portfolio and development of in-house solutions at Agritechnica 2023, showing the next milestones in its strategy to deliver Precision Farming solutions that meet customers' varying operational demands.
To underline the focus on digitalization and automation, a dedicated 'New Holland Technology area' on the stand will display the latest Precision Land Management (PLM) solutions. Visitors can experience the advantages of connected machines and data collection in farming and how connected equipment can help boost productivity and efficiency. The area follows the full path of farm digitalization, from data gathering and analytics to data-based decision making and its in-field applications.
New Holland IntelliView™ 12 Guidance Kit
A key launch at Agritechnica is the brand-new IntelliView™ 12 Guidance Kit, an aftermarket installation designed to enhance fundamental precision and connectivity features. Tailor made for New Holland customers seeking to elevate their existing machines' performance, it will be available from February 2024. The new IntelliView™ 12 Guidance Kit will bring a single user interface, look and feel to both factory-fit and retrofitted vehicles, simplifying and improving the user and dealer experience across the fleet and making it easy to install and support. This retrofit kit will comprise the IntelliView 12 Display, the PLM Cygnus Receiver, and the PCM Connectivity Module, as established on the latest PLM Intelligence tractor platforms. It can be installed on most IntelliSteer-ready New Holland standard tractor models produced since 2018, enabling customers to benefit from the latest New Holland user experience even on older machines, and therefore throughout their whole fleet. It also offers advanced cloud services, enabling comprehensive precision agriculture management. With a five-year subscription to MyPLM™ Connect as standard with the kit, customers gain access to a suite of connected solutions, to enhance productivity, efficiency and data-driven decision-making.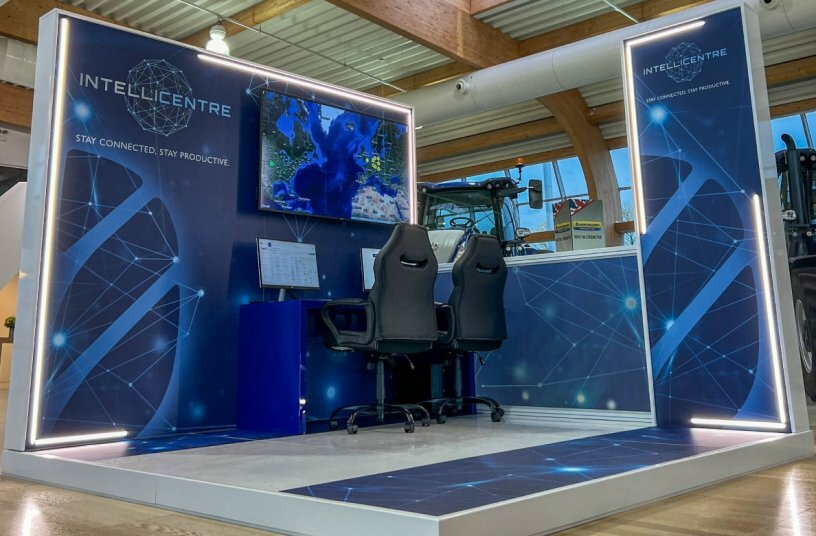 MyPLM Connect EasyLink: a connectivity module to link machines to the New Holland IntelliCentre
The New Holland Technology area will also give customers a sneak peek into the new IntelliCentre, the digital center of intelligence that allows New Holland customers to make the most of all the advantages that modern connectivity provides. In a digital world where agriculture moves fast, New Holland aims to provide customers with the most intuitive solutions complete work easily with fully-connected machines. The IntelliCentre allows dealers to be in real-time contact with all connected machines, identifying potential issues in advance and maximizing uptime in case of breakdown.
Diagnostics can be performed remotely, technicians can reach the field already aware of specific needs and with the right spare parts and tools, and in some cases major wear or consequential damage can even be prevented before occurrence. The IntelliCentre helps move from passive to proactive analysis and from post to preventive uptime support via seamless communication between the machine and the dealer.
In addition, New Holland is launching the new MyPLM Connect EasyLink connectivity device that allows customers to connect their machines easily to the IntelliCentre and check location, machine parameters and performance indicators. This modem can be connected to a wider range of machines, from CAN (Controlled Area Network) to analog ones, covering also competitive machines and construction machinery, even allowing equipped service vans to monitor location and statuses.
Raven Industries portfolio upgrade
With the in-house expertise gained through the acquisition of Raven Industries, New Holland is launching several additions and upgrades to its technology portfolio in 2024. Among them is a new generation of Raven's 7-inch aftermarket display, the CR7+, as well as Raven's 12-inch aftermarket display, the CR12+. The new display generation will offer the best possible hardware capacity, supporting an enhanced user interface offering enhanced user experience. With the same harnessing and connector, the new displays have the same compatibility with steering solutions such as the brand-new Raven DirecSteer™ electric steering motor. New Holland is also offering a display upgrade for existing customers via their local New Holland dealer at no cost.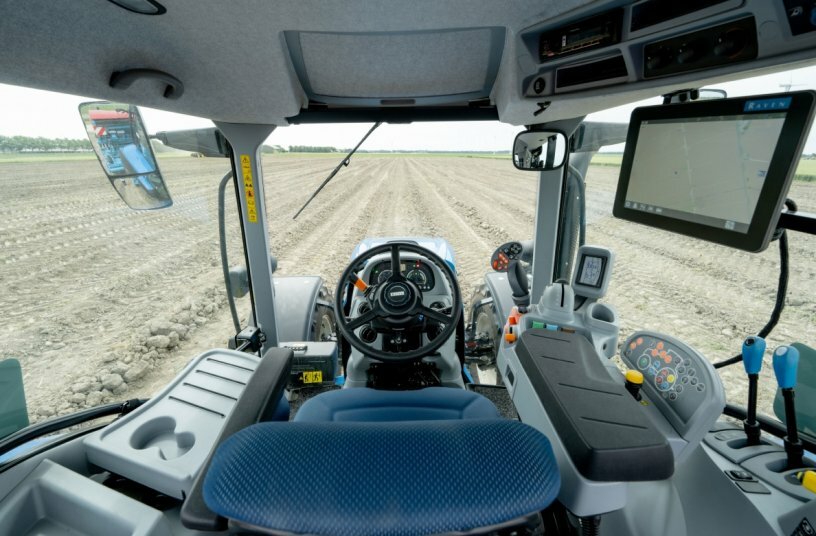 New MyPLM Connect API partnerships
New Holland continues to invest in its open data strategy to ensure seamless data management options for farmers. With 15 European FMIS (Farm Management Information Systems) and data management key players to optimize crop production, the first CNH API convention was held in July 2023 to strengthen existing partnerships and make new ones. An API (Application Programming Interface) allows FMIS providers to establish direct machine and agronomic data flow for customers between their farm management software and the New Holland MyPLM Connect telematics portal. New Holland announces new direct data connections with AGRARMONITOR by betriko GmbH, Auravant, Bennamann Ltd, Cropman, CropManager by SEGES Innovation, Cropwise by Syngenta, FARMDOK, FieldPRO, Frontu, Libra Cart by Agrimatics, MyEasyFarm, N-Time by Sentinel Fertigation, NEXT Farming, Pattern Ag, PCT Agcloud, Stratum by AgWorks, VisibleFarm by AgroVIR, xarvio® Digital Farming Solutions by BASF and xFarm. This process completes the existing partner pool, but more partners are already working on integration. More details will be disclosed in the upcoming months.
Source: New Holland Agriculture