8 April 2021, 16:08
The Zwölferhorn cable car is back in operation. In just seven months it was completely rebuilt. The gondola is one of the most popular excursion destinations around Salzburg, Austria. For the new construction of the mountain station, the PALFINGER crane PK 200002 L SH was requested, the specialist for heavy-duty applications with a long outreach and the most precise control.
The challenge was a tough one: First, crane operator Wolfgang Niederndorfer, also known as "Bärli", had to master a steep, single-lane access road. Then, at an altitude of 1,500 metres above sea level and in a very confined space, the task was to place the side walls and the 1.6-ton roof girders of the new Zwölferhorn mountain station with millimeter precision. A challenge that "Bärli" easily fulfilled with his PK 200002 L SH loader crane, and faster than expected, thanks to the incredible working speed he achieves with the PK 200002 L SH. "I am completely satisfied with my crane and proud of my job."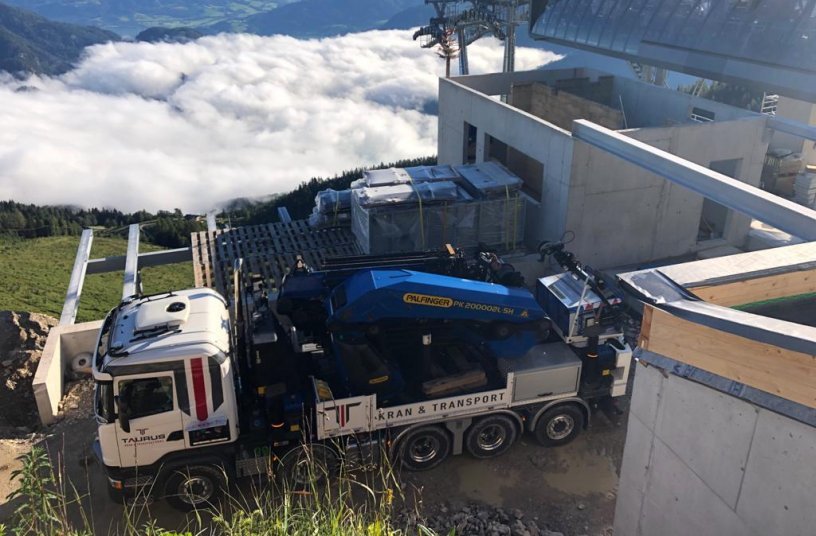 Fast, efficient and flexible
Limited space and highest demands – the PK 200002 L SH is especially made for such situations. "Bärli" knows: "The more flexible the crane, the broader its range of applications." In the case of the mountain station on the Zwölferhorn, the loader crane proved its high stability, its long outreach and unrestricted freedom of movement. To complete the jobs precisely and in the shortest possible time, the rope winch with the Synchronized Rope Control (SRC) comfort function was used.
SRC takes over during crane operation and ensures constant distance between the crane tip and the load during rope lengthening or shortening movements. The system is controlled via the intelligent PALTRONIC - the brain of the loader crane. This guarantees maximum user-friendliness and safety on every job. Thus, during a second operation and in interaction with the precise PALcom P7 radio remote control, even the boulders for slope stabilization could be placed with pinpoint accuracy.
1,000 metres in eleven minutes
The new Zwölferhorn cable car was built in just seven months. In less than eleven minutes,you can conquer approximately 910 meters in altitude from the bottom station in St. Gilgen to the top station.
Source: PALFINGER AG