The Keestrack product range: Complete mobile processing solutions
13 March 2017
At Conexpo-Con-AGG 2017 Keestrack premieres the new tracked hybrid cone crusher H4e and presents two models of its highly versatile impactor range. This confirms the company's claim to be the best option to serve the needs of contractors in quarrying, mining, recycling and aggregates industry applications. But it's only a glance of the mobile processing specialist's product offering, which today includes all relevant crushing, screening and material handling technologies.
Mobile approach to quality
When Kees Hoogendoorn presented the first direct fed tracked scalper in 1996, the all-new integral concept for flexible quarrying, aggregates and recycling applications, it became the archetype of all modern mobile processing plants and remained the blueprint for all following Keestrack models: Lightweight but reliable, easy to operate and highly productive, very mobile between and on sites and flexible in coping with changing materials and job conditions. Weight optimized plant design applying high-strength quality steels ensures the outstanding transportation mobility of Keestrack plants, even if the structural loads and tasks for larger scalpers, screeners and crushers have dramatically increased.
Today, contractors work under the toughest mining and quarrying conditions and have to bid the next day with the same equipment for high-volume aggregates and recycling contracts. Here only short set-up cycles, easy and trouble-free operation avoiding downtime guarantee cost-efficient productivity and save profits. Keestrack plants come with an excellent product finish and feature intelligent "Relytec" machine controls to support the operators in daily routines or monitor the whole process for optimized quality and productivity. Good service access to gauges or valves and practical hydraulic/mechanical support devices ensure regular maintenance or immediate small repairs. The new Keestrack-er remote monitoring system offers even more through virtually "automating" regular service activities.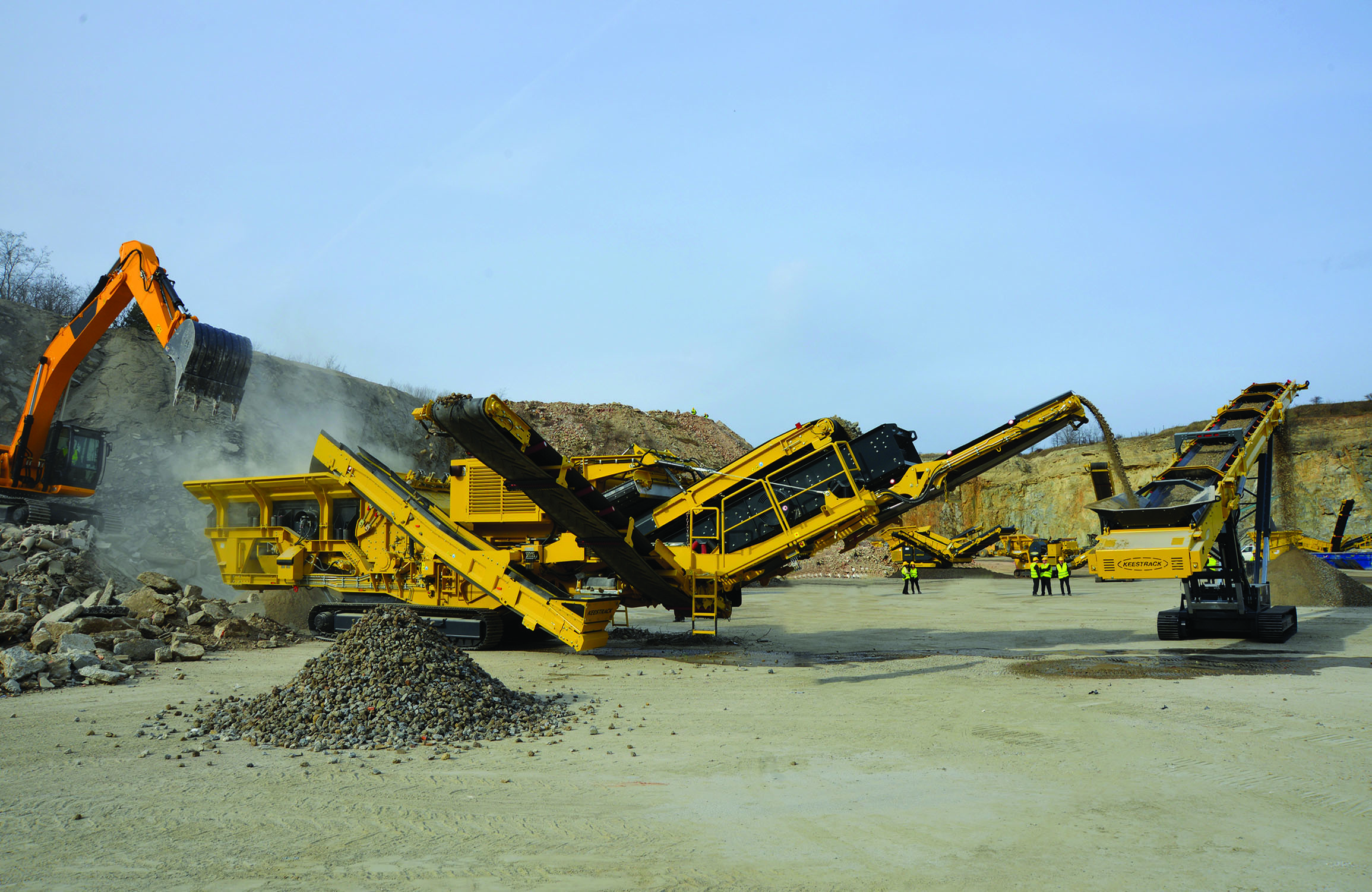 Retaining its commitment to innovative and profitable quality, Keestrack has substantially expanded its product range during the past years: The full diversity in crushing technologies with jaws, cones and impactors, a complete range of scalpers, horizontal classifiers, drum screens and stackers is reflected in the new model nomenclature, categorizing the seven different product lines along performance values (weight, production capacities, etc.) but also identifying matching combinations across the whole range.
The crushing experience
The Keestrack mobile crushing line with transport weights from 30 to 70 tons offers today the full range of tracked solutions for primary and secondary applications in quarrying, mining, recycling and aggregates industries. The different jaw, impactor and cone models are characterised through their class-leading crushing technologies, developed over the years within the Keestrack group or by renowned external partners. All models feature large specific catalogues of optional equipment – conveyors, screening modules, magnets, etc. – to optimize their performance as flexible stand-alone units or for best integration in existing lines.
B Series jaw crushers: All four Keestrack jaw models – from the 30-ton-allrounder B3 to the 60-ton heavy duty top model B6 – feature the patented OM crusher technology with hydraulic gap adjustment, overload protection and "Non-Stop-system" N.S.S. The sensor-supported continuous monitoring of the hydraulic crushing process with intelligent automatic gap release/reset function ensures consistent quality and avoids downtime in case of difficult or non-crushable material. Large hoppers, standard active pre-screens and new optional secondary screen modules guarantee high production in flexible recycling and aggregates applications or as the ultimate mobile primary crusher for medium-sized quarrying or mining contractors.
R Series impactors: With three tracked impactor models with transport weights from 27 to 60 tons, Keestrack provides a full option for contractors requiring best material flexibility and high production rates. All direct driven crusher units offer large feed sizes for processing of rock or recyclable construction materials such as steel-reinforced concrete. The heavy rotors ensure smooth and efficient operation, optimized crushing chambers and the advanced design of the wear parts guarantee high performance with low wear maintenance costs. Short set-up routines, class-leading transport weights and physical dimensions even when installed with multi-deck secondary screens and closed-circuit conveyors guarantee highly cost-efficient and productive operations even on smaller sites.
H Series cones: With the introduction of its new H Series Keestrack combined the renowned expertise of a global cone specialist with new standards of mobility and versatility. Optimized structural characteristics of the newly designed frame allowed the implementation of efficient pre-screen and secondary three-deck screen modules opening completely new application fields for the advanced diesel-electric plant with optional full-hybrid operation mode. Following enthusiastic market reactions Keestrack has now announced the introduction of larger tracked cone crusher models with transport weights up to 70 tons, covering also primary applications in mining and quarrying.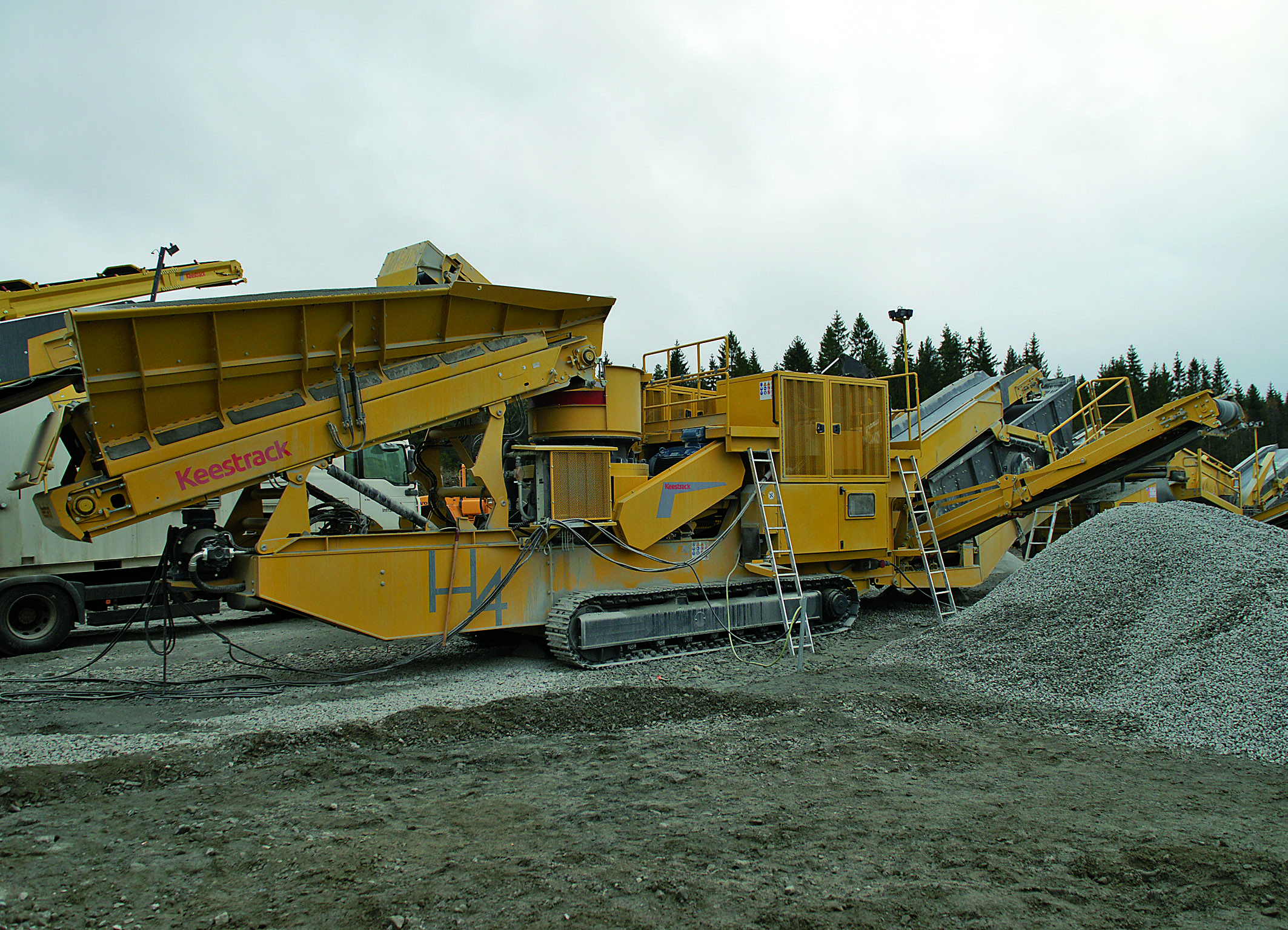 The ever-perfect match
Providing cost-efficient operation while performing screening and handling solutions for almost every material is an integral part of Keestrack's DNA. Accordingly the company offers today one of the most diversified product range of tracked machines, from lighter soil screeners to reliable classifiers for aggregates industry applications, to high-end solutions with over 1000 tph average production. Driven by sensitive profit margins in the respective costumer sectors, development is clearly focussed on fuel-efficient drive concepts, large screening areas and optimized operational and service features.
K series scalpers: With seven models with transport weights from 16 to 50 tons the Keestrack scalper range is one of the most diversified in market. All plants provide aggressive double-deck screen boxes with a wide variety of easily interchangeable screening media. Highly defined end fraction results qualify the Keestrack scalpers to also be used for secondary applications. With large hopper and stockpile capacities available they allow the cost-effective radio remote-controlled operation by the loading personnel. The industry-leading low fuel consumption of the diesel drives can be reduced even further by diesel-electric drive options.
C series classifiers: A wide variety of screening media including washing decks also characterizes Keestrack's two and three deck classifiers for tertiary applications. Class-leading transport dimensions, quick set up routines and a high mobility on site make the plants also valuable for minor and medium-size contractors requiring versatile key machines with high capacities. Diesel-electric drive options optimize operational costs in stationary aggregates or recycling operations.
D series drum screens: As latest addition to its screening portfolio Keestrack presented in co-operation with a European specialist its range of drum screens with transport weights from 14 to 26 tons. Five wheeled models and two newly designed track models access new business segments in landscaping, biomass processing and waste handling.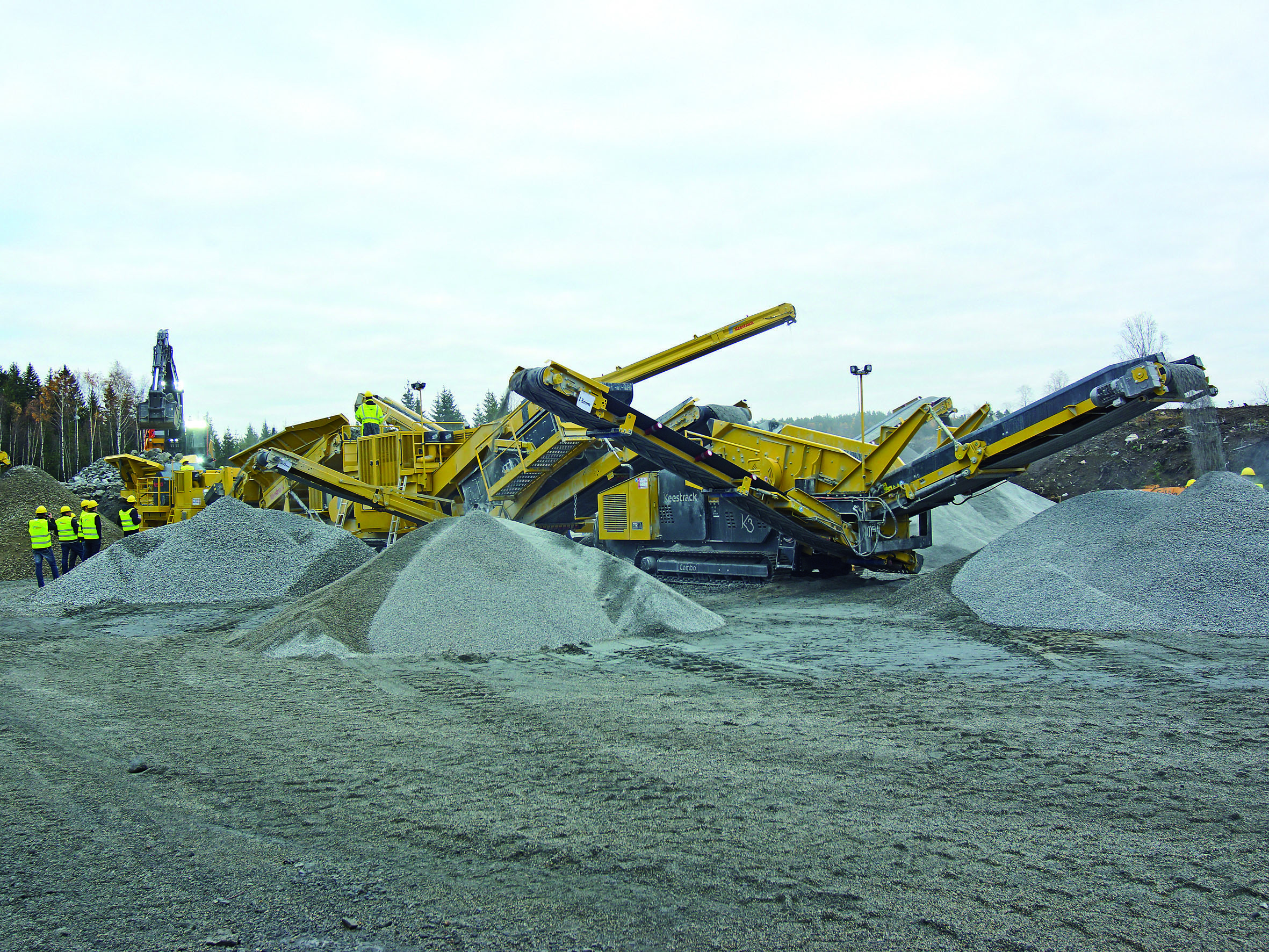 The choice of power
Keestrack early identified alternative drive concepts as an important contribution to minimize direct operational costs through lower fuel bills and optimized life-time expenditures, through reduced wear and less maintenance. Lower emissions also reduce the plants' environmental footprint. Wherever "green" machines are a prerequisite to work in sensitive areas, reduced risks of environmental hazards (eg. hydraulic leakages) become crucial for plant availability and contractors' profits.
Modern load-sensing hydraulic modules are today standard on all diesel-hydraulic Keestrack plants. The efficient use of installed diesel power and sensor-supported process controls allow fuel savings up to 30 % compared to conventional plant drives. Keestrack's diesel-electric "e"-option – available on all stackers, most screeners and latest crusher models – replaces hydraulic drives on components such as screens, conveyors or on board compressors with electric motors. With diesel driven on board generators these "hybrids" can reduce energy costs by up to 50% compared to conventional diesel hydraulic driven plants. With the plug-in-option supplied by another plant, external gen sets or mains, energy cost savings can reach 70%. As an additional benefit the electric wiring minimizes leakage risks and requires less maintenance than hydraulic circuits.
All Keestrack "hybrids" still require diesel power to run the crusher units or hydraulic components such as feeders, tracks or lift cylinders. The company's all-new "full-hybrid" concept now allows the integral electric operation of all functions. An on board diesel/generator module powers an electric motor for the crusher and a separate electric driven hydraulic pump to supply the hydraulic components. When in electric "plug-in"-mode, the diesel engine accordingly remains off, which substantially extends maintenance and life-time cycles.