10 November 2023, 07:25
Volvo Penta is enhancing its commitment to net-zero initiatives by supplying battery energy storage subsystems to manufacturers, with a focus on supporting charging infrastructure for electric vehicles and industrial applications.

The company has partnered with TecnoGen, a member of the Bruno Generators Group, to integrate its battery energy storage solutions into charging infrastructure for heavy-duty electric vehicles.

Volvo Penta's strategy for achieving industrial net-zero emissions includes the adoption of alternative fuels, electrification, battery energy storage systems, and the development of fuel cell technology.

Volvo Penta aims to drive innovation in battery energy storage and charging infrastructure, contributing to the broader goal of a net-zero future.

The company is focused on growing its role as a subsystem supplier, working with BESS manufacturers to enhance knowledge, develop advanced solutions, and support digitalization and grid optimization.
Volvo Penta is advancing its net-zero initiatives by providing its battery energy storage subsystem to BESS manufacturers venturing into charging infrastructure support. This is exemplified in a recent collaboration with TecnoGen, part of the Bruno Generators Group (BRG).
Earlier in 2023, Volvo Penta declared its provision of subsystems for Battery Energy Storage needs, affirming its dedication to being a dependable partner for BESS manufacturers. Since then, the company has made notable strides in establishing its first customer relationships.
Battery energy storage will not only bridge the gap between critical energy needs and backup power with renewable energy sources, but also play an important role in supporting the growing demand for charging infrastructure. Robust charging is essential for the widespread adoption of electric vehicles and industrial applications, ultimately contributing to a more sustainable future. This aligns with Volvo Penta's multi-tenet industrial net-zero strategy, which spans the adoption of alternative fuels, electrification of off-highway applications, battery energy storage subsystems and fuel cell technology development.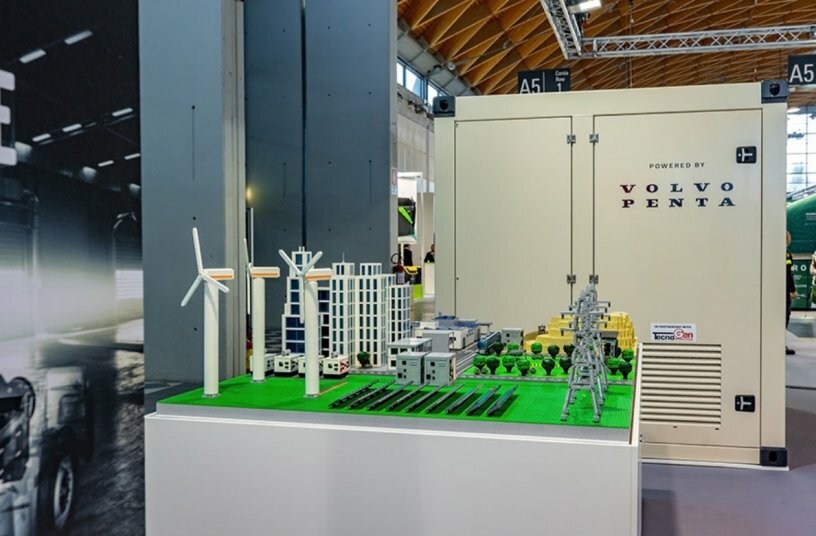 To grasp these net-zero opportunities, Volvo Penta will collaborate with TecnoGen on its BESS to support charging infrastructure for electric heavy-duty vehicles. "We've had a positive track record using Volvo Penta's reliable power solutions in our generators, which is why we trust that our foray into battery energy storage will be an exciting evolution of our relationship," says Renato Bruno, CEO BGG. "Our combined expertise will complement charging infrastructure, a critical step towards industrial electrification and bolstering clean energy integration in the long run."
"This collaboration signifies a critical milestone in our pursuit of sustainable solutions, diversifying our BESS competencies," explains Ilenia Procicchiani, Industrial Sales Manager Volvo Penta. "Together, we aim to drive innovation and accelerate the adoption of BESS-driven charging infrastructure, ultimately playing a pivotal role in achieving a net-zero future."
Volvo Penta remains committed to expanding its capabilities as a subsystem supplier and collaborating with BESS manufacturers to increase knowledge and expertise to develop cutting-edge solutions that empower digitalization, enhance grid support, and optimize charging processes.
Source: SE10 PR; Volvo Penta