Certification recognises high quality standards
24 March 2017
Key Account Management department reinforces leading role with "KAM Professional" status
Schmitz Cargobull has had its International Key Account Management (IKAM) department audited for a third time. The company aims to continuously develop this sales channel in order to be able to react to the needs of its international customers professionally, flexibly and individually. The European Foundation for Key Account Management e.V. (EFKAM) recently awarded the leading trailer manufacturer's IKAM department its third successive "KAM Professional" certificate. "Schmitz Cargobull became the first European company to receive this EFKAM certificate back in 2011", remembers Hartmut H. Biesel, the then Chairman of EFKAM. "This impressive award re-confirms its leading role as a strong, customer and service-oriented company within its industry". Schmitz Cargobull has been working to professionalise its IKAM department to the benefit of many important customers since 1998. Today, the sales channel plays a key role in the Schmitz Cargobull AG sales portfolio.
In a highly competitive and constantly changing market, new needs and requirements are developing all the time. Larger customers and purchasing associations push for lower prices whilst simultaneously demanding tailored, complete solutions. "Moreover, services such as financing, telematics, Full Service packages and optimised spare parts supplies are increasingly becoming integral contractual components, in addition to the high standards of quality already demanded from our innovative products", explains Josef Warmeling, Head of International Key Account Management at Schmitz Cargobull AG. His team is tasked with both utilising cross-selling potentials and increasing customer loyalty.
Alongside standardised products, which are constantly being developed and redeveloped in cooperation with customers, the company also offers a range of "Value Added Services" for semitrailers, all professionally developed and tailored to meet customers' specific needs, delivered by a single provider throughout Europe.
Following his in-depth assessment of the processes, structures and procedures in place at Schmitz Cargobull AG, auditor Hartmut H. Biesel concluded that the company's International Key Account Management department was consistently well-managed and met high quality standards. "Schmitz Cargobull is customer-focused and transforms requests into tailored products and services wherever possible", says Biesel. And throughout Europe, too.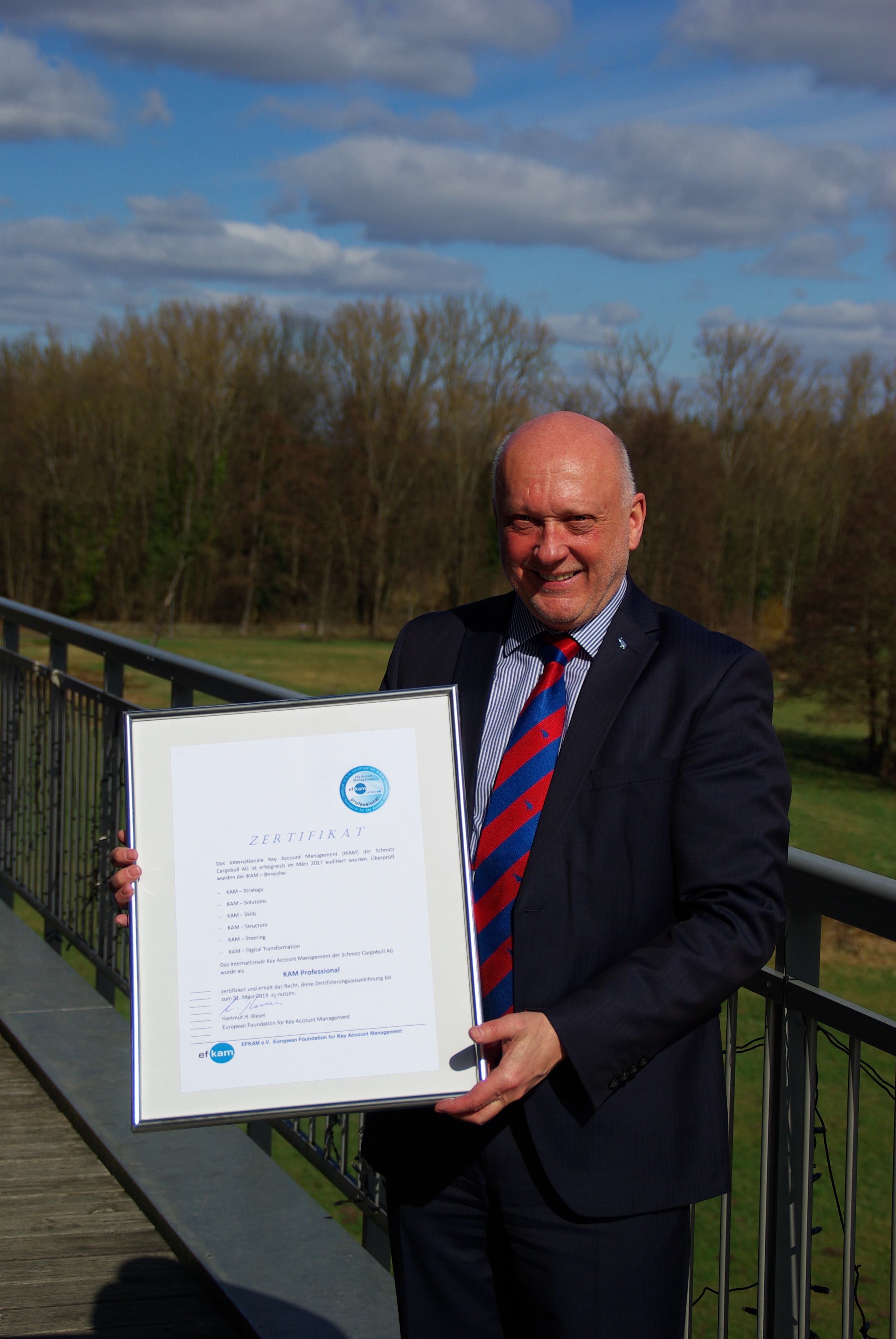 Schmitz Cargobull became the first international company to be awarded the EFKAM certificate back in 2011. "Only a few of the companies we audit achieve EFKAM – Professional standards", continues Biesel. "It is impressive how effectively the company has been able to continuously develop and support this sales channel. It is a shining example of how IKAM should be done", he adds. And Schmitz Cargobull's success is proof of this in itself: customers appreciate and reward the unique service the IKAM department provides in helping them to optimise their own performance.
Following the multi-day assessment, the auditor concluded that the International Key Account Management team had performed outstandingly in the following areas:
Strategy

Concepts

Processes and structures

Organisation

Employee development

Controlling

Digital transformation