23 October 2023, 12:38
They are the best opportunity to establish contacts
International trade fairs present a significant opportunity to connect with suppliers and buyers from around the world and establish personal contacts with potential customers. They provide a platform to learn from industry-leading companies, understand the direction competitors may take, and explore new products, trends, and technological solutions.
Implaser exports to over 25 countries worldwide, with a presence on all five continents. They achieve their consolidation in these markets by participating in major international trade fairs within the construction, fire safety, mining, machinery, naval, and road sectors. The Aragonese company understands that to position themselves at the forefront of their industries, it's essential to maintain a global and up-to-date market perspective.
In October, the Implaser team traveled to Riyadh (Saudi Arabia) and Dubai (United Arab Emirates) to attend two trade fairs in collaboration with NAFFCO, their official distributor in the Middle East region. The first one, Intersec, is the leading trade fair for security and fire protection, while the second, AccessAbilities Expo, is the largest event for people with disabilities in the Middle East, Africa, and South Asia region.
Intersec, a Window to New Projects
Intersec is the go-to trade fair for security and fire protection. This year, it took place from October 3rd to 5th in Riyadh, serving as a meeting point for the security industry, emergency services, and fire protection community. The fifth edition brought together thousands of industry specialists to discuss and establish synergies and business opportunities. The event
featured the presence of government leaders, representatives from prominent organizations, experts delivering presentations, and professionals showcasing innovative products and technological solutions.
Implaser's objective is to promote the introduction of photoluminescent products into significant projects in the region, from tunnels, subways, and airports to shopping centers. For this reason, they brought their 'dark room' to the fair's booth, demonstrating the effectiveness of photoluminescence in their signs. They also introduced accessibility solutions such as tactile pathways and NaviLens codes.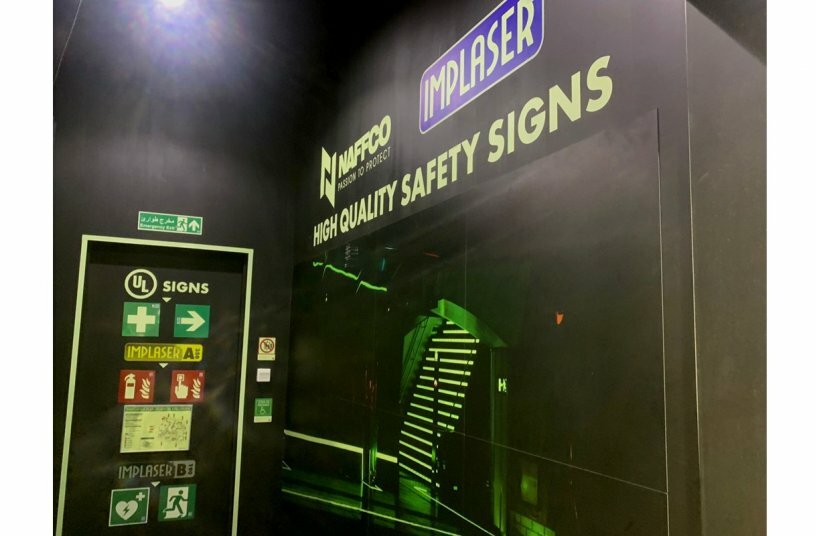 Accessibility Solutions at AccessAbilities Expo
From October 9th to 11th, the fifth edition of AccessAbilities Expo took place in Dubai. This year, it featured 250 exhibitors from 50 countries worldwide, specializing in the manufacturing of advanced technologies and devices that empower individuals and enhance their quality of life, particularly those with disabilities.
This event is the largest of its kind for people with disabilities in the Middle East, Africa, and South Asia. In collaboration with NAFFCO, Implaser showcased various accessibility solutions, including tactile pavement, Braille signage, accessible floor plans, the NaviLens system, Evac+chair, induction loops, and visual contrast solutions.
Source: Anmopyc; IMPLASER