20 October 2023, 12:10
The LECTURA Press team makes sure that readers get their daily dose of news from the world of heavy machinery. We cooperate with many manufacturers and usually publish their news within 48 hours of receiving their press releases.
Our press portal provides news from various sectors of the industry such as construction, lifting and access, material handling, transportation, aggregate recycling, mining, tools, attachments, rental, software and digital solutions, forestry and landscaping or agriculture industries, both in English and German.
Moreover, our readers can find exclusive interviews with representatives of market leaders, equipment analyses, survey reports, thousands of machinery pictures and videos or browse through special channels dedicated to associations and trade fairs. LECTURA Press is also an original content creator and therefore you can explore our "Top 10 biggest machines in the world" series of articles or monthly product launches.
✅ Press service overview:
 
⭐ LECTURA Press Clip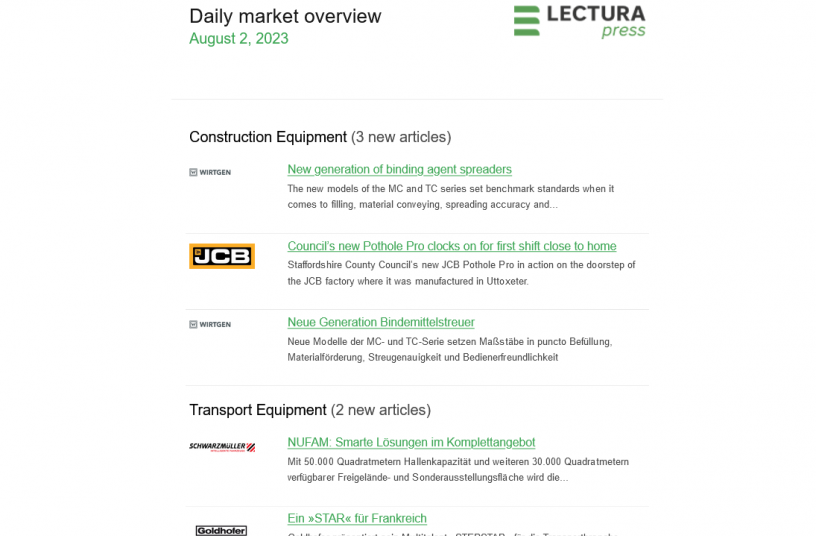 The Press clip is our uncluttered tool which summarizes all industry news from the past day, every day. More than 170 international journalists and publishing houses already use the tool and benefit from our free daily chunk of condensed, up-to-date industry information.
Being journalists ourselves, we truly understand how difficult it is to keep track of everything that happens every day in the industry. We used to deal with this issue as well in the past — but not anymore! Now you can have all the important and interesting information overview concerning the machinery world in one place.
We have prepared a free service, which might substantially simplify your work as a journalist. We believe that sharing is caring, so we have created an automated daily press clip — sent via email — with all published news from the past day.
Transparency and the speed of information is deeply rooted in our core philosophy as we process relevant and complete information from multilingual sources, covering numerous machinery categories. Our position as data agglomeration leader is continuously growing and "Living digital" is an essential part of LECTURA's strategy, because we believe in the power of reliable real-time information and data to everyone's advantage. Sign here!
⭐ LECTURA Newsletter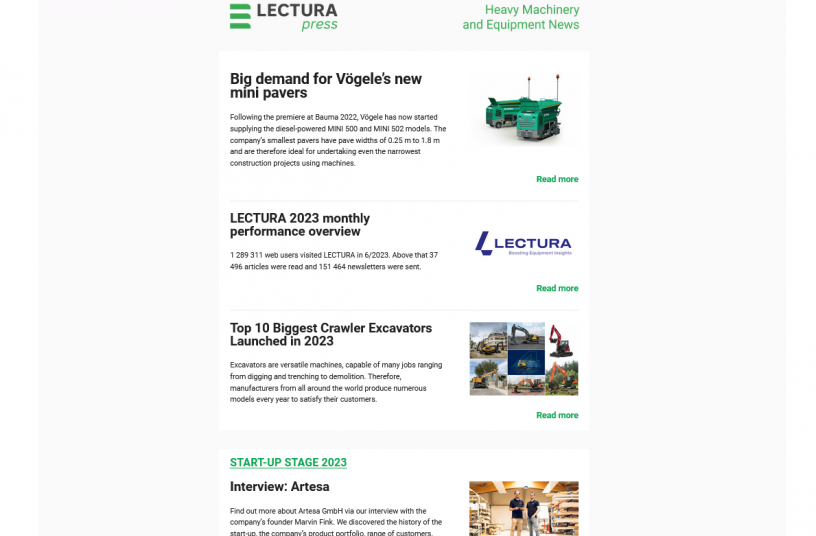 Thousands of our long-time subscribers can no longer imagine their week without a regular dose of news from the world of heavy machinery. Just as our website is bilingual, we also send our newsletter in two languages - traditionally in English and German.
This is the only way we can effectively communicate what is happening heavy machinery industry to our international audience. Although our Newsletter focuses mainly on news from the construction industry, readers interested in news from the agricultural sector, transportation, material handling or lifting and access will also find it useful. Furthermore, we include news from our partner associations such as the European Rental Association (ERA), ANMOPYC or CECE.
LECTURA's newsletter currently counts over 41,500 subscribers, of which more than 37,000 receive news in English and around 4,500 readers prefer the German version. The English version is sent every Tuesday morning and the German version of the newsletter can be expected in subscribers' inboxes every Wednesday morning. Sign here!
⭐ LECTURA Weekly Overview
For some, a daily dose of news may be just too much. For those readers who only need a quick overview once a week, we have a Weekly Overview service. As the name suggests, after signing up for it, subscribers will receive a weekly list of the main news from the previous week, sorted into individual days (always 2 messages per day).
This service is again available in both English and German. The weekly overview of news from the world of heavy machinery in English is always available on Friday evenings and subscribers in German can look forward to this overview on Monday evenings.
⭐ LECTURA DigiMessenger e-Magazine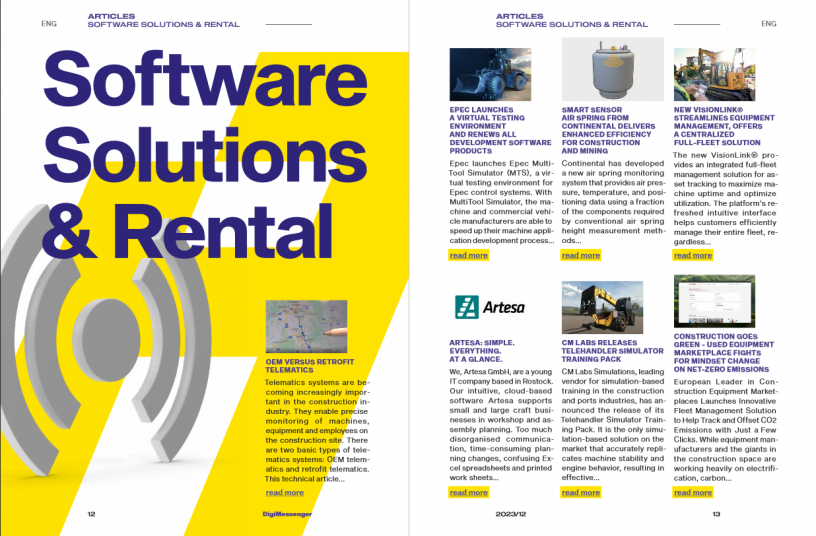 Our digital construction magazine is bilingual (EN/DE) and published on quarterly basis since 2020. The DigiMessenger combines a traditional magazine layout with digital distribution and attracts up to 30,000 readers per issue. LECTURA is visited by 1.3 million professional users every month, searching for heavy machinery data. We identify their interest based on the behaviour and provide them with contextual information and news in the corresponding issue of the magazine.
This means, that individual issues of the industrial machinery magazine are being digitally delivered especially to end-users and other professionals, that have been sourcing product information around construction, lifting and access, rental, attachments, material handling, recycling, transportation, software solutions and other equipment in order to assure the highest relevance of information. The content of the digital magazine consists of editor's essays, press articles, equipment analyses/guides, new model overviews, job site stories, event reports, exclusive interviews or survey results. Check out all published issues here!
⭐ LECTURA Social Media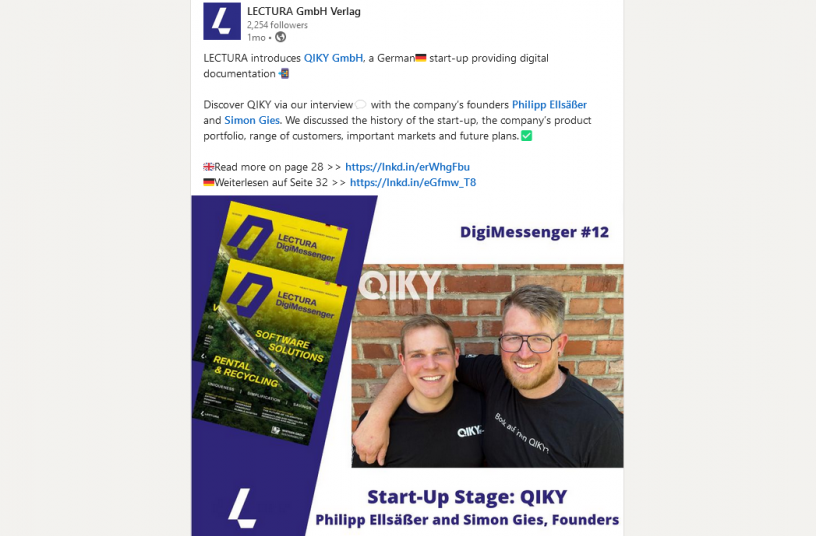 Follow LECTURA on social media and join more than 10,000 followers who already do so! We post daily updates about heavy machinery on Facebook and Linkedin. You can also check our Instagram profile for impressions from trade fairs and industry events or subscribe to our YouTube channel and browse through more than 150 videos.
⭐ LECTURA Surveys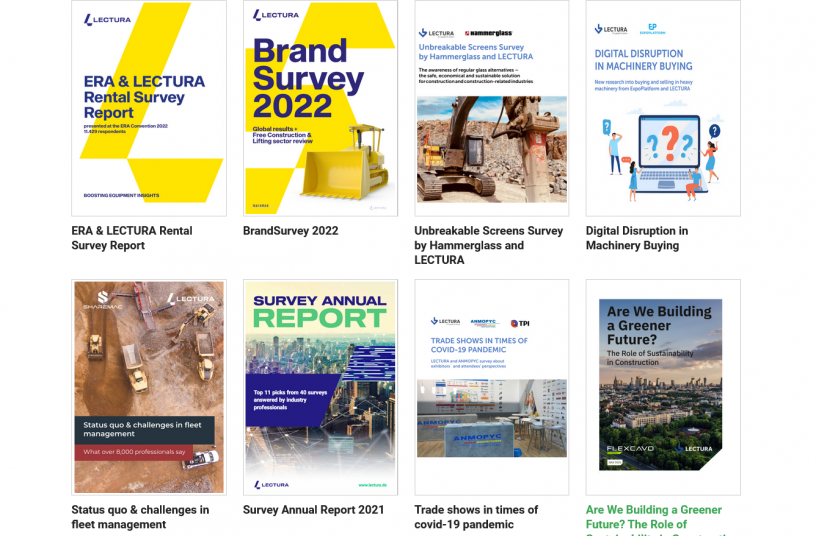 LECTURA is visited by thousands of heavy machinery professionals ranging from machine owners/operators, dealers, contractors to rental companies members every day, making it the ideal survey hub. The engagement is about 4% which results in about up to 5,000 daily replies. Run your own market research with LECTURA Surveys, ask both your actual and potential customers what their needs, opinions and expectations are, and get a clear image on where you really stand.
With LECTURA Surveys you can choose and target highly relevant, distinct industry profiles with more than 200,000 machine categories and 13 languages based on predefined criteria like: region/country of origin; industry and type of business; company size/fleet size. Read the latest LECTURA Surveys reports and find out what is the opinion of industry professionals on key topics of the industry! Click here to learn more about our market intelligence service!
Source: LECTURA GmbH