23 November 2022, 16:43
Moldtech has supplied 2 tilting tables for panels 36 meters long and 3.5 meters wide to Mexico.
We have successfully completed a new project in Mexico, including the supply of tilting tables for precast panels for industrial construction. Our new client in Mexico is a highly experienced company in the construction and maintenance of industrial, logistics, commercial, parking, hospital and other buildings with particular characteristics.

Equipment supplied:
2 units of tilting tables 36 m long and 3.5 m wide for the production of all types of industrial enclosure panels. The panel produced has tongue-and-groove joints and a thickness of up to 30 cm. The table structure is designed to support 750 kg/m2 of concrete. The table has two sides, one lower and one upper, hydraulically collapsible and manually adjustable in height. These sides will have a panel production system with straight or tongue-and-groove edges. The tongue-and-groove formwork system will be mechanically fastened to the side. The tables are tilted by means of telescopic hydraulic cylinders, allowing a maximum tilt of 80°. Additionally, the table features a hydraulic central unit and an electric control panel to control the tilting operations of the table, a pneumatic vibration system.
One of the most important points is the "mirror effect" polishing of the tables. This type of finishing of the tables is a very critical point, and what makes a "Moldtech" table different from the others. This polishing of the surface in contact with the concrete will allow the client to produce panels of extraordinary quality and with any type of concrete. In turn it allows us to satisfy markets with high technical and architectural demands.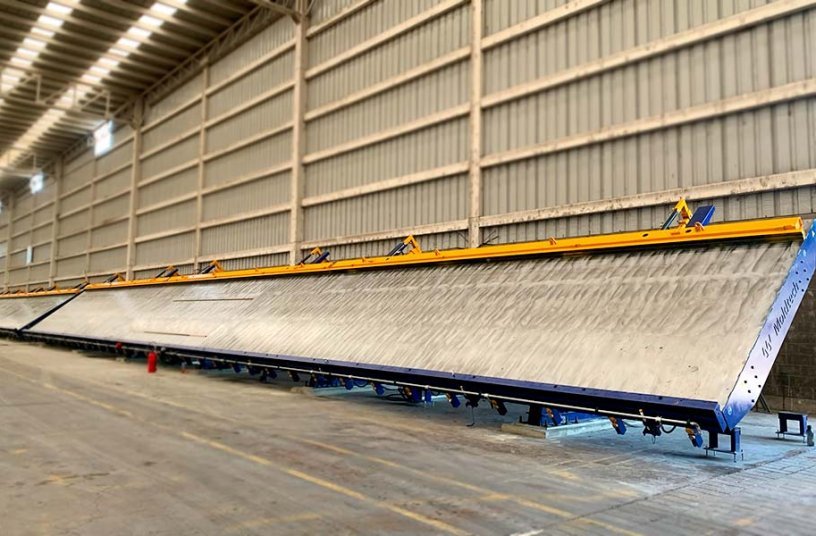 Finally, our on-site team has made a complete assembly of the equipment described. In addition, Moldtech, as usual, has carried out training for local plant operators, showing the correct use of the equipment. Thus, total customer satisfaction can be guaranteed according to the highest demands, and it is a rule in each of our projects.
Source: Anmopyc; MOLDTECH