16 September 2021, 11:24
TCI Cutting's waterjet cutting machines combine high European technology and personalized developments, as a result of extensive experience in the sector, both in national and international implementations.
Specifically, the BP-H COMBI cutting machine integrates in a single machine, the benefits of water cutting technology, as well as those of HD plasma, in order to offer our customers cutting precision, versatility and speed, quality which is provided by HD plasma. In short, it is a complete cutting solution that guarantees the highest quality of the finish in cuts of various levels of complexity, thickness and material.
BP-H COMBI stands out for its modularity and infinite growth possibilities, to satisfy the future growth of our clients' activity. This machine incorporates the 5x Direct Drive 4.0 Infinite Loop® five-axis cutting head, which allows infinite rotation without rewinding in three-dimensional cuts, a height regulator, an anti-collision system or automatic sludge extraction, among others.
This cutting machine offers the possibility of cutting in 2D, 2D½ (inclined cut) or 3D (cut with volume), as well as the incorporation of other complementary heads such as drills and others, according to the specific needs of our clients. BP-H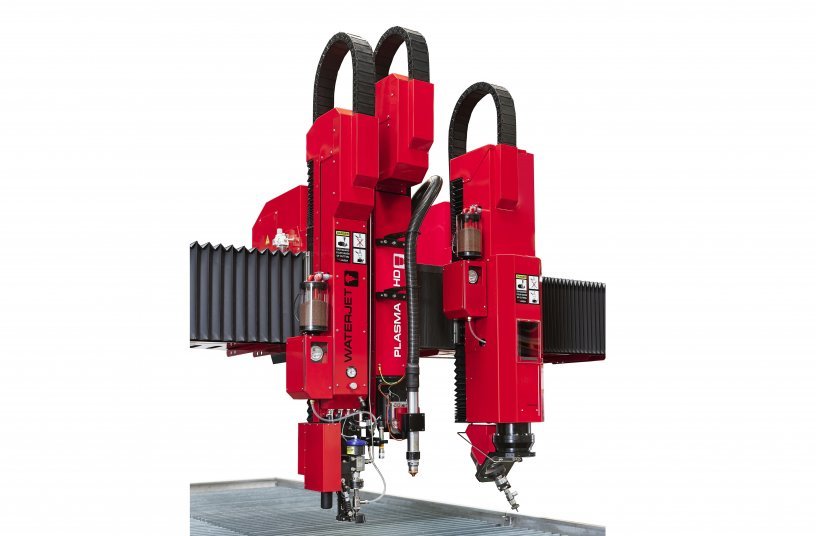 COMBI is characterized by having a maximum height adjustment on its Z axis of up to 700 mm that guarantees unique versatility.
The machine allows cutting the pieces with pure water and water with abrasive for materials of great hardness and thickness, giving an extensive cutting coverage according to the needs of the client and the sector. In waterjet technology, the pieces are cold cut, avoiding both alterations in the chemical composition of the material and its deformations, in the case of metals.
TCI Smarttouch, the operator-machine interface, maximizes the use of the cutting machine to optimize its performance, and connects with TCI Manager, intelligent production management software for autonomous and strategic decision making, for the comprehensive control and optimization of the entire production process in the factory.
The TCI Cutting company is headquartered in Guadassuar (Valencia) and is a world benchmark in the manufacture of laser and water cutting machines (waterjet), customized and scalable intelligent automation systems, as well as intelligent production management software for making of autonomous and strategic decisions (TCI Manager), and accompanies its clients in their digital transformation processes and optimization of their cutting factories, on their way to a Smart Factory.
Source: Anmopyc