4 August 2023, 10:50
The organizers of La Vuelta have chosen HIMOINSA as their official supplier of sustainable power solutions, that will have a significant presence along the more than 3,500 kilometres of the race, especially at key points such as the finish lines of each of the 21 stages.
HIMOINSA, international benchmark company in the design and manufacture of power technology solutions, and La Vuelta are joining forces to provide more sustainable power for Spain's premier cycling competition. Events such as La Vuelta require the deployment of a vast array of resources and as the new official supplier, HIMOINSA's power generation equipment will play a key role by supplying power along the entire route.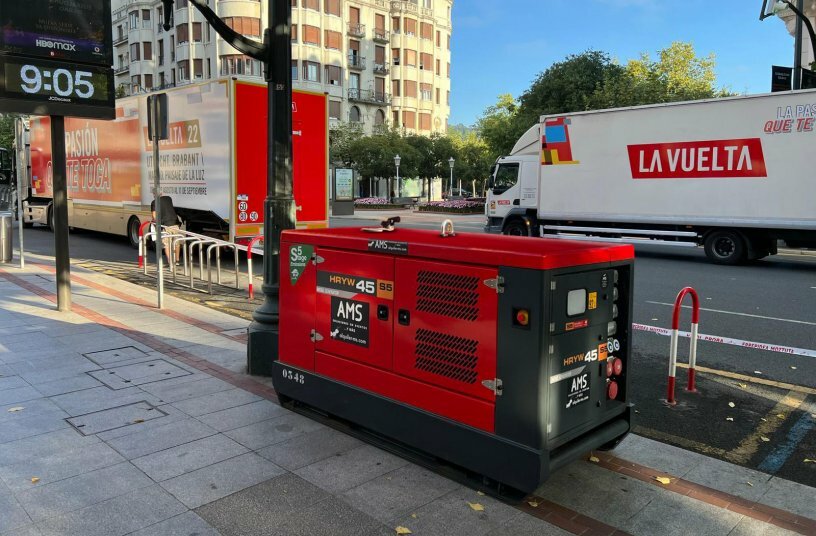 Some twenty generator sets and battery power storage and distribution systems will provide the race with more sustainable power, promoting energy transformation through the use of hybrid generation systems - diesel (Stage V) and batteries. They will do so throughout the entire race through Spain, which will take place from 26 August to 17 September, in what is one of the world's leading cycling competitions, alongside the Tour de France and the Giro d'Italia.
To do so, they will use generator sets that utilize Stage V technology, which allows them to reduce harmful gas emissions by up to 90% compared to previous technologies. They will also use battery power storage and distribution systems - Battery Power Generator - which guarantee a significant reduction in the carbon footprint, even reaching zero emissions and zero noise when used as the sole source of power.
The 2023 Vuelta, which has more than 295 accredited international media, will visit more than 390 municipalities on the peninsula and will employ a team of more than 2,500 people managed directly by Unipublic. At the heart of this major logistical operation, which also includes more than 74 hours of live television coverage, HIMOINSA's power generation systems will be on hand throughout the competition and at such key points as the start and finish lines, supplying power for television broadcasts, giant screens, catering, VIP and sponsorship areas, where sponsors will carry out brand activations during the different stages.
HIMOINSA will be supported by AMS, a company that specialises in rental and management solutions for power generation systems at events, with a wealth of experience in La Vuelta and other similar projects. An experienced technical team will manage the logistics and operation of the power systems throughout the competition.
"Society is undergoing a major energy transition process and HIMOINSA is committed to designing increasingly sustainable generator sets. We have also started to electrify our equipment, with hybrid and 100% battery systems. Therefore, becoming the official supplier of such a prestigious sporting event as La Vuelta is a clear reflection of our commitment to sustainability", explains Cristina Avilés, Global Marketing & Communication Head at HIMOINSA, who stresses the company's determination to associate its brand and values with musical and sporting events that are committed to reducing emissions.
Pedro Lezaun, Production Director for La Vuelta, tells us: "Having HIMOINSA as an official supplier and working hand in hand with AMS gives us a great sense of security when it comes to meeting all the needs of such a logistically complex event as La Vuelta, thanks to the extensive experience both companies have in events of this magnitude. It is also of paramount importance to the race that our suppliers provide sustainable solutions and thanks to these generator sets with Stage V technology and battery systems, we are taking another step towards the decarbonization of the event".
Source: Himoinsa