15 July 2022, 06:45
The genset market is constantly changing due to new global energy trends and carbon emission reduction regulations, mainly in Europe. Therefore, HIMOINSA works every day offering alternative power solutions to match with traditional diesel systems. Gas generators, battery storage systems and generator sets which are compatible with biofuels such as HVO, are part of the new power solutions that HIMOINSA has included in its portfolio of products for European rental companies.
Gas generator sets with Stage V certification
HIMOINSA introduces gas generator sets into the market that have Stage V certification and guarantee very similar characteristics to Stage V diesel gensets, and an even greater reduction of emissions thanks to the use of environmentally friendly fuels.
At a time when the construction and rental market tends to reduce the carbon footprint as much as possible, HIMOINSA's gas gensets are a perfect solution to guarantee a reduction in emissions and low noise levels, as well as simplifying the after-treatment systems developed with the recent stage v diesel gensets, which incorporate an urea tank and other components to preserve the reduction of pollutants required by the European emissions regulations.
Generator sets from 30 to 110kVA that offer three different power supply possibilities: integrated tanks or external LPG or NG power supply. From the fuel selector, the user can choose the power source with which he wishes to operate the equipment. In all cases, safety locks have been installed on the fuel inlet to prevent handling by unauthorised personnel.
Should greater running time be required, the models in this series feature an external fuel supply socket that can be connected to an external propane tank.
It is the first gas-powered solution in the power generation market to incorporate an integrated LPG tank (patent pending design), also offering the possibility of connecting to an external LPG tank to extend its autonomy if required. "HIMOINSA is in contact with Repsol, distributor of LPG in Spain and Portugal, and Flogas in the UK, in order to offer construction and rental companies a comprehensive gas power solution, without problems of access to LPG supply in their equipment", explains Manuel Aguilera, Global Gas Unit Head, who adds that "HIMOINSA's gas units incorporate a three-way catalytic converter capable of reducing CO, CO2, NOx and other pollutant emissions and a residential silencer that allows a -35 dB attenuation. They are therefore becoming an extremely interesting option for the European market".
Gas-powered rental generator sets can include an approved trailer as an optional addition. Mobile units that can refuel in any service station that has a propane dispenser. The entire gas installation of the generator sets is approved and certified for road transportation.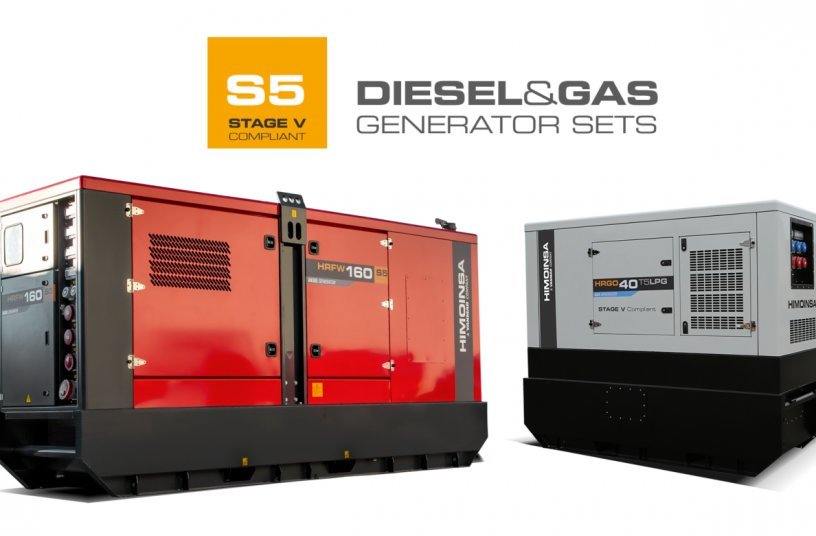 How has the safety of the gas gensets been guaranteed?
HIMOINSA has added gas sensors at different points of the genset to detect any leakage, and safety relief valves connect to the outside of the genset so that, in the event of overpressure, a gas expulsion circuit can be established.
It also features a certified gas train, an extremely resistant double block chassis which acts as a double wall for the tanks and insulates them from the engine group, visual and acoustic signals, gas exhaust valves in the chassis and extra strategically placed ventilation points. It also features a special start-up and stop sequence.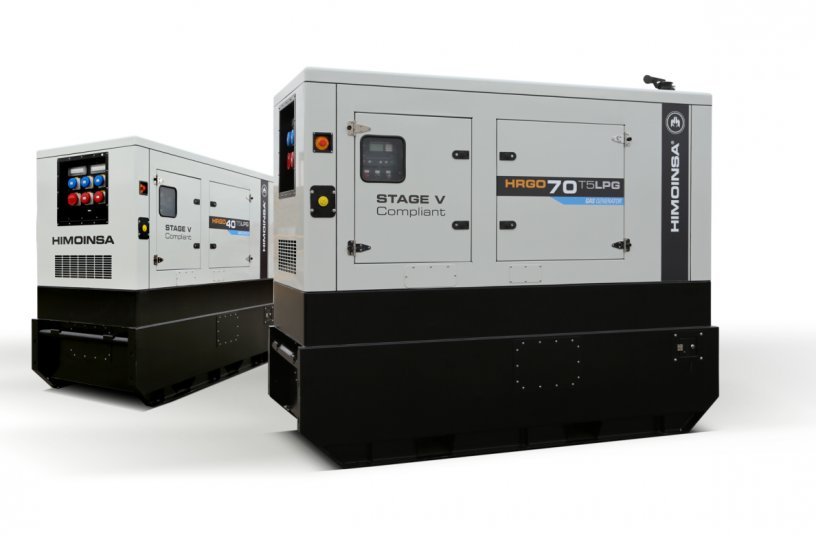 Maintenance and Running Costs
The genset only requires maintenance every 500 hours and this can even be extended to 1000 hours by adding an optional kit. As a result, gas-powered rental gensets are a highly competitive option due to the fact that their engines have a longer useful life than their diesel counterparts.
The generator sets have wider doors to ensure better access to all the engine and alternator components for correct maintenance and for the replacement of consumables.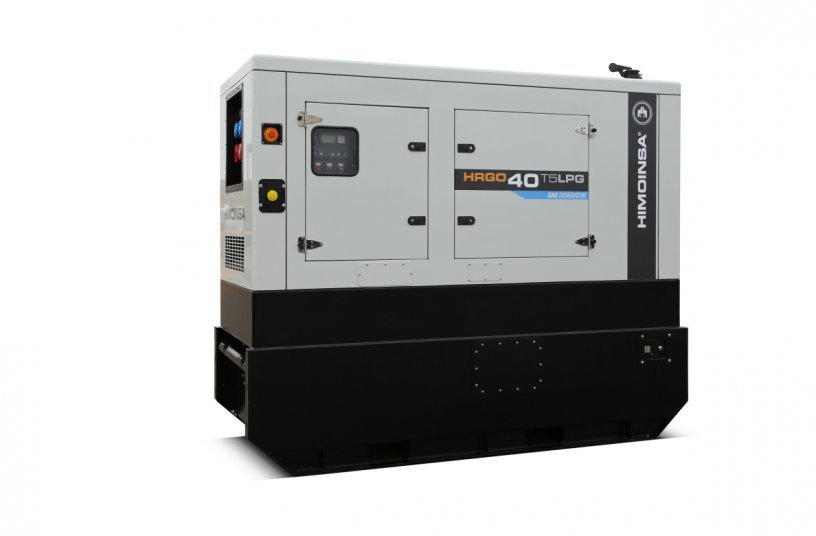 Diesel generator with Stage V. What do you need to know?
HIMOINSA has designed generator sets that include a new after-treatment system to guarantee an emissions reduction that is in compliance with EU Regulation 2016/1628 for non-road mobile machinery (NRMM). This has implied a qualitative leap that ensures a reduction of up to 90% of emissions of harmful components with respect to the previous technology.
Guaranteeing a wide power range of from 9 to 550 KVA in P.R.P, the S5 range has been designed taking into account such factors as maintenance, durability, fuel consumption, and the final cost of the machine to make it one of the most competitive products in the rental sector in Europe.
One of the main components of the S5 generator sets is their control units, meticulously designed to ensure a secure and efficient coordination with the control units of the new Stage V engines.
These are compact generator sets that integrate all emission reduction systems and AdBlue's tank in a robust and functional canopy. The new range incorporates a heavy-duty chassis whose pull skid has been reinforced and also includes protections at the accesses for forklift. The drip tray is designed to withstand 100% of the engine liquids.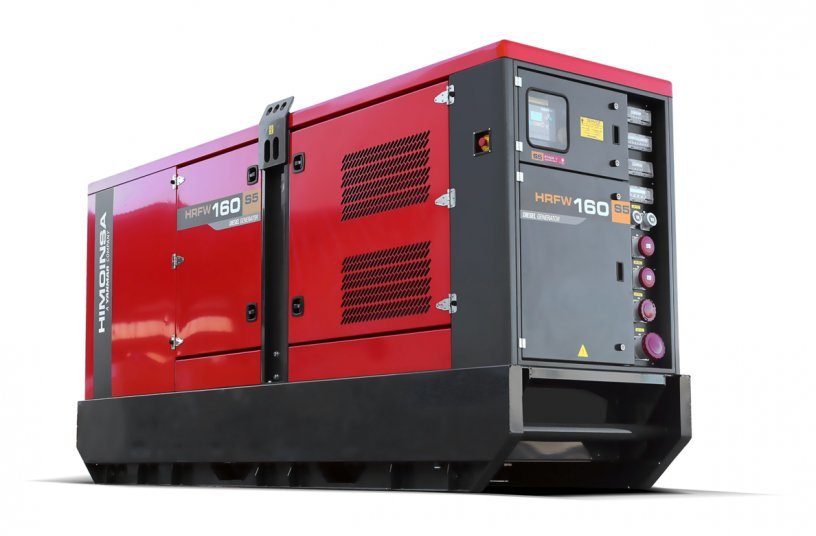 Optimization of maintenance and running costs
S5 generator sets, primarily those with power greater than 80 kVA, guarantee running costs lower than those of generator sets with Stage IIIA engines, mainly due to a significant reduction of fuel consumption. Most S5 models incorporate a new after-treatment system for gases that require a greater investment in filters and spare parts for new components. However, the fuel consumption of the new engine is significantly lower, which ensures lower operating costs than generator sets with Stage IIIA engines. In parallel, HIMOINSA has made the fuel tanks of their S5 generator sets the same size as the AdBlue tank to match their fuel and urea running time, thereby reducing running tasks and costs. The HRFW 200 S5 model that is being presented at Bauma, incorporates a fuel tank with a capacity of 600L with a running time of 14 hours. The consumption of urea in an S5 genset is roughly 10% of the fuel consumption.
In order to reduce noise emissions even further, S5 generator sets incorporate a special rock wool insulation. Components of different densities and characteristics are used at the air inlets to reduce noise in a broad spectrum of frequencies. The location and layout of the air inlets have also been optimized to mitigate noise
The S5 range includes a new control and power panel at the rear of the canopy which affords several competitive advantages:
It minimizes noise emissions. The panel is isolated from the engine room so there is no exposure to noise while the control unit is being handled.

It facilitates maintenance. The panels can be replaced without having to remove the canopy.

Accessibility and reduction of space. The usual power outlet is replaced by a lower one that limits the total footprint of the genset and improves access when any kind of manipulation is required.

To ensure easy transportation. The new design has optimized the location of the lifting points; the single point is replaced by two side plates with different points distributed longitudinally to stabilize the lifting of the genset. In addition, the drawbar and the forklift accesses have been retained.
To ensure the highest levels of impermeability new doors have been designed whose upper face is angled at 20 degrees. This prevents water filtration and oxidation points caused by an accumulation of stagnant water. The canopies of the S5 generator sets retain the rest of the components that have been added to the other ranges to withstand heavy rains and snowfall.
HIMOINSA has incorporated a new layer in the process it follows to paint and protect metal parts. This involves a zinc-rich primer prior to the final finish ensuring a best-in-class canopy. As they are made in stainless steel, all the door locks and hinges of this new range are more resistant
To ease the access for maintenance purposes, the S5 Range incorporates:
A hinged door that provides access to the after-treatment system for maintenance, and to the radiator for cleaning.

Wider doors to ensure better access to all the engine and alternator components for correct maintenance and for the replacement of consumables. 

Maintenance intervals of 500 hours.

Drain valves to make it easier to clean the radiator. S5 generator sets with FPT and Scania engines include low coolant level sensors that provide an additional point of control to prevent overheating before it occurs, thereby lengthening the life of the engine.

Internal fuel filling tank to prevent theft and accidental spillage of fuel during loading.
Source: HIMOINSA