ECHO PRM: Introduction of the start-up
The founders of ECHO PRM have worked for many years in sales, product management, production and development for manufacturers of construction and industrial machinery.
This is where the idea of an easy-to-use manufacturer/user interaction platform emerged, which was introduced to the market in 2021, founded by ECHO PRM GmbH (based in the Allgäu region of Germany).
With a Software as a Service solution, ECHO PRM has been supporting manufacturers of technical products in the digital distribution of product-specific information, in market analysis and in the modern handling of after-sales services ever since.
The users of the products (e.g. operators of a construction machinery) open a product-specific web app directly on the product via a QR code or an NFC label and find all the information and interaction options for their product there. This includes, for example, instructions, tutorials, help, technical data or current information. In addition, issues can be reported, service can be contacted, feedback on the product can be given or suggestions for improvement can be submitted.
And all this without logging in, registering or downloading an app, but still clearly assigned to the product's serial number. The manufacturers, in contrast, work in the customer-specific backend and manage all content, documents, forms and evaluate feedback in a simple and modular way. Without any programming of their own, without coding and ready to go in just a few hours. Product managers and developers are thus closer to the market and receive direct feedback.
Instructions and assistance can be provided digitally, which saves printing and administration costs. At the same time, the information is always up-to-date and can be enhanced with multimedia.
And in after sales, messages are managed and processed centrally and assigned to the serial number. Photos of errors in private whatsapp or email histories, notes on pieces of paper and missing documentation are a problem of the past. ECHO PRM is currently used primarily by manufacturers in German-speaking countries, but the solution is also already in use in Australia and the USA.

Get in touch with ECHO PRM
ECHO PRM GmbH
Address
Krokusweg 5a
87488 Betzigau
Germany
Email
info@echoprm.com
Website
Product overview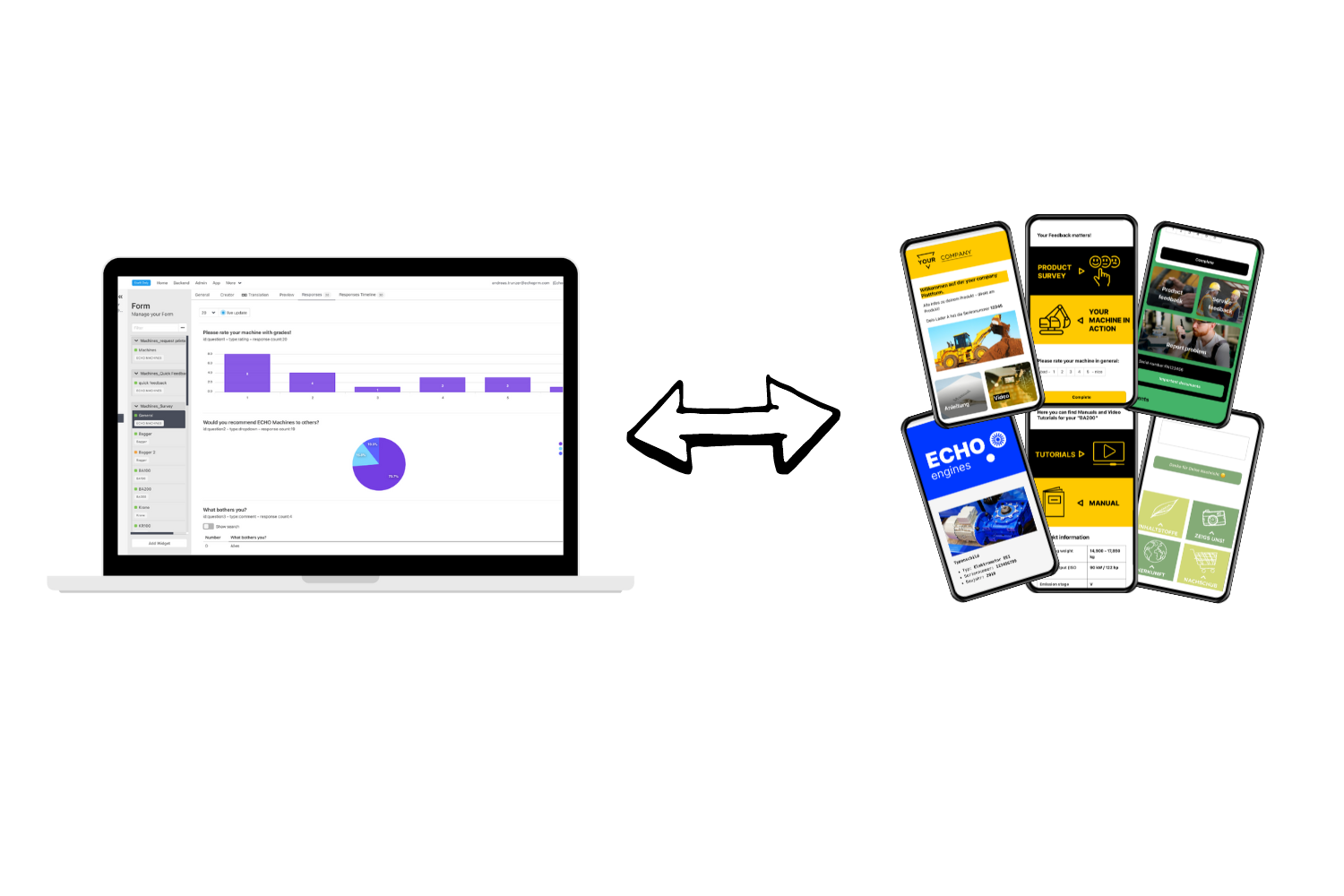 ECHO PRM Backend and Web App
In the browser-based Backend, manufacturers flexibly manage which content and communication options are to be displayed for which product automatically via the app, while feedback is evaluated in a structured manner. Via a QR code or NFC label, users can access a web app for each individual product and interact with the content.
Contact
ECHO PRM GmbH
Krokusweg 5a
87488 Betzigau
Deutschland
+49 831 98909481
info@echoprm.com
echoprm.com
Member of