25 November 2022, 15:46
At Weidemann, LP stands for "Low Position". This has been a long-standing tradition in the company and means that the wheel loader has a lower height and low centre of gravity - features that enable the machines to clear heights of less than two metres without the driver having to fold down the overhead guard. This classic also boasts easy access and improved stability, making it unbeatable when handling heavy weights, such as large bales. This construction ensures greater safety in stacking work and in manoeuvres.


All these benefits have been fully retained in the fundamental redesigning of this successful Hoftrac® 1240LP to become the new 1260LP model. The machine has also been completely overhauled, with many of its features having thus been optimised to suit the various applications:
With 18.4 kW/25hp, this wheel loader fulfils emission standard Stage V, thus requiring no exhaust emission treatment.

Compared with its predecessor, the tipping load of the new machine has been increased by 18% and, depending on equipment options, weighs between 800 and 1100 kg (pallet fork, straight).

Optimisation of the steering angle and rear overhang has resulted in increasing the Hoftrac's® manoeuvrability.

Weidemann provides the appropriate kinematics for the machine size for all its machines. P-kinematics come as standard for the 1260LP, which is characterised by a precise parallel guide across the whole lift range. The standard loading system has a lifting height of 2.50 m at the bucket swivel point. Two other load arms of 2.70 m or 2.90 m are available as an option. If required, this enables an increased lifting height without having to move up to the next size of machine.

The driver's cab with standard rear windscreen and the cabin have been completely redesigned by Weidemann. With significantly more room, the driver can enjoy a comfortable working environment. The excellent all-round visibility enables safe and efficient working with the machine.

The flat centre tunnel also serves to improve driver comfort and safety.

The new interior, with its colour-coded operating concept and ergonomic display layout, also enables intuitive and efficient working.

The lighting can be adapted to various requirements. Two LED work lights (1000 lumens) are fitted to the front and rear as standard. Other options are also available including a lighting package with 2000 lumens, halogen lighting according to Road Traffic Regulations (StVZO) and an LED rotating beacon.

The optional load arm dampening significantly increases driver comfort on road journeys.

The optional 13-pole electrical socket gives the 1260LP even greater versatility when used together with the various attachments.
Direct Wheel Drive – a powerful and efficient drive concept.
A Hoftrac® is usually driven by a hydrostatic drive with driveshaft, PTO gear and axles or by a hydraulic/hydrostatic drive via oil motors on the axles. With the new 1260LP, Weidemann has opted for a different drive concept. Known as Direct Wheel Drive (dwDrive), this concept sees 4 wheel hub motors fitted directly on the wheels. This means that each will have its own motor that drives the wheel directly and uniquely. The wheel hub motors are, in turn, driven by a hydraulic pump, resulting in no mechanical losses. A high pressure fuse also protects the wheel hub motors against pressure peaks. Extraction between the wheel hub motors also prevents the external motors from running dry when driving round bends.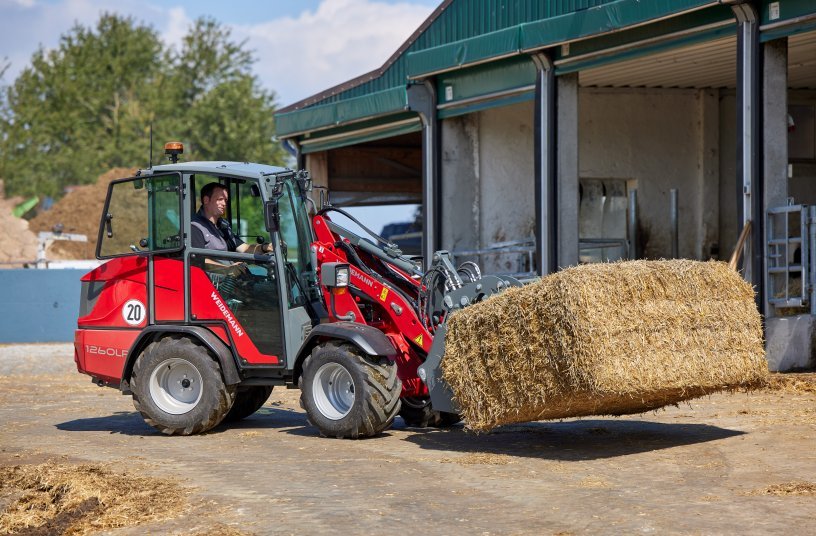 dwDrive offers the following benefits:
Increased efficiency thanks to purely hydraulic drive

Outstanding acceleration meaning speedy driving

No loss of power through axles or transmission

Increased ground clearance for the machine compared with driveshaft and drive over axles

High pushing power through direct wheel drive

Infinitely adjustable speed from 0-20km/h

Combined brake-inch pedal

Electric handbrake

Maintenance-free hydraulic multi-disc brake
With its low operating weight of 2100 kg and compact dimensions, the 1260LP is easy to transport on a 3.5 t trailer and thus can be moved freely to various application areas.
The overhaul and redesign of the Weidemann 1260LP has resulted in a versatile, agile and powerful machine that sets a new standard in this size class.

Source: GMC Marketing GmbH; Weidemann GmbH