16 April 2021, 12:04
AC160L-12 - AC200L-12 120V is the new series of electric forklift trucks designed for paper mills, port terminals, steel mills, wind turbine handling, cement works, timber, carpentry and many other sectors.
The new AC160L-12 - AC200L-12 120V range is an innovative choice that combines diesel performance with eco-sustainability. Rated capacity from 16000 to 20000kg at 1200mm centre of gravity, AC current-alternating technology, Solid tyres, width of only b2=2450mm. Batteries from 120V 2170Ah to 120V 2790Ah
The first prototype is currently being tested in timber companies in Austria and Germany.
A line designed to meet the needs of working in intensive sectors and covering long shifts in complete autonomy. A robust frame and a well reinforced mast provide stability, safety and reliability when handling heavy loads, wide, high or with extended centres of gravity. Allows flexibility during possible work peaks. Agility in movement and a rapid response to each activated command. Versatility to work on uneven floors, indoors and outdoors in different environmental situations.
Autonomy and reliability are guaranteed by: traction motors 90kW (120V), lifting pump 62kW (120V), steering 13kW (120V).
The centralised greasing kit and the liquid cooling system are the added value especially for long working operations and heavy duty applications:
High performance

Maintenance free

No cleaning required

Keeps constant motors temperature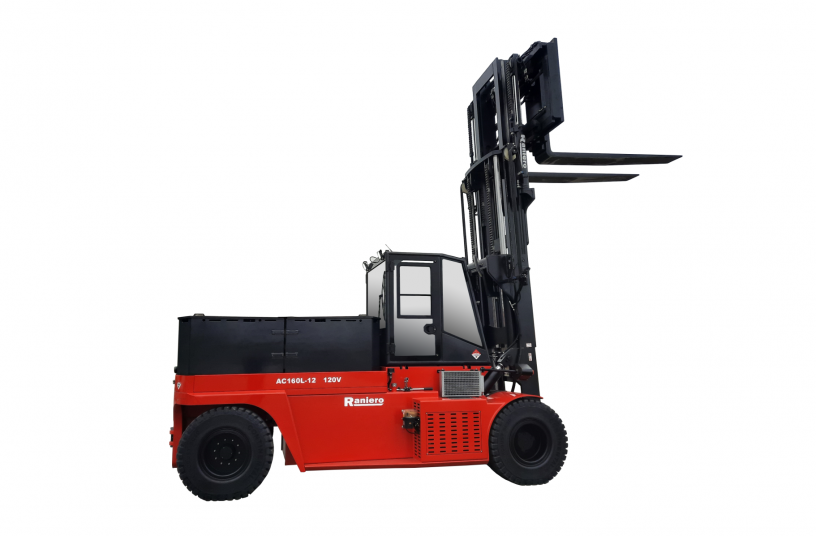 To provide maximum operator comfort, especially during long shifts, we have designed the new MAGNIFICA cab.
What immediately catches the eye is the excellent visibility in all directions. The large screens and the outer cylinders of the masts give every single user a clear view of the loads. They can interpret every single situation such as the presence of walls, pillars, narrow spaces, approaching loads, people around the truck or unexpected obstacles on the ground.
A heated air-sprung GRAMMER PRIMO EL PLUS seat with electronic self-adjustment and a second passenger seat enhance the spacious cab. In addition, the armrest with electro-hydraulic distributor with mini fingers/mini levers, the rear infrared camera with 5" colour display and the heater are all fitted as standard.
A wide range of accessories and equipment is available according to your personal requirements and the internal regulations of your company.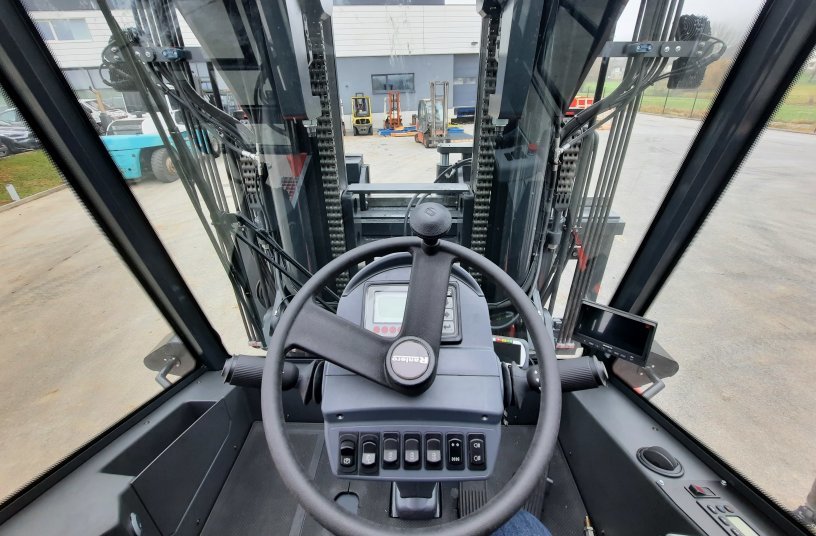 For timbers, logistics and port terminals, for example, we can add the option of an operator seat that can be rotated up to 180°. Our software allows you to monitor, analyse and reprogram our forklift trucks remotely, from the comfort of your office.
Electric trucks of this size are a major innovation in this category. Where previously a diesel forklift operated, an electric forklift can now be used, with a host of benefits in terms of reduced noise levels and cost-effective operation. Daily savings of up to 70 percent can be achieved thanks to lower energy, maintenance and spare parts costs. Another aspect is environmental sustainability, an increasingly central theme for companies.
A new proposal, a new alternative resulting from our long and deep experience in the design of electric forklifts from 6 to 25 tons for the paper, recycling, wood, steel, automotive, cement, beverage, heavy logistics, terminal and port sectors.
Source: Lampocar S.r.l. -Raniero Forklifts