City Ranger 3500 - Brine Sprayer
11 March 2015
Preventive, effective and environmentally friendly de-icing
The brine sprayer is designed for preventive, effective and environmentally friendly de-icing of pavements, streets, bicycle lanes, parking areas, and other traffic arteries. As the salt is already dissolved when spread, it starts working immediately when it hits the ground providing a very even de-icing across the surface. Thus the operation requires less salt, which means that the material costs are reduced, the biological environment is not affected, and pavements, tiles and concrete surfaces are treated very gently. An altogether cost-saving, environmentally friendly and truly effective winter solution.
Working accuracy
The spreading width as well as the amount of brine to be spread is adjustable from 10 to 50 ml per square metre with great accuracy . The spraying is fully speed dependent, controlled by a flow-meter as well as a feedback sensor on the liquid pump.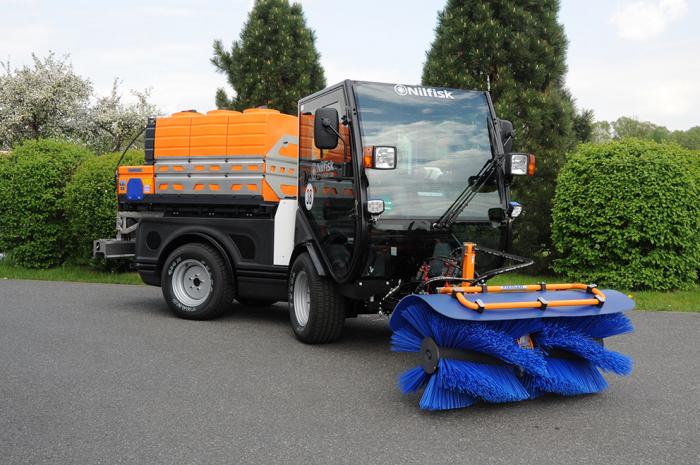 Rust-free durability
Naturally, the brine sprayer is well protected against rust. All the vital parts - like the spray boom, the fittings and the hose reel - are made of stainless steel. The hopper is made of robust and UV-protected polyethylene, and the chassis is coated with a very strong finish of corrosion class C5.
The brine sprayer is easily combined with the snow sweeper. This saves the driver time, as it en-ables him to remove the fine layers of snow and spread the brine at one go.
Quick shift of attachments
With City Ranger 3500, attachment changeovers can be done in less than 10 minutes, which is the fastest changeover-time in this machine class.