15 May 2014, 00:00
Stand FG F02, open air site
The extent of Combilift's product development since the last CeMAT is evident on its stand in the open air area, where over 20 models are on show. Since the introduction of the new Combi-WR reach stacker range, at CeMAT for the first time, Combilift now offers handling solutions with load capacities from 1,450kg up to over 50t.
The large stand features a demo area where trucks can be put through their paces, regular performances of the very popular Combi-CB truck dance routine and of course refreshments from Ireland such as Guinness and Cider. Combilift has gained a reputation for putting on a show at CeMAT and it will be pulling out all the stops once again this year.
Combilift made its name as the provider of innovative 4-way technology and customised forklifts and since the company was established in 1998 it has added new products at an average of at least one per year.  Models from each of the main series are being exhibited at this year's show, which guarantee safe, space saving and productive handling of long and awkward loads, pallets, containers, extremely oversized products or a combination of these.    
Premieres at CeMAT include the smallest Combilifts to date – the Combi-WR and its multidirectional counterpart the Combi-WR 4, which won this year's UK FLTA award for ergonomics. At the other end of the size spectrum the new Straddle Carrier model, the Combi-SC Top-Lift, will be hard to miss. The electric C4000E and a new sideloader model complete the CeMAT firsts.  
As diverse as these new products are in their appearance and applications, the impetus for their development was based on the common goals of providing solutions for efficient, cost effective handling, taking customer feedback on board.
Combi-WR and Combi-WR4
These "Walkie Reach" trucks are the first pedestrian models from Combilift and were developed as an answer for customers needing a cost effective and smaller unit for handling lighter loads. Their versatility means that they are suitable for both pallet handling and for moving longer loads and offer a high level of operator comfort and safety when placing and picking in narrow aisles. The patented multi-position tiller which allows push button rotation of the rear wheel parallel from the tiller to the chassis and back enables the operator to remain at the side of the truck rather than between the truck and the racking, so eliminating crush risk and improving forward visibility.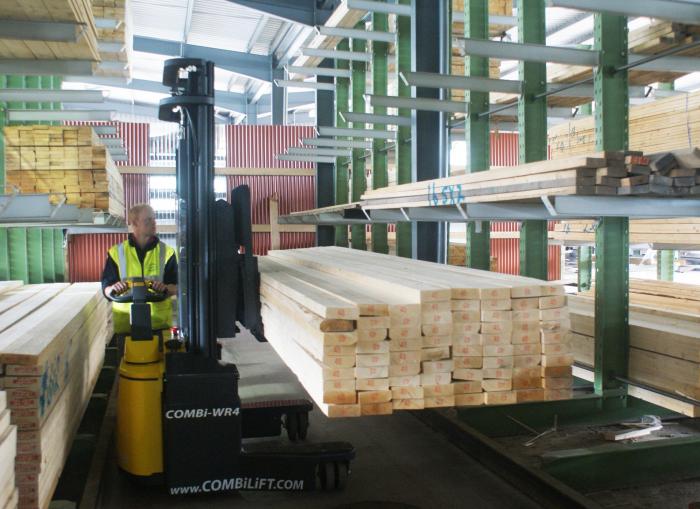 Incorporating the benefits of AC technology in the traction, pump and steering motors, the WR models have a lift height of 4.2m and a load capacity of 1,450kg. With electronic power steering, pantograph and side shift functions it is the only pedestrian reach stacker range which can work in an aisle-width of 2.1m pallet to pallet.
Combi-SC Top-Lift
Combilift launched its first Straddle Carrier four years ago for the flexible and economical handling of containers and other oversized loads such as concrete and steel. It offers complete independence when moving loads around sites and loading on and off HGVs. A major advantage is its light unladen weight and low ground pressure compared with conventional heavy handling forklifts, reach stackers or mobile cranes. This enables it to work on poor and semi rough terrain, without the need for costly investment on ground resurfacing or improvement.
The new Combi-SC Top-Lift incorporates a spreader which is used to grip and pick up a container by means of four twist locks. The spreader can be adjusted to handle 20ft and 40ft containers, controlled by a flick of a switch from within the cab. This allows the operator to remain in the cab throughout the whole procedure which reduces manual strain and increases throughput to an impressive 20 containers an hour.
Combilift MD Martin McVicar comments: "The Combi-SC Top-Lift is the missing link between a reach stacker and a side lifter and we are seeing a high level of demand for this new model from logistic companies and hauliers requiring more efficient container handling methods. This is down to the machine's abilities to enhance productivity and health and safety procedures and to enable substantial savings on purchase and operational costs."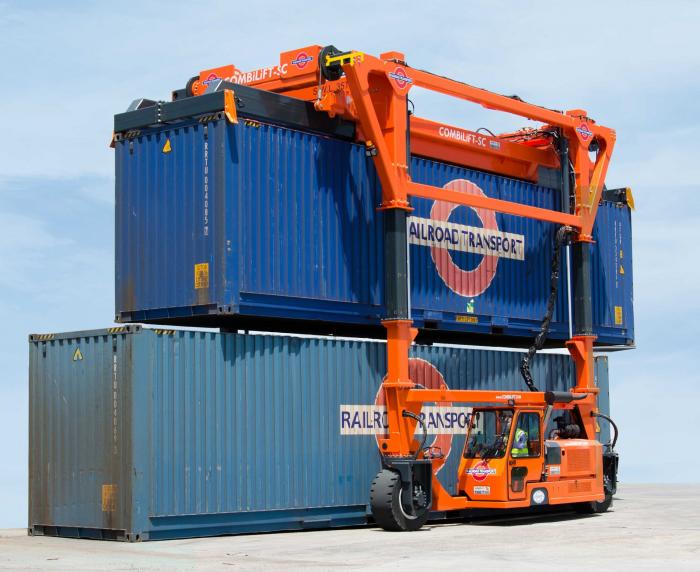 Combilift C Series
Six models from the original and still very popular 4-way C series are on show, with capacities ranging from 3t to 14t. These include a C5000XL with larger cab and high ground clearance which is especially suited to operation on rough and uneven terrain and the C14000 for very heavy duty applications.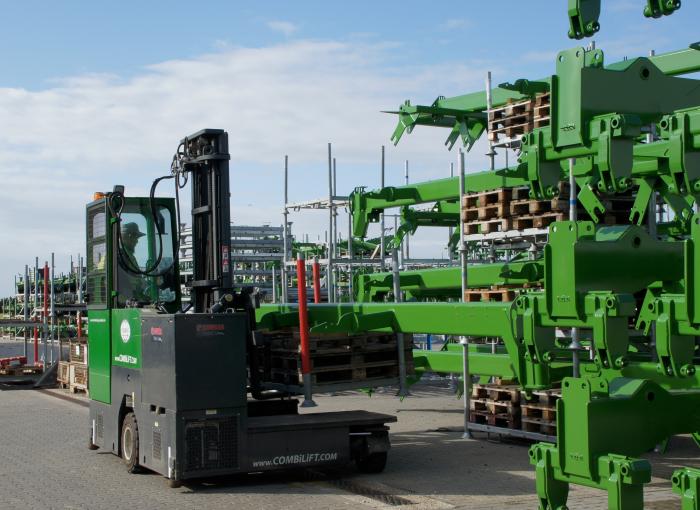 The new multidirectional C4000E model has a redesigned cab and a host of features to ensure efficient, smooth and quiet operation.  Full AC electric drive on the front right and rear wheel increases traction and with one of the drive wheels positioned directly under the platform, very exact directional travel can be achieved with heavy loads. Regenerative braking increases battery life for longer operations per charge, and LED lights as standard reduce power consumption and maintenance. The E range offers the versatility of indoor and outdoor operation: with solid rubber tyres on the two front wheels and a rear rubber super elastic tyre it is equally at home in the warehouse as well as on challenging surfaces in and around the yard.   
SL Series
New to the sideloader range is the two directional FWSL , available with 5t and 6t load capacities. This was developed for operations that need a machine capable of offering reliable operation across extensive sites and offers considerable benefits over other machines on the market. Combilift's single hydrostatic drive motor coupled with a JCB differential axle incorporated in this model enables prolonged long distance travel at high speeds and eliminates any concern of overheating. Very low maintenance wet brakes are fitted as standard on the drive and front steering axles.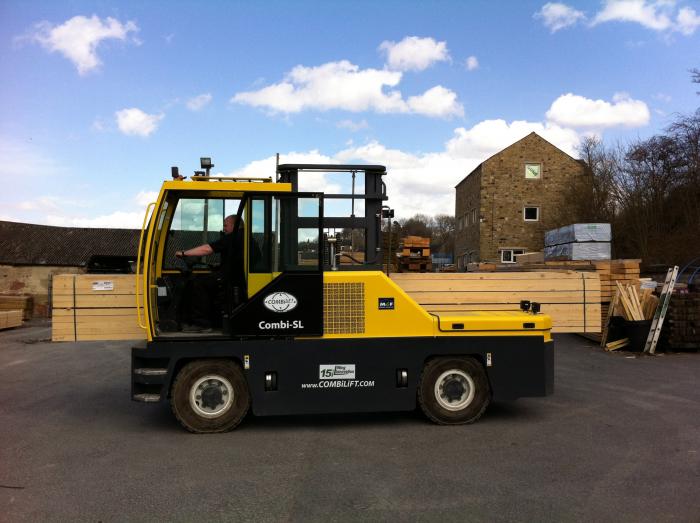 Combi-CB
Combilift's larger trade fair stands have become characterised by regular performances of the  Combi-CB truck dance which shows off to perfection the manoeuvrability of these compact, counterbalance design 4-way forklifts.  Four Combi-CBs are on display with capacities of up to 4t and various power options. 
ST range
The lean machines of Combilift's ST stand-on range are very popular with, for example,  metal and tube stockholders due to their ability to work in extremely narrow aisles, offering much better use of available space and reducing storage costs on-site. Platform lengths can be customised to enable them to work in existing aisle-widths. There is also now a sit down cab option and this model is being exhibited.
Aisle-Master articulated trucks
Three Aisle-Master articulated trucks will be on the stand, working within racking to demonstrate the narrow aisle capabilities of these versatile machines which enable space saving and very productive pallet handling. Combilift incorporated the Aisle-Master into its product portfolio some years ago and has since expanded the range which features standard, very narrow and larger chassis widths with lift capacities of up to 2.5t and impressive lift heights of up to 15m.