23 November 2021, 05:00
HAMM has always been the driving force behind innovation in the compaction industry. A look at the innovations that have been developed in Tirschenreuth since the bauma construction machinery trade fair in 2019 shows that the roller manufacturer is continuing to enrich the market with pioneering products and solutions. The innovations cover the entire spectrum of compaction in asphalt construction and earthworks. If we focus on pure compaction technology, this includes, in particular, the further development of oscillation as a compaction technology, the new chip spreaders for tandem rollers, a new dozer blade for compactors and Smart Doc, the Android app for compaction documentation.
Split oscillation drums
The split oscillation drums for DV+ series rollers are an important new development. They combine the advantages of a split drum with those of oscillation. A split drum creates added value particularly when compacting around corners and when compacting asphalt types that are particularly susceptible to being displaced, such as stone mastic asphalt or polymer-modified mixes. In these cases, compaction using non-split drums can lead to material being displaced and cracks forming on the surface. These effects can be avoided with split drums. In addition, oscillation as a compaction technology generally has a low noise level, so plays a valuable part in environmental protection. In 2019, HAMM became the world's first manufacturer to launch a split oscillation drum. Each drum half contains a separate, mechanically independent oscillation unit. Innovative digital hydraulics ensure that the two drum halves turn at different speeds when cornering but still oscillate synchronously. A typical area of application was asphalt compaction at the roundabout at a junction on motorway A7 in Northern Germany. Despite the very tight radii at the roundabout, the DV+ 90i VS-OS produced a crack-free and therefore high-quality surface. These experiences were also backed up by applications in the Netherlands, where the drum was particularly impressive when compacting around corners.

Maintenance-free oscillation drums
HAMM brought oscillation to series production in the 1980s. Since then, the company has been continuously working on further developing this compaction technology. For instance, the exciter systems in the oscillation drums have been driven by a newly designed system since 2019. With innovative toothed belts, all oscillation drums – both split and non-split versions – are now maintenance-free, as there is no longer any need to replace the toothed belt or change the oil.
New chip spreaders
With a new generation of chip spreaders, HAMM has offered modern modules for spreading surface courses since 2020. The designation HLS (HAMM line spreader) combines different models for the HD CompactLine series compact rollers and for the DV+ series tandem rollers. Their spreading pattern is extremely homogeneous, the spreading width can be precisely adjusted, and numerous functions can be activated automatically depending on the working speed – for example regulation of the spreading quantity when driving on steep terrain. This is supplemented by convenient attachment thanks to the quick coupling and eyelets. A practical parking device is available as an option for the HLS 150 and HLS 170 models from the DV+ series.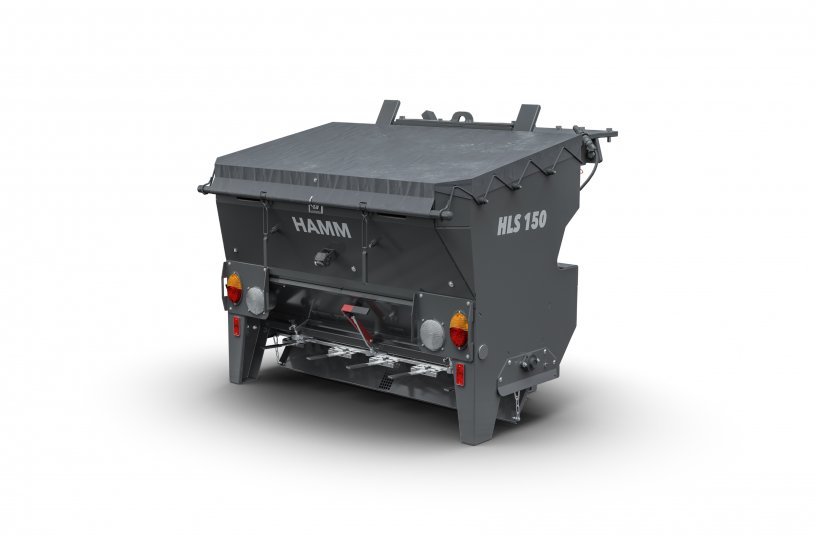 Versatile dozer blade
A dozer blade was already available for the H series compactors, and HAMM has further developed this product. Two versions of this new blade are now available and these can push and distribute more material than ever before. While doing so, the blade can be controlled quickly yet extremely precisely – a proportional valve makes this possible. At the same time, special skids prevent the blade from digging into the ground. In addition, the patented high-visibility cross-member provides an unobstructed view of the area in front of the dozer blade. The dozer blade turns the compactor into a versatile combination unit that can pave and compact smaller volumes of stone without the need for an additional caterpillar vehicle. Ideal applications include, for example, disposal sites as well as projects involving digging ditches and light earthworks, where loose debris has to be distributed, stripped and compacted. At a quarry in Southern Germany, the compactor with dozer blade was a useful addition to the bulldozer that was already on site. The robust design has proven to be successful, as well as the fact that all essential elements are designed as wear parts. For the driver, it is especially important that they always see where the dozer blade is positioned relative to the substrate and that, thanks to the high-visibility cross-member, they always have an unobstructed view of the dozer blade and the area in front of it.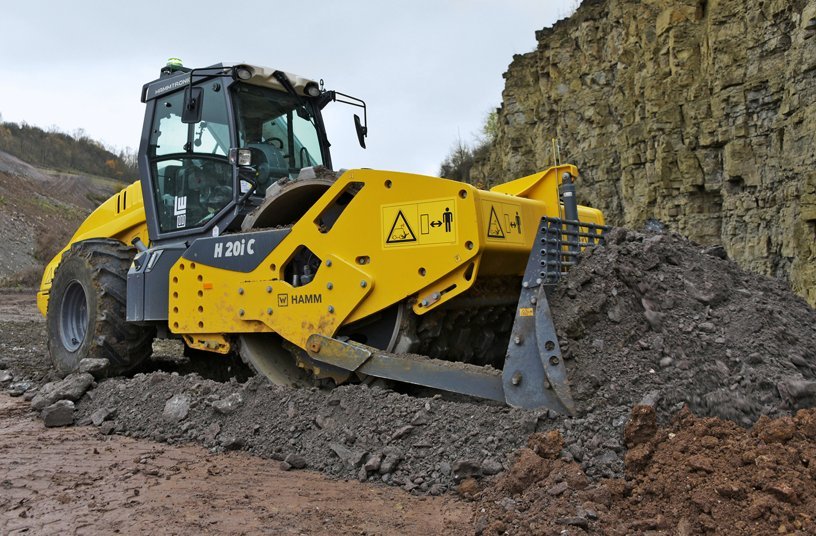 Smart Doc – Android app for self-monitoring in earthworks
HAMM developed the easy-to-use "Smart Doc" Android app for self-monitoring and for checking compaction in real time. The app transparently documents compaction in earthworks. The compaction report can be shared with third parties in PDF format. Smart Doc fulfils the minimum requirements of continuous compaction control (CCC). With this app, HAMM offers an economical alternative for achieving high-quality compaction in earthwork projects with the required basic continuous compaction control in a way that can be verified. Alongside quality control, Smart Doc also creates significant added value when training new roller drivers, as all relevant compaction parameters are visualised in real time on a smartphone. In this way, drivers can see how the compaction develops with each double pass. This allows even inexperienced operators to square their perception with the actual compaction.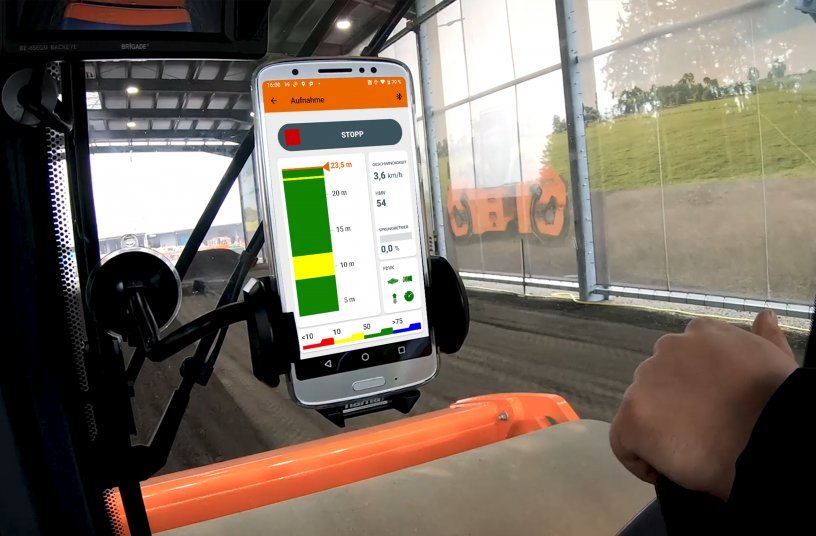 Source: WIRTGEN GROUP; Hamm