1 July 2021, 13:10
The French group chooses CTE ZED articulated truck-mounted platforms for some Italian branches
CTE SpA proves once again to be the ideal partner for the access rental world. The Kiloutou group, founded in 1980 and operating in 5 countries - France, Italy, Spain, Germany and Poland - with 550 branches, has in fact confirmed the supply of a batch of 23 CTE ZED articulated truck mounted platforms for its Italian branches Elevo, Cofiloc and Sticar.
Thanks to the fruitful relationships established in recent years between CTE with Elevo and Cofiloc, this important partnership has materialized easily. Innovation, competence and attention to customer needs were the characteristics that Kiloutou has found in a historic and reliable manufacturer like CTE, which this year celebrates 40 years of its foundation.
The CTE ZED models chosen ranges from 20 to 21 to 25 m of working height mounted on 3.5 ton trucks.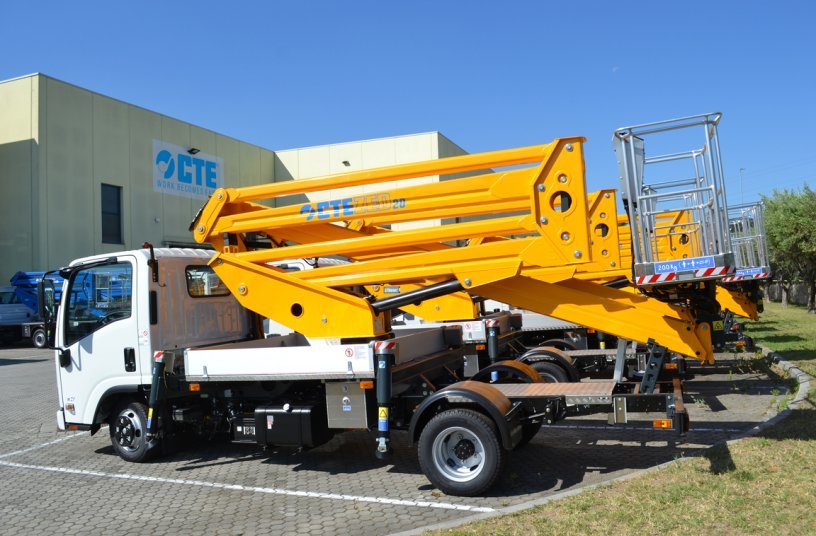 Giuseppe Maniero, CTE senior area manager in charge for the Italian negotiations, declares: "We are particularly pleased with this sale and proud of the fact that the choice, among the major manufacturers of truck-mounted platforms, was made on CTE SpA. In addition to the work that has been done in recent years with Elevo and Cofiloc, it has been added Sticar to strengthen the partnership, the sister of the group. In closing the negotiation, the decision to have a product that is always at the forefront, a guarantee of safety and simple to use, main elements to satisfy rental customers was decisive. To us, this operation is a cherry on top, which comes perfect to celebrate CTE's 40th anniversary".
Marco Govoni, CTE sales director, adds: "We have been accredited suppliers of Kiloutou for several years and in the fleet of the important hirer in France we can count both truck-mounted and spiders. This important arrival by Kiloutou into the field in Italy gave us the opportunity to consolidate existing relationships and create new ones. I thank Giuseppe Maniero for the dedication and support provided in connecting the elements, creating a satisfactory synthesis for everyone, as well as the Parisian headquarters for the renewed trust placed in CTE".
Source: CTE S.p.A.