5 May 2015, 00:00
Less than one year after the debut of the Potain MR 418 at CONEXPO, the new tower crane is already changing major metropolitan skylines. The first and third models sold in North America went to New York City's U.S. Crane & Rigging, where the company is helping to build several soon-to-be iconic skyscrapers and supertalls.
Currently, the company's first 26.5 USt MR 418 is working on a condominium development located at 626 First Avenue in Manhattan. From there, the crane will move to West 57th Street, where it will build one of the city's tallest residential towers. The company's other MR 418 is working on the Brooklyn Hub, a building that will be one of the tallest in the borough.
Tom Auringer, owner of Ridgewood, NY-based U.S. Crane & Rigging, said he chooses the Potain MR 418 for its quick line speed and electric power. The company owns two of this model crane now and has plans to purchase three more units later this year.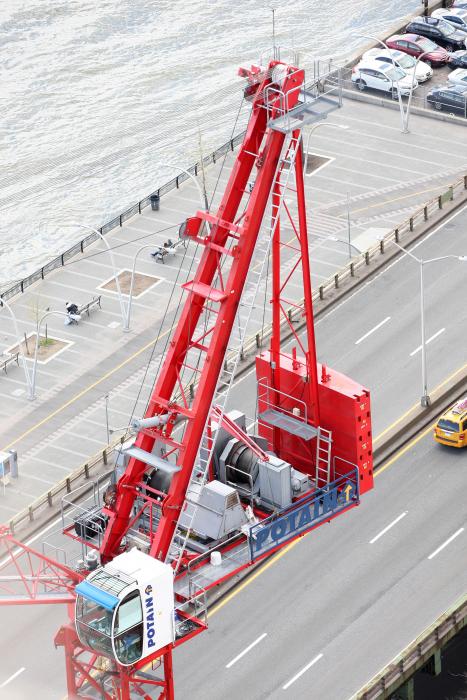 "Buildings in New York City are getting taller, which means we enhancing our fleet by ordering larger cranes," he said. "Bigger structures call for more height, more line speed and more capacity. The MR 418's line speed of 833 ft per min saves time and money over the course of a project – it's the fastest electric crane out there."
The crane's electric power is huge for Auringer, too. U.S. Crane & Rigging erected one of the first electric tower cranes in New York back in 2006 and hasn't looked back. Not only is the MR 418 "greener" than diesel cranes, emitting less greenhouse gases, it's easier to maintain. Tasks such as refuelling and oil changes are unnecessary or required far less often. "Electric cranes are the future," he said.
Proof of the coming electric tower crane transition can be seen in New York City's handling of the cranes. Auringer says the city's Department of Buildings have been pushing for electric cranes, even expediting permits to obtain power for the cranes. The department likes that the cranes are greener, producing less pollution, and that they emit less noise, he explained.
"When you file building permits, the electric portion usually gets dragged out," he said. "But the city is expediting permits for the power for the electric cranes – it wants newer equipment that is more efficient, easier to maintain and easier to inspect. Manitowoc representatives even worked with the city to train them on the benefits of electric tower cranes – it's made for a great relationship between us and the city."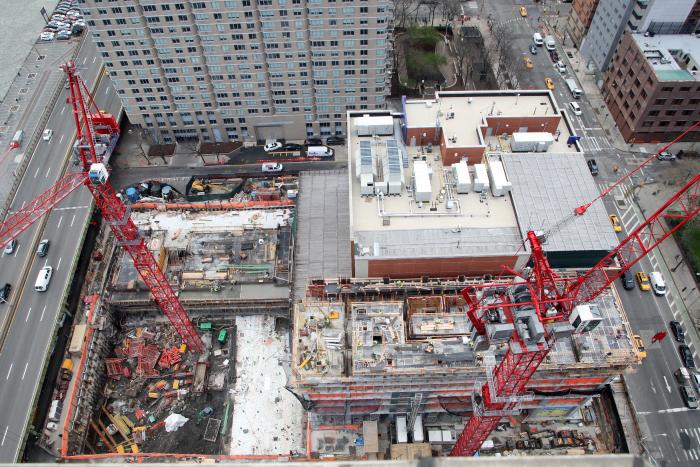 The first MR 418 in North America
The company's first MR 418 was erected on the First Avenue job in August of 2014 and will be on site until the spring. It's lifting buckets of concrete, formwork, structural steel and other construction materials that weigh up to 9 USt. It's rigged with 131 ft of main boom and freestanding at 182 ft in height, lifting at a radius of 130 ft. Many of the lifts are currently reaching some 170 ft into the air, utilizing the crane's luffing jib design.
"The MR 418's ability to freestand at high elevations is a plus," Auringer said. "Right now the crane is set up on a concrete foundation and lifting to the second floor. The building reaches 550 ft, so we will jump externally as work progresses. So far it's performing great on the job."
Also on the First Avenue project is a Potain MR 295. The condominium development is composed of two towers that mirror each other in size and shape – they will only meet at the height of 300 ft, where a swimming pool will connect the two towers. This crane is lifting the same loads as the MR 418 to the same heights. It's using 115 ft of boom and is freestanding at a height of 181 ft.
When the job on First Avenue is complete, the Potain MR 418 will head to 107 West 57th street, where it will help construct one of the city's tallest residential towers. The crane should arrive to the job site in the spring, and preparations to the grounds are well underway.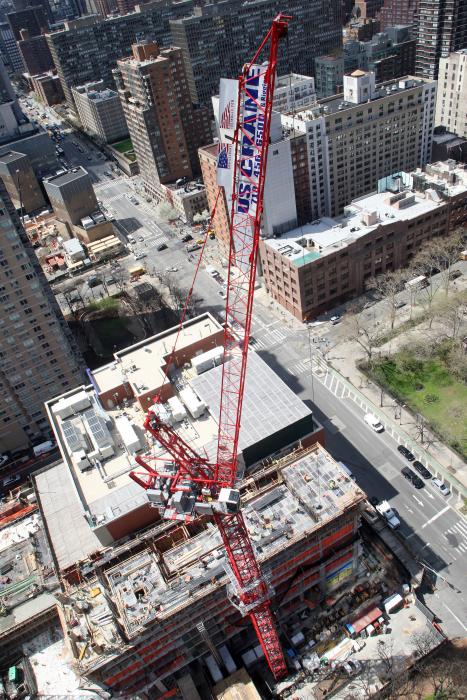 A second MR 418 for Brooklyn
After having success with its first MR 418, U.S. Crane & Rigging purchased another unit to work on the Brooklyn Hub at 333 Schermerhorn Street, a mixed-use residential and retail space. When finished in 2016 it will be one of the tallest buildings in Brooklyn.
The crane is set up with 131 ft of boom and is freestanding at 180 ft. Eventually it climb internally as work progresses until November of 2015 (it was erected on site November of 2014). It's lifting concrete rebar, formwork, structural steel and a space frame that weigh up to 5 USt.
Again, it was the Potain MR 418's line speed and capacity that led Auringer to choose the crane for the job.
"With this building rising to 577 ft, I need more line speed and more capacity than what was once available," he explained. "We are going to be involved in the construction of so many of these tall towers over the next year that we plan to purchase three more MR 418s for this very reason."
A hoist like no other
The MR 418 offers a host of other benefits including the optional 320 LVF 120 hoist. The crane can be utilized in either one-fall or two-fall reeving and is perfect for power plants or high rise buildings, including super tall structures that exceed 656 ft in height.
The 320 hp 320 LVF 120 hoist offers excellent capabilities for working on high-rise projects. The 2,709 ft rope capacity on the winch's drum means that in single-fall configuration a hook path of 2,709 ft is possible, while in two-fall configuration, 1,354 ft of vertical reach is possible.
In addition, the winch can reach speeds of up to 833 ft per min for better productivity, while the power control function means the winch can operate off varying power inputs, allowing it to cope with lower power supplies on site.
And it's not only in set-up and lifting where the crane is fast. It also luffs the jib from the horizontal position to the vertical in just 1 minute 15 seconds, well under the 2 minutes that most luffing jib cranes of this size would require. The MR 418's luffing speed is due to its 150 hp luffing winch.
Operators will like the extreme smoothness of the driving experience – variable frequency drive mechanisms on the MR 418 enable precise lifting and positioning, which is crucial to success on high-rise jobs with heavy payloads.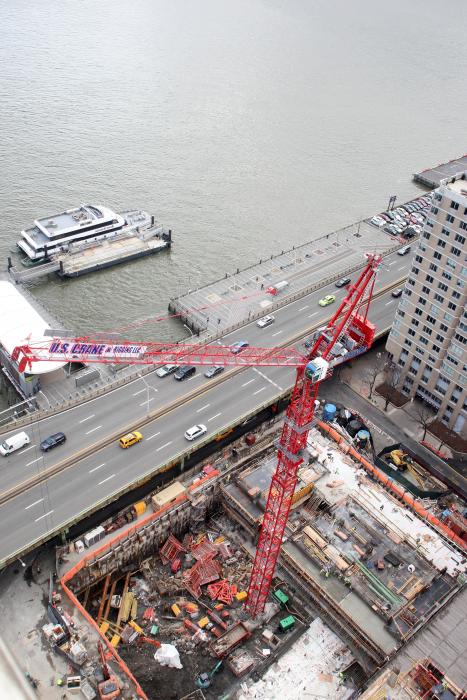 Backed by Manitowoc
U.S. Crane & Rigging purchased the crane from TES Equipment, a JF Lomma Company. Auringer said the company felt confident purchasing from Lomma because of its success with Potain tower cranes. Also, he said, the company was encouraged by Manitowoc Crane Care Service offered from Manitowoc and Lomma.
"The service from TES and Manitowoc has been exceptionally great. Anytime we need a part, repair or technical support they come through," he said. "Between TES and Manitowoc Crane Care service, we are covered 100 percent, 24/7/365."
U.S. Crane & Rigging was established in 2001 and has already grown to some 200 employees. Including Auringer, the company has three master riggers and approximately 15 – 20 operators working at any one time. In New York City, the company also has Potain tower cranes lifting on Fleet Street, Beekman Street, 60th Street and Queens Plaza.