30 August 2022, 13:53
Productive performance, lightweight design and a low total cost of ownership drew positive reactions from Middle East customers
With a leading unrestricted capacity and lightweight, efficient design, the Genie® S®-80 J boom lift is not only well-suited for nearly any work-at-height task, it also is purposefully designed to lower ownership costs and improve rROIC for equipment owners.
In early May, eight Middle East access hire companies had a chance to see the S-80 J first-hand, and in-person during Genie's UAE S-80 J Demo Tour. During the event, Genie team members provided demos that highlighted the quality and capabilities of the S-80 J boom lift, shared information about how the boom could help rental companies maximize their profitability, and answered questions about the boom's features.
"There's nothing like getting a chance to see and operate a piece of machinery up close and in-person, which is why the Genie team was so excited to get a chance to meet with our customers in this type of format," said Sharbel Kordahi, Genie Managing Director & Sales Director for the Middle East region. "We received such positive feedback from participants that we are looking into the possibility of expanding it to other markets in the Middle East region."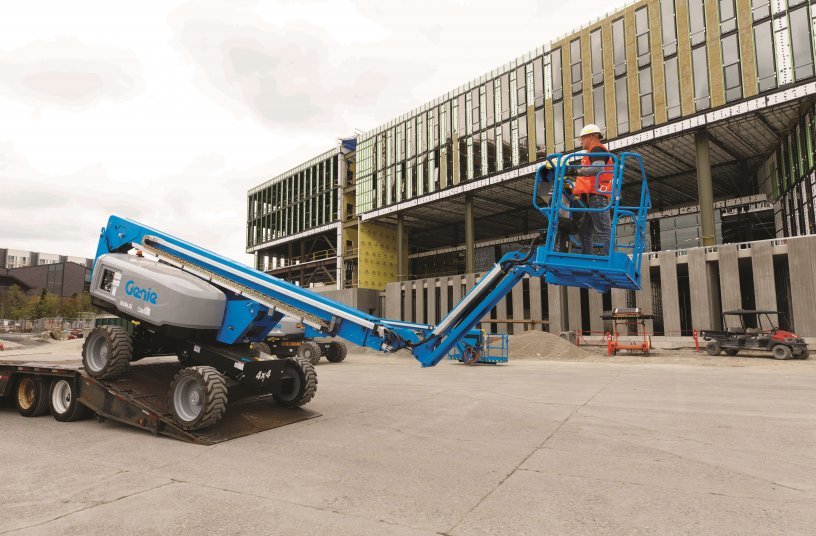 Customer Reactions
Following the event participants shared their appreciation for both the demo tour format, and excitement about the benefits the S-80 J boom could deliver for their fleets.
Robert Cavaleri, Regional Training, Safety and Compliance Manager at Manlift Middle East LLC, commented: "The demo was well organized and well balanced between an in-class presentation of the machine and a hands-on demo and technical explanation of the S-80 J. Our team enjoyed the possibility of giving feedback to the Genie team on the machine, and that they took it seriously. Also, I was impressed that the Genie team was focused on showing us how the S-80 J would fit into my fleet and solve some of my ROI issues."
Mark Pilford, Regional Operations Manager at Access Rental Gulf, observed: "The reduced TCO is definitely a game changer, especially in the mid-sized booms that are challenged on rental rates. I will be able to improve my ROI and also differentiate the XC range with a better rental rate. And customers will benefit from a machine that is more affordable, especially if they do not require all the features of the XC range, yet gain an extra 70 kg of work in the basket, along with the latest technology."
Pilford added: "We now have a very good understanding of the Genie strategy on their boom range, and we have an additional tool to improve our ROI. We will for sure add the S-80 J to our fleet."
About the Genie S-80 J Telescopic Boom Lift
The Genie S-80 J boom lift features a leading unrestricted platform capacity of 300 kb (660 lb), 16.8 m (55 ft) of horizontal reach for access at the top of the envelope, and a 1.8 m (6 ft) jib, making it well suited for nearly all work-at-height tasks in the 80 ft (26 m) range, including general construction, maintenance, inspection and painting. A single-envelope, optimized design reduces overall inspection points and wearable components, speeding up inspections and reducing the time and expense of maintenance and repairs, resulting in a lower total cost of ownership.
Thanks to its extremely low machine weight, the S-80 J has low ground pressure for a machine of this class size. It's low weight also allows the S-80 J to be equipped with the exclusive Genie 4-point TraX™ system — making it the first and only 80 ft (26 m) boom lift to be available as a tracked option. Genie TraX provides exceptional terrainability and lower contact pressure for a smooth drive on rough ground conditions and reduced damage when operating on sensitive ground surfaces, such as wet grass, mud, sand and snow, as well as on harder, uneven gravel, rock, concrete or asphalt-based surfaces.
A high ground clearance of 36 cm (14 in) — or 41 cm (16.25 in) when equipped with TraX — the S-80 J easily clear rocks, curbs, trailer break-overs and other daily obstacles, getting operators around jobsites more efficiently.
Source: Terex Corporation; Genie