6 January 2021, 14:11
Austrian family business W. Reitinger picked up its first Grove mobile crane from the Manitowoc factory in Wilhelmshaven, Germany, in February 2020. The new GMK3050-2 was destined for the company's headquarters in St. Florian near Linz and has since established itself as a powerful and universally applicable addition to the fleet. In this interview, managing director Dr. Reinhard Hofer shares W. Reitinger's reasons for purchasing its first Grove taxi crane, as well as his impressions of the model so far.
What made you decide to add a Grove taxi crane to the fleet?
Before making our final choice, we looked at the Grove cranes and manufacturing in Wilhelmshaven very carefully. Introducing a model from an additional manufacturer into the fleet was not a decision we took lightly, as the operation and handling are different to what we had been used to. Our first step for the management team was to visit the factory in northern Germany and have the products and manufacturing process presented to us in detail. This convinced us that the Manitowoc cranes would prove advantageous in meeting our requirements.
What impressed you the most?
Manitowoc has made a giant leap forward with its huge investments in the Wilhelmshaven site. I was not aware of the expertise there — in boom design and boom manufacture, for example. We learned in detail how the interplay between unique Grove features, particularly the MEGATRAK independent suspension and laser hybrid welding process during the manufacturing of the boom, ultimately results in the combination of high load chart values and low vehicle weight. As an engineer, I am used to questioning things and the conclusive answers I received enabled me to understand the potential added value of a Grove crane.
What was the next stage in the decision-making process?
Once we in the management team were convinced that Grove cranes could be a good addition to our fleet, we brought in our hands-on colleagues from the planning department and technical specialists. No matter how good a crane is, there will be difficulties if your staff is not supportive. As a family business, we place a lot of value on the involvement of our employees. This has proven to be one of our strengths throughout the 80-year history of our company.
What did the W. Reitinger team think after visiting the Manitowoc factory in Wilhelmshaven?
They noted how the everyday experiences of operators had been worked into the development of the cranes. It's small details like the fuel tank being accessible from both sides so you don't have to perform any additional maneuvers. You can also see it in the corrosion protection, which Manitowoc puts a lot of effort into. Plastic-coated hydraulic lines, even small parts made of stainless steel and the complete additional wax coating are very important for us during the salty winters in Austria. Our colleagues were also able to have a look around the aftersales organization. We looked at the cranes under a microscope, and in the end, the factory visit generated positive feedback.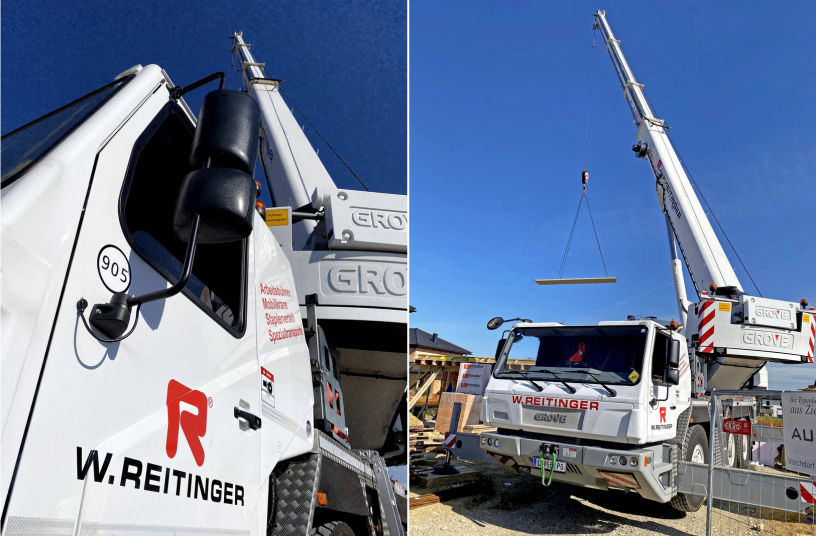 What ultimately led you to purchase the new GMK3050-2?
We were on the hunt for a universally applicable taxi crane that could carry as much counterweight as possible but was also small enough to be able to work on the tightest of construction sites. As such, the concept of the new three-axle, 50 t Grove greatly appealed to us. It can carry 7.5 t of counterweight and add an extra 1 t load for accessories if necessary, on an extremely short chassis with a very small slewing radius.
What equipment does your new GMK3050-2 have?
Driving comfort is very important to us when equipping our cranes, hence we ordered all the available options. We consider the 270° birds eye view system a great advantage. This investment may cost money but quickly pays off when you avoid any scrapes accessing narrow job sites. It is equally important for our drivers, especially when turning, given the increasing amount of bicycle traffic in built-up areas. We also opted for the 6x6 drive due to the difficult terrain we sometimes face. With the crane's weight reserves, this was an easily solvable challenge.
How have you used the GMK3050-2 so far?
Over the last few months, the crane has mainly been used on short-term assignments and one-day construction jobs in the St. Florian area in Austria. The minimal set up time makes the crane ideal for these kinds of jobs. The crane is currently being used to install ceiling elements in the construction of a new detached house.
Austrian company W. Reitinger was founded by Wilhelm Reitinger in 1938. Three generations later, the company is still run as a family business, now by Dr. Reinhard Hofer and Edith Hofer. Reitinger offers work platforms, mobile and loading cranes, forklifts and other special equipment for hire. In addition to the rental business, Reitinger provides construction site services, as well as selling new and used work platforms, always offering customers a comprehensive service. The company supports customers across Austria from a total of six branches.
Source: MANITOWOC COMPANY, INC.