1 June 2023, 08:00
Wirtgen Group strengthens digital communication

'The Road' and 'The Rock' magazines become more personalized, focused, and digitalized

Innovative and sustainable solutions drive digitalisation in media communication

All issues of the paperless magazines can be accessed 24/7 via the website

FORUM and RoadNews magazines have undergone a transformation into a digital format
Magazine format: 'The Road' and 'The Rock' are becoming more individualised, faster, and more sustainable
Sustainability is a key part of the Wirtgen Group's foundational aims and is firmly embedded in all corporate processes. Innovative and sustainable solutions drive digitalisation not only in the road construction sector, but also in the evolution of the company's own media communication. In 'The Road' and 'The Rock', the corporate group doesn't just report on exciting machine operations of their construction equipment; they also provide a closer look at the world of the Wirtgen Group.
The rapid development of communication media has changed user behaviour and the associated requirements. As part of its sustainability strategy, which has an impact on all areas of the Wirtgen Group, the company is also focusing on the digital transformation of its print media. All issues of the paperless magazines are now available 24/7 on the website to interested readers.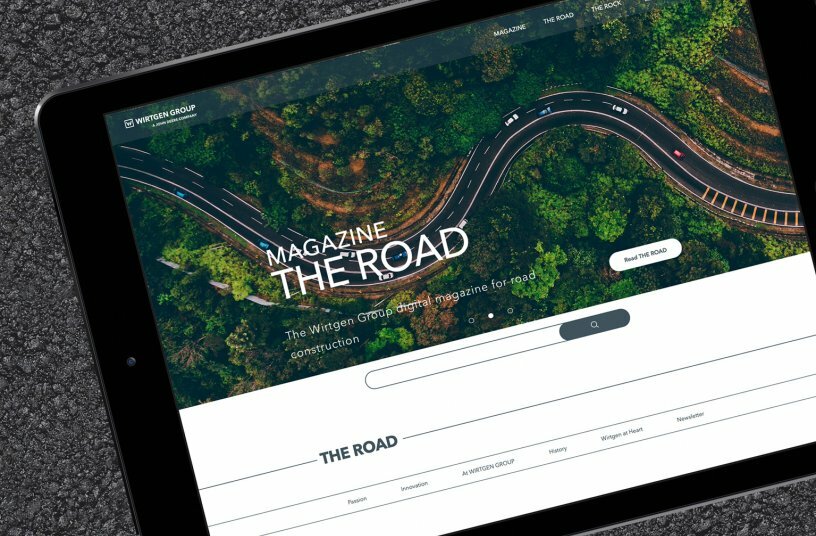 Successful print media given a modern makeover
In the past, FORUM and RoadNews covered the rapid development and transformation of the company. With FORUM, the magazine for customers, employees, and friends, readers were able to take a regular look behind the scenes and learn all the things they always wanted to know about the Wirtgen Group. The user magazine RoadNews was aimed at road construction professionals and fans, with a focus on spectacular job site reports, new machines, technical articles, interviews with users, and tips for routine operations. Both magazines have also undergone constant change themselves, a process which has led to their new digital format.
Source: WIRTGEN GROUP