Hamm H 5i and H 7i: New compact rollers for earthworks
27 January 2015
Hamm AG is expanding its earthworks programme in 2015 with two compact rollers. Many features of the two new introductions with 4.5 and 8 t overall weight respectively make them perfect for construction companies and machine hirers: they are extremely easy to operate and offer ergonomically ideal working positions. On compaction jobs, they stand out for their remarkable climbing ability, very good handling characteristics and generous ground clearance.
The new compactors weigh in at 4.5 t (H 5i) and 8 t (H 7i). The two Hamm newcomers are not simply scaled down versions of the familiar H series but rather a totally new series in its own right designed and developed from scratch. This means that all their components satisfy the requirements of a compact machine by a wide margin. One important innovation is to be found in the traction drive: the wheels are no longer driven via a rear axle, but via wheel motors. This concept gives the compactors an exceptionally good climbing capacity and much greater ground clearance compared to their predecessors.
Fully fledged
The new drive concept also brings another benefit. The two compactors are remarkably short. This is especially true of the H 7i, because at around 4.40m, it is the shortest machine in this weight class in the world. The compact design, combined with the three-point swivel joint and a short wheelbase ensures very good driving and handling characteristics. With these features, the two compactors are predestined for use on narrow construction sites.
Easy operation
The new rollers' clear operating concept will win many admirers among construction and machine rental companies. The control panel is based on that of the worldwide acclaimed HD CompactLine. The steering wheel allows an unobstructed view and good access to the panel. Luminous keys, clear symbols and a logical arrangement ensure unambiguous operation, even after dark.
A new feature is the optional Motor Stop System. It reduces diesel consumption by automatically switching off the engine under certain conditions, e.g. when the machine is stationary for an extended period. At the same time, the system takes into account the requirements of the exhaust gas purification with diesel particulate filter (DPF).
Driver safety and comfort
Like all other Hamm rollers, these compactors also offer drivers outstanding visibility in all directions thanks to a wide field of vision and unobstructed views. In addition, mirror adjustment and cleaning can be carried out from inside. Many little details of this type go to ensure quality and safety. An individually adjustable seat with many comfort options, easy access and the wide opening split windows together with the optional air conditioning also create a very agreeable working environment.
Many variants and options
With a Kubota engine (output 55.4 kW, Tier 4f / EU IV compliant) the smaller compactors in the H series are well equipped for compacting surfaces of all kinds. Their equipment can be specified down to the last detail, for example with an electronic data transmission interface or an electronic battery isolating switch. Lighting with power-saving LED technology is also possible.
When it comes to the compaction systems, there is a choice between a smooth drum, padfoot drum and the newly designed two-part padfoot segments. A levelling blade can also be added. A VIO drum, capable of compacting with either vibration or oscillation, will also be available for the H 7i.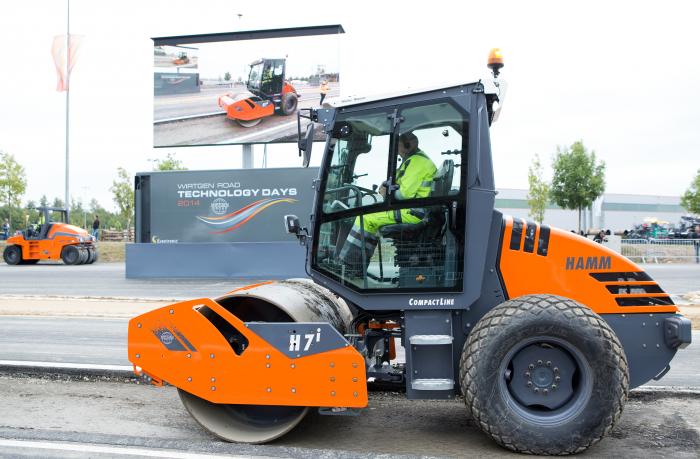 Ideal for machine hire and construction companies
The compact design, exceptionally clear operation and options such as telematic interface and Motor Stop System make the two compactors perfect for the rental market. Thanks to the excellent user guidance, the purpose of every control is immediately apparent from the arrangement of the operating elements and design of the cab, even for occasional users of the H 5i or H 7i. In addition, each driver can easily adjust the seat to his weight and size. At the same time, the compactors are powerful and provide reliable compaction even in challenging terrain.
And last but not least: Hamm has already commenced series production of the H 5i / H 7i and machines are available with immediate effect.