7 April 2023, 10:25
NRW Minister of Economic Affairs Mona Neubaur will be on site to find out in person.

Trade visitors test more than 100 innovations, including some world premieres.

Kick-off highlight: 23 IFOY AWARD finalists receive Best in Intralogistics certificates.
Starting today, everything will once again revolve around the best innovations in intralogistics at the TEST CAMP INTRALOGISTICS at Messe Dortmund. Mona Neubaur, Minister of Economic Affairs in North Rhine-Westphalia, opened the two-day event, which is taking place for the third time in the Ruhr metropolis and has something extraordinary to offer its trade visitors.
On a total of 10,000 square meters of hall space, it's all about experiencing the latest logistics technologies live and testing them yourself: driving forklifts, operating warehouse technology yourself, interacting with logistics robots, trying out software - it's all possible in the test hall. In total, B2B visitors - most of them in management positions in industry, retail and logistics - will have more than 100 innovations and technologies to try out.
Highlights include the two new special test areas "Order Picker Safari" for picking processes and "Exoskeleton & Co." Seven manufacturers and two logistics service providers will demonstrate how lifting and carrying aids support employees in the warehouse. Visitors will be able to try their hand themselves on a course.
For the third time, the world's only live test of the VDA5050 communication interface for Automated Guided Vehicles (AGVs) is taking place as part of the TEST CAMP, for which a 5G campus network has been installed for the first time. The interface enables transport robots to perform cross-manufacturer, automated driving in the warehouse under a common control system.
To gain an overview of the capabilities of German and foreign intralogistics suppliers, NRW Economics Minister Neubaur traveled to Dortmund and visited the test setups of Jungheinrich, Crown, Still, DS Automation, SSI Schäfer and Fraunhofer IML, among others.
"Logistics paves the way for the success of our economy in North Rhine-Westphalia. Whether container ship, freight train, or truck: Efficient logistics secures supply chains, reduces emissions and protects our roads, rails and sea routes. The innovative ideas presented here in Dortmund are important impulses for the future of the industry and help us to transport goods more sustainably," she emphasized.
B2B visitors will encounter a wide range of offerings in the hall. 23 top innovations from seven countries alone will be available for them to test with the nominees of the International Intralogistics and Forklift Truck (IFOY) AWARD 2023. The equipment already went through the three-stage IFOY audit in the test hall on the previous days. During the TEST CAMP opening, the 21 manufacturers accepted the "Best in Intralogistics" certificates on behalf of their nominees. Steffen Bersch, Chairman of the Board of the VDMA Materials Handling and Intralogistics Association, presented the seals.
In addition to trying out innovations, visitors to the event format can engage in intensive technical and networking discussions and take new impulses home with them. To this end, the organizer is offering nine thematic highlight tours and six panel discussions. The sessions feature scientists, users and top managers from well-known intralogistics suppliers from Europe, the USA and China. They will discuss topics such as automation, warehouse technology, exoskeletons, start-ups, technology trends and testing the VDA5050 interface.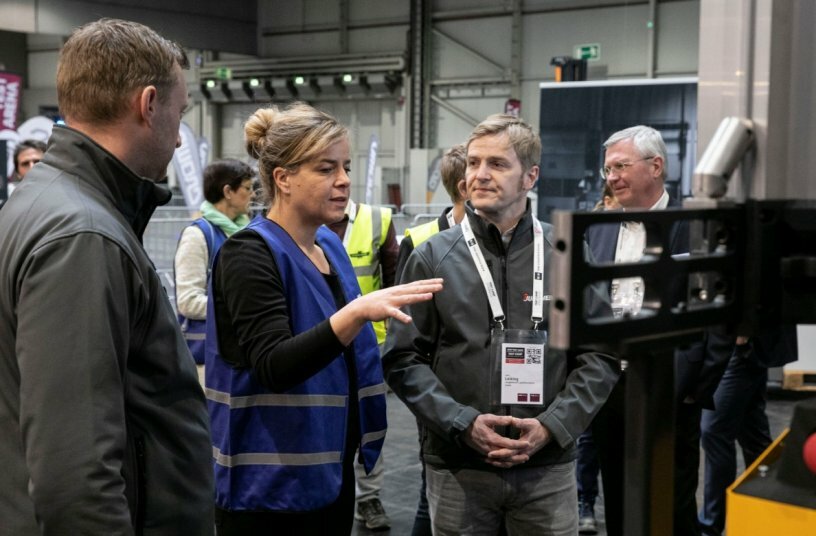 Source: TEST CAMP INTRALOGISTICS