JLG celebrates 20 years of hybrid technology with introduction of 80' hybrid boom
9 March 2017
H800AJ is the newest in JLG's line of hybrid products
JLG Industries, Inc., an Oshkosh Corporation company and a leading global manufacturer of aerial work platforms and telehandlers, is celebrating 20 years of hybrid technology with the introduction of its new H800AJ Boom Lift at Gold Lot booth #G3946 during CONEXPO 2017. This new model will be available globally in late 2017.
"The introduction of the H800AJ is an extension of our ongoing hybrid work, which began in 1997, the year JLG® received its first patent for a hybrid product," said Paul Kreutzwiser, JLG Industries global category director, aerial work platforms. "Since then, we have continued to develop a broad line of hybrid models that reduce emissions and noise, and minimize fuel consumption without sacrificing power or performance."
JLG's latest hybrid model, leverages the field-proven design of its standard 800AJ articulating boom. Owners and operators will instantly be at home in the H800AJ, which boasts the same controls layout, parts, features, accessories and optional equipment as its non-hybrid counterpart for ease of operation and common parts ordering/stocking. The only significant difference between the two is defined by the power package and batteries.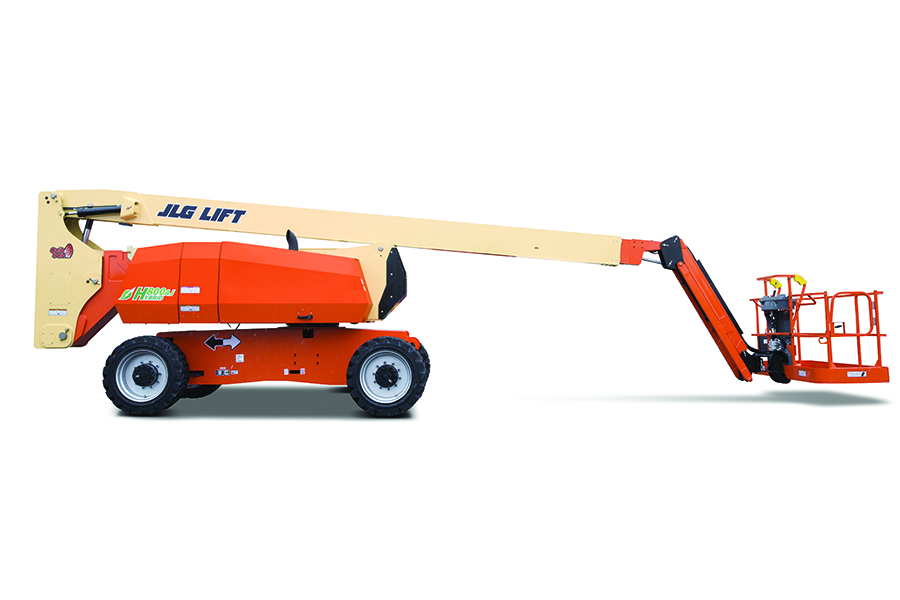 The JLG H800AJ articulating boom lift uses parallel hybrid technology, boasting a powerful electric motor/generator and a Tier 4 Final fuel efficient engine. Together, the motor/generator and engine combination provide diesel-like performance. The machine can also run exclusively in electric mode through its battery pack located in the counterweight. These batteries are maintenance free and charge on demand by the machine's generator during operation, resulting in reduced noise and zero emissions, making the machine ideal for work in city, green and low emissions zones.
The platform height of the H800AJ is 80 feet with an unrestricted platform capacity of 500 pounds. The unit comes standard with the JLG SkyGuard® enhanced control panel protection system, a feature activated by approximately 50 lbs. (23kg) of force which stops, then reverses most functions in use at the time of activation. This reverse feature is the only one of its kind on the market and enhances safe operation.
The H800AJ's standard jib raises and lowers to provide additional reach, as well as up and over capability, giving the operator the ability to position the platform independent of the main boom. An oscillating axle and four-wheel drive offer improved traction during operation on uneven surfaces and off slab. Additional features include continuous turntable rotation and zero tail swing when the tower is elevated for increased productivity throughout the workday.
The engine and battery options on the H800AJ drive its Hybrid technology, helping contractors minimize their environmental impact, a focus becoming more important as municipalities enact stricter environmental standards.
For additional information about the H800AJ articulating boom lift, visit booth #G3946 at CONEXPO.