JLG debuts 742 telehandler at CONEXPO
16 March 2017
New telehandler offers 3175.147 kg capacity and precision gravity lowering system
JLG Industries, Inc., an Oshkosh Corporation company and a leading global manufacturer of aerial work platforms and telehandlers, introduced the 742 telehandler at Gold Lot booth #G3946 during CONEXPO 2017.
The 742 telehandler offers a 3175.147 kg (7,000 pound) maximum lift capacity and multiple powertrain options to suit a wide range of jobsite applications and oil change intervals which can be extended to 1000 hours which helps lower cost of ownership.
"The new JLG® 742 telehandler introduces a precision gravity lowering system to the JLG family of telehandlers," said John Boehme, JLG Industries product manager, telehandlers. "Using this system allows the 742 to rely on hydraulic power to raise the telehandler boom, using gravity to lower it, thus providing the operator with better, more precise control and increasing the machine's efficiency." According to Boehme, JLG plans to incorporate this new technology across its entire line of telehandlers later this year.
Like other JLG telehanders, the 742 offers multiple benefits, including:
Enhanced operator comfort—spacious cab, intuitive single joystick, and integrated arm rest

Lower total cost of ownership—extended service intervals, easy-to-access parts, and durable components for fewer maintenance requirements

Increased operator confidence—rear axle stabilization (RAS) that automatically switches the machine from a 3-point stance to a 4-point stance, improving handling in tough environments, precision gravity lowering system, optional reverse sensing system, reverse camera, and improved visibility from the cab

Versatility— a wide range of attachments from which to choose.
"This latest model expands our current range of telehandlers, reinforcing JLG's commitment as an access equipment industry leader to provide our customers with a dynamic product line to meet their ever changing needs, "said Boehme.
Across all markets of Latin America, the Telehandler is a key component in increasing the efficiency of workers at jobsites and in the completion of job site tasks ranging from clean up to material handling and maintenance. Adding to its list of benefits, it is ideal for loading and unloading trucks and transporting heavy materials around the job site.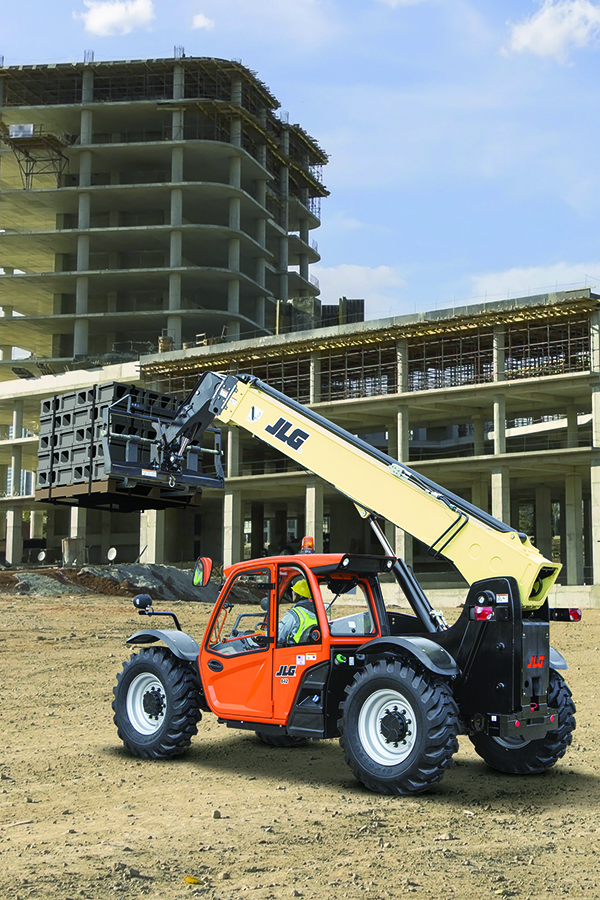 Telehandler offerings fit the job site needs of customers in multiple industries including construction, mining, agriculture, refinery and forestry. In aviation and landscaping, for example, they help move dirt and gravel, stack pallets, place supplies and load flatbeds. JLG Telehandlers also are used in a variety of areas within the energy segment, such as the construction and maintenance of power stations, oil refining facilities and wind turbine farms. The equipment is ideal for maintenance, and for transporting materials to the work area for installation. Telehandlers also are used in a wide variety of applications in and around construction sites. The equipment can be used to lift personnel, their tools and supplies, and materials to the work area. Within the mining industry, telehandlers are used in the maintenance and construction of mining infrastructure, including overhead conveyors, processing facilities, and other facilities in and around the mine site.
Whether it's people or materials, JLG continues developing access equipment for a wide variety of industries and applications to help customers be more productive and work more safely.