Kobelco excavators are built like no other
12 March 2017
Since 1930, we've built KOBELCO excavators to be leaders in industry, adding innovation to our machines at every turn. It's an attitude that led to the development of the first short rear swing excavators and the demolition machine with the longest reach in the world. It's also what inspired us to think differently about how excavators could operate on the job site, leading to exclusive features like independent travel and our ultra-quiet iNDr cooling systems.
Today, we're continuing our commitment to quality and innovation. We're keeping you up and running by building the strongest dealer network in North America and backing all of our machines with the best warranty in the business. We've stocked our parts facility in Texas with more than 40,000 part line items. And we've officially brought our manufacturing to the US since opening our new assembly plant in South Carolina. With one eye on the future, we're staying ahead of the competition and anticipating what the industry will need tomorrow.
MINI EXCAVATORS
Great things can come in small packages. KOBELCO mini excavators pack full-size performance into a portable package. A minimal rear swing radius with zero tail overhang allows for excellent handling in confined spaces while a simple design makes routine maintenance easy to undertake.
The KOBELCO mini excavator line is currently comprised of six models with operating weights between 3,836 and 11,860 lbs. These compact units include the KOBELCO SK17SR, SK25SR, SK35SR, SK55SRX and new SK30SR and SK45SRX.
Once on the jobsite, they provide full size performance with wide swing angles despite their compact size. Each model comes with a blade as standard equipment for backfilling and dozing work. Minimal rear swing radius and zero tail overhang makes for safe and easy operation in confined spaces with excellent side-ditch digging performance, allowing the operator to concentrate on the work in front of them for greater efficiency. This size/class machine is ideal for small landscape and construction jobs, as well as utility work.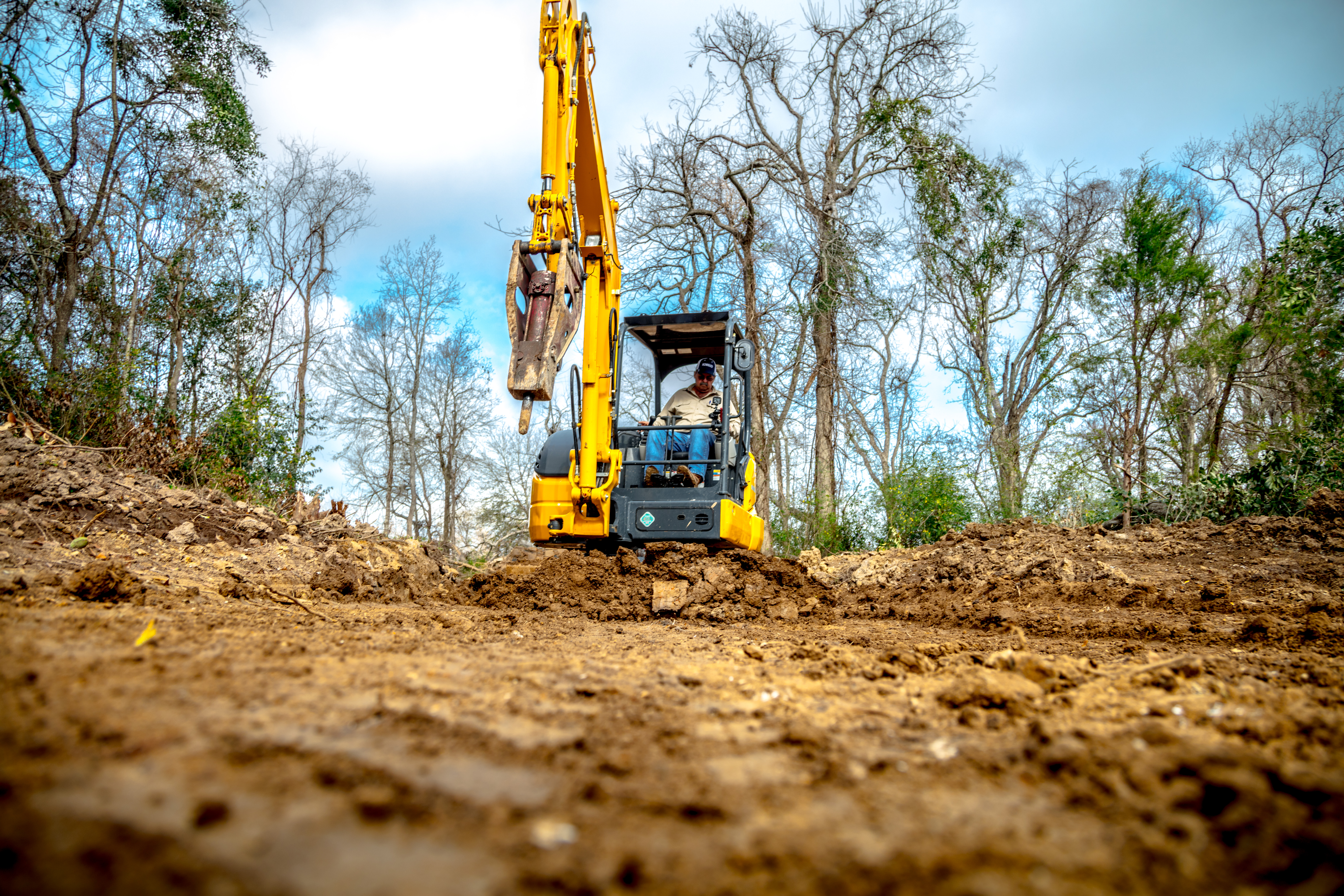 SHORT REAR SWING EXCAVATORS
It only makes sense that the company that invented SR (short rear swing) excavators would stay ahead of the competition. Today, six models round out the KOBELCO line of short rear swing excavators, including the SK75SR, SK85CS, SK140SRLC, ED160 Blade Runner, SK230SRLC and new SK270SRLC. Ranging from 17,100 – 60,000 lbs. of operating weight, these SR excavator models are packed with value and innovation.
The exclusive KOBELCO iNDr Cooling System, found in all models of this series, reduces dust and cuts noise to extremely low levels, while NEXT-3E technology allows you to dial in the perfect balance of performance and fuel economy.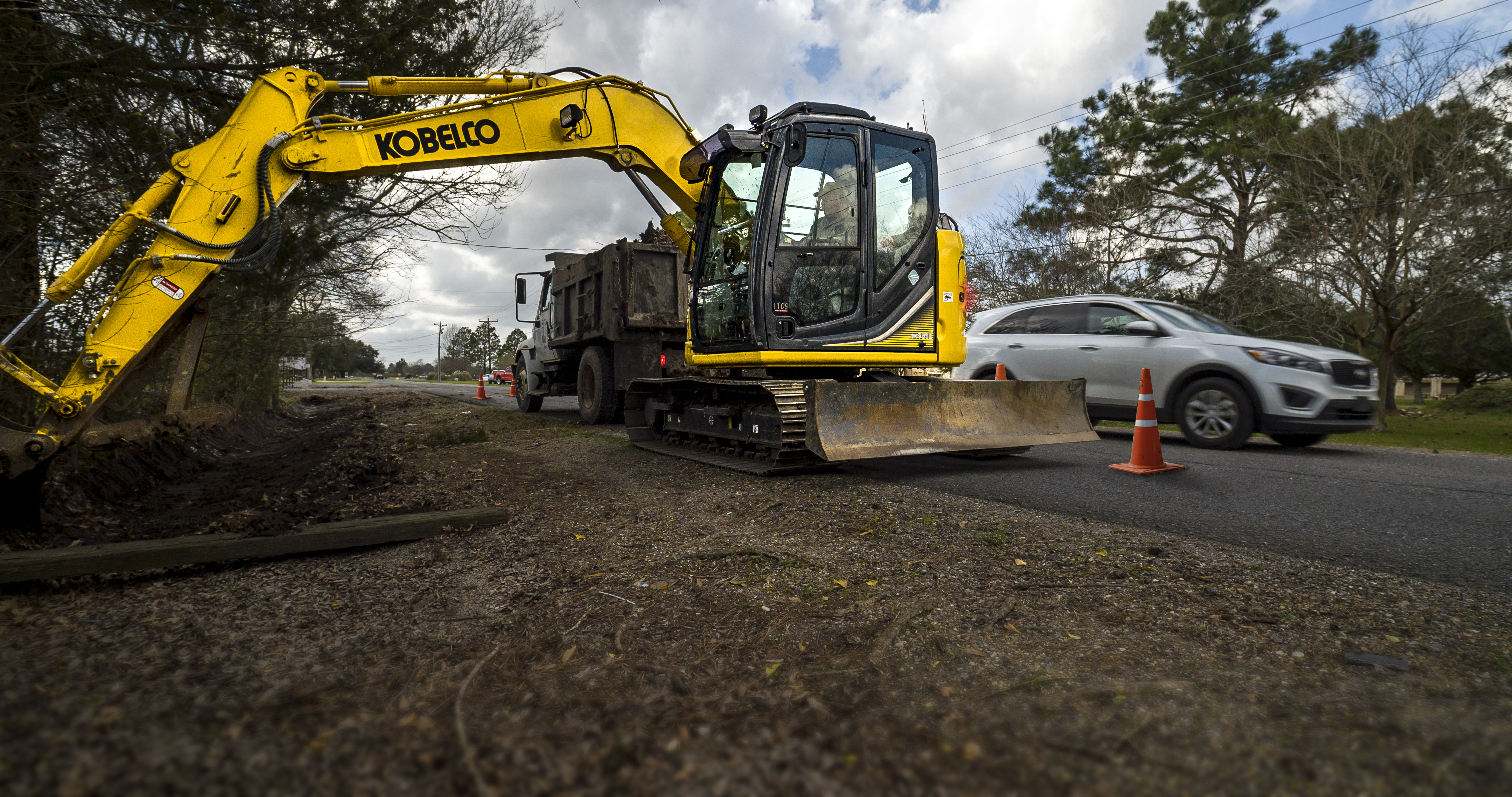 NEXT-3E (enhancement, economy and environment) comprises the industry leading KOBELCO approach to lower fuel consumption and maximize work volume onsite, while making every gallon go further. And the new ECO-mode in select models creates even greater fuel savings while optimizing job fuel to production efficiencies. Large capacity fuel tanks combined with enhanced fuel efficiency and an automatic acceleration/deceleration function, which reduces engine speed when placed in neutral, allows for longer hours of continuous operation and greater productivity on the job. The exclusive proportional acceleration brings the engine RPM back up in direct proportion to operator demand and is controlled by the operator's joystick movement.
SR models are popular in applications where working ranges are limited such as in cities where traffic needs to continue to flow or in residential or commercial applications where noise may become an issue.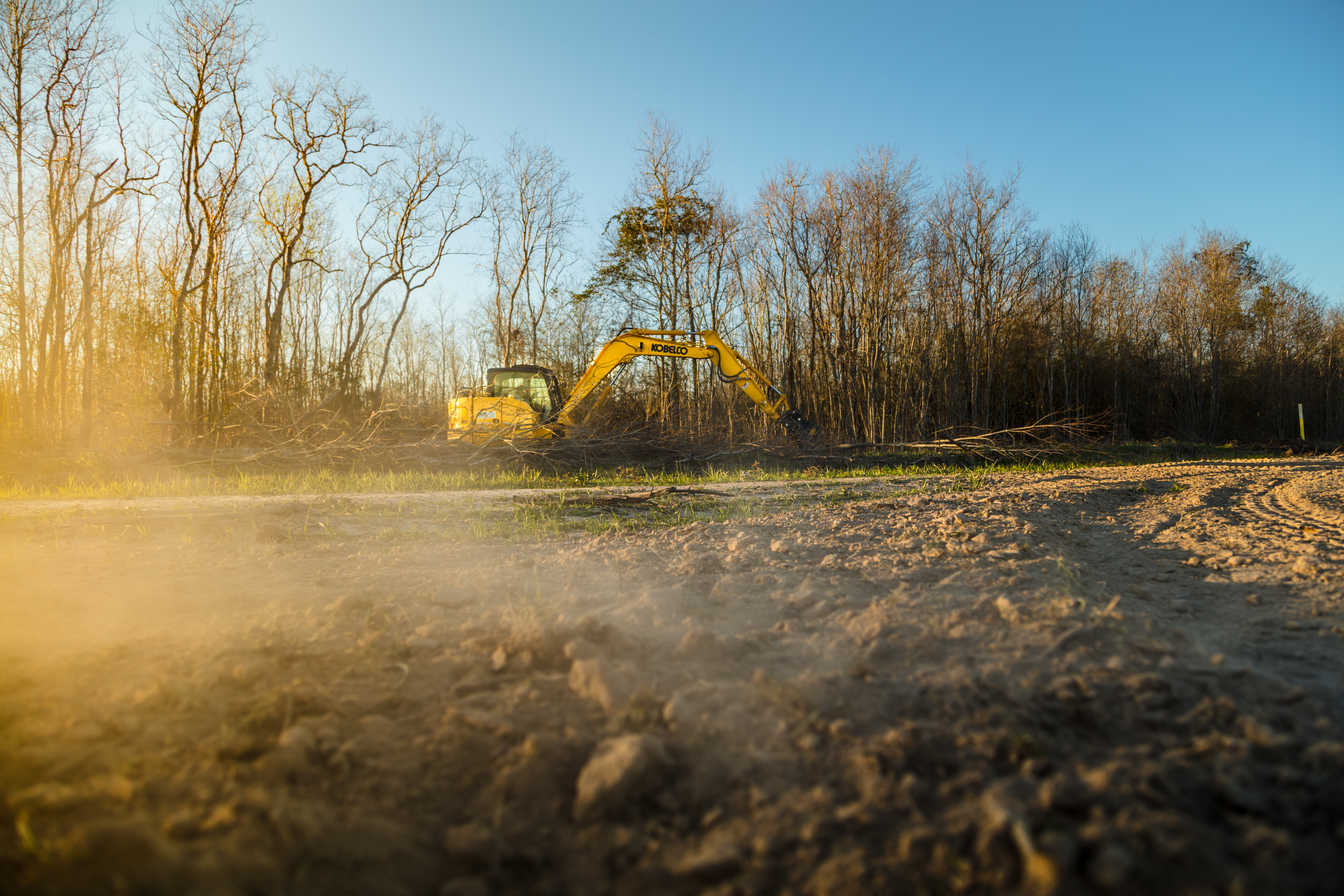 CONVENTIONAL EXCAVATORS
The KOBELCO conventional excavators are anything but conventional. All six models in this 38,800 – 114,400 lb. operating weight range are part of the revolutionary Generation 10. The new Generation 10 KOBELCO excavators are trendsetting machines designed to establish new standards in value, productivity and durability.
These KOBELCO models are engineered for maximum performance capacity and improved cost efficiency with additional features that go easy on the earth – further delivering dependable power, wide-range digging strength and reduced fuel consumption. They boast a 7% increase in work volume per hour, while providing up to a 10% increase in fuel efficiency in S-Mode and a further 6% increase in ECO-mode. Much of that 16% boost in efficiency comes from a new hydraulic regeneration mechanism in the arm that recycles energy from lowering the boom into force that can push the arm out.
Transferring all that power into the job is backed up by an enhanced attachment structure, making the Generation 10 excavators more durable than ever. A higher boom foot cross-section, thicker arm-foot base plate and stronger foot bases are provided for added reinforcement. Additionally, a new boss shape improves overall stability, while a redesigned boom foot evenly distributes digging forces for optimum durability.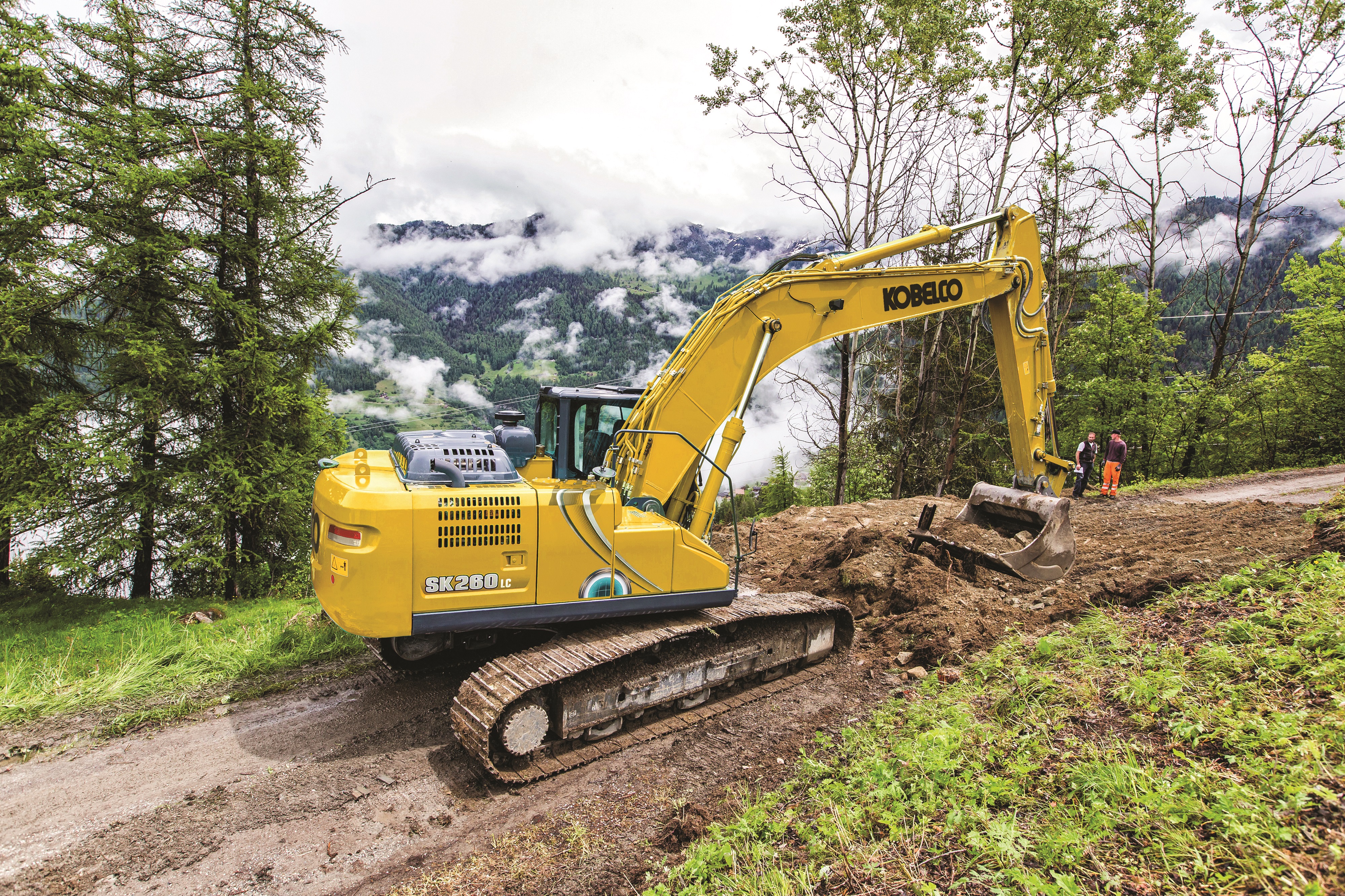 Conventional KOBELCO machines boast impressive features including an industry leading swing torque, powerful engines and breakout forces and rear counterweight swing flashers that come standard on each model. These models also incorporate a no time limit, operator controlled power boost for heavy-duty digging conditions, as well as the ability to set both flow and pressure for up to 18 different attachments right from the operator's seat. Operators are welcomed into big cab visibility and comfort, while owners welcome high quality construction and low cost maintenance.
The pioneering spirit of KOBELCO is best seen in this class of excavators. They were the first and are one of very few manufacturers today to offer straight travel, which allows the excavator to lift the rated lift chart while walking. Independent travel is a KOBELCO exclusive. This feature enhances both productivity and safety by allowing the machine to smoothly walk and lift with no travel speed change. The company was also the first to introduce automatic swing priority, where one pump automatically assists the arm and one the swing during combined side wall trenching.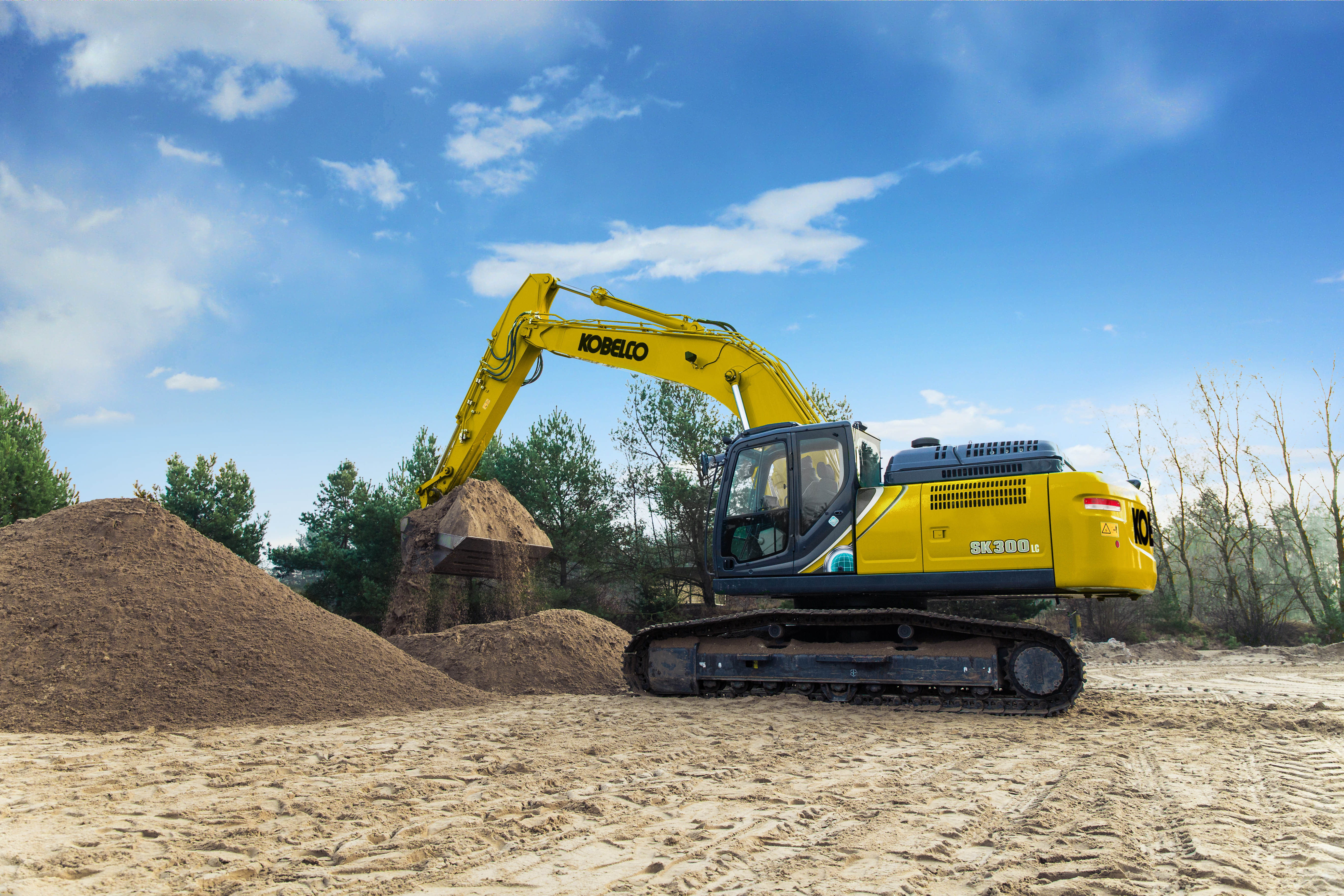 This class of excavator is oftentimes found on jobsites ranging from general earthmoving applications through specialty work requiring full sized, powerful equipment with quick cycle times.
LONG REACH EXCAVATORS
Special jobs require specially equipped machines. The KOBELCO SK210 and SK260 Long Reach excavators have the heavy-duty hydraulic fittings and connectors needed to reliably lift huge loads from seemingly impossible distances up to 62 ft. away. They're exactly what you need to tackle dredging, ditch cleaning, sloping and more safely and securely.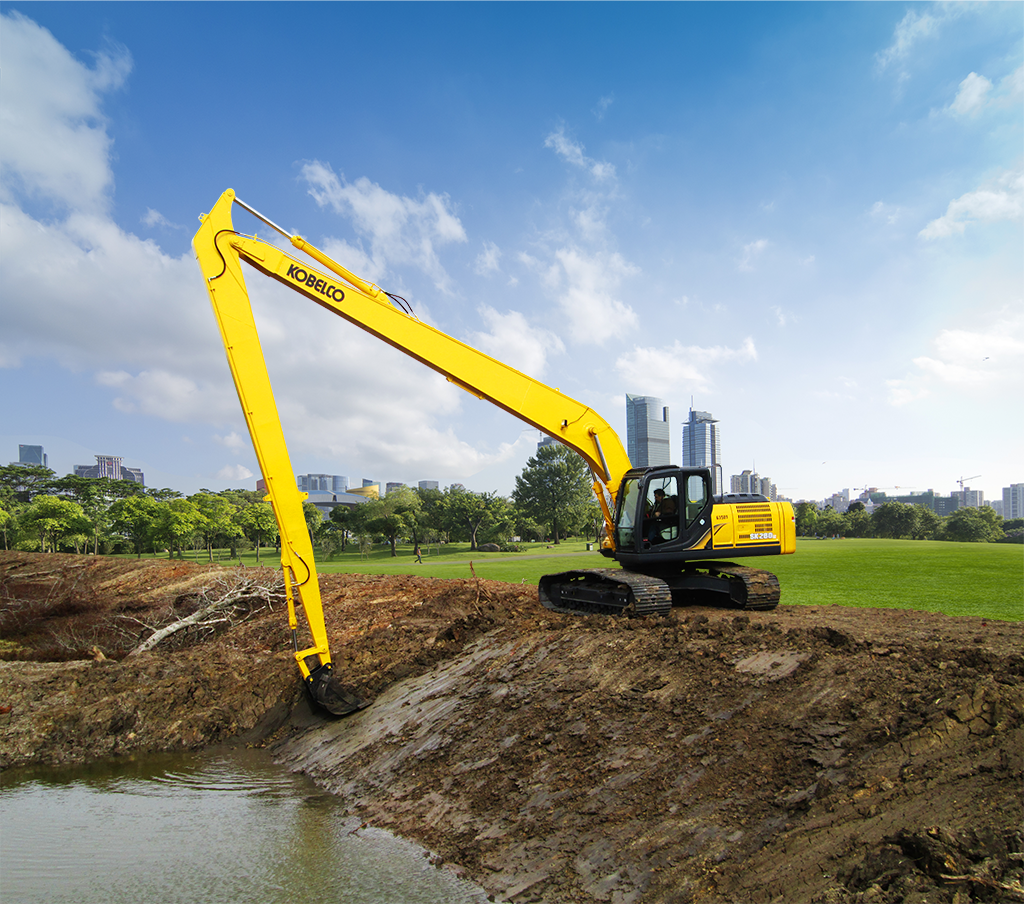 MASS EXCAVATORS
When you have mountains to move, rely on the KOBELCO SK500 Mass Excavator. With an extremely durable boom and arm, it's made to handle large buckets and fast cycle times. And, this model uses standard hydraulic pressures, so no additional counterweight is required. The result is ultra-productive, ultra-efficient machine that can make light work of even the biggest material handling jobs.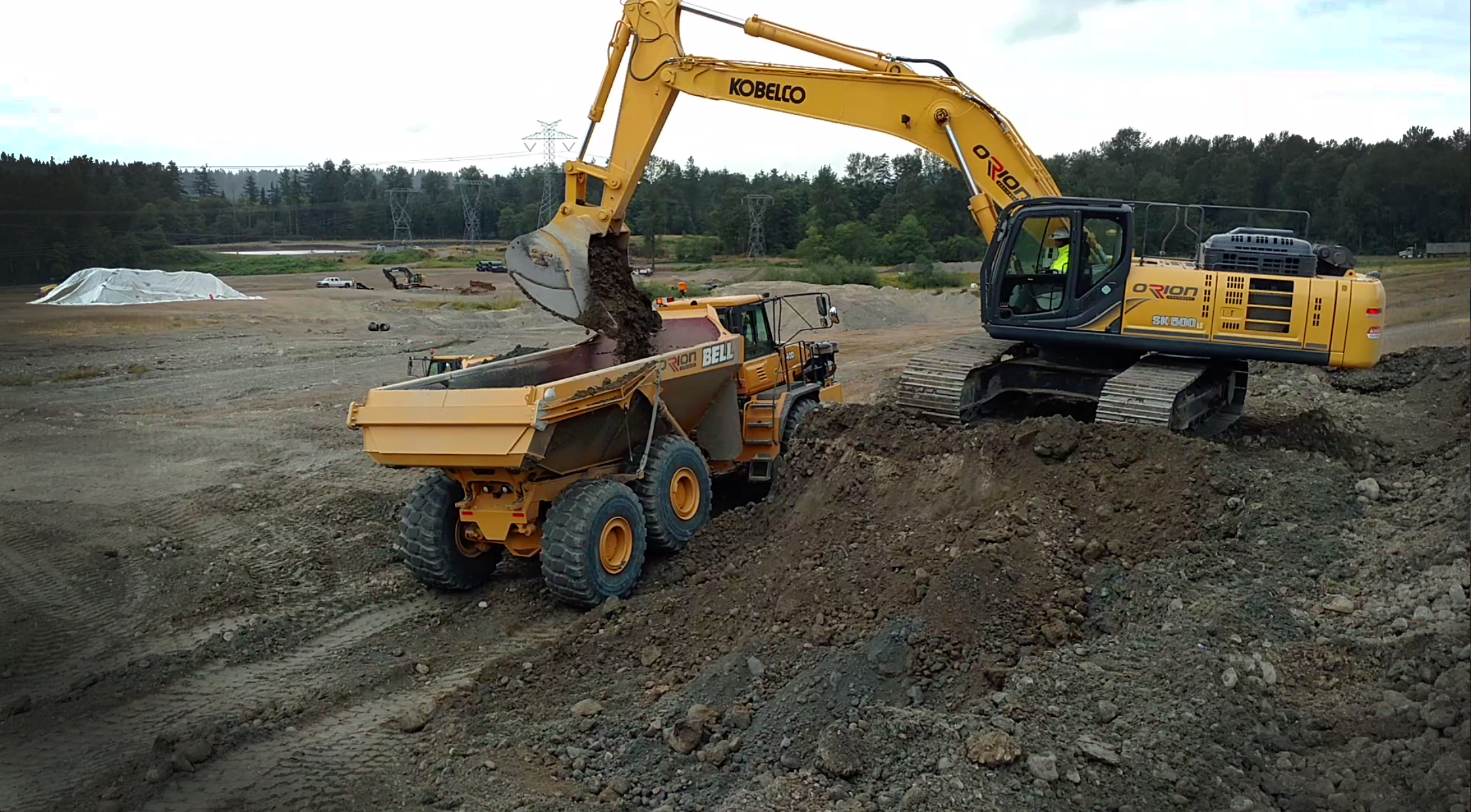 HIGH & WIDE EXCAVATORS
Rough terrain is no match for the KOBELCO SK260 and SK300 High & Wide excavators. These models boast generous ground clearance to smoothly tackle jobsites strewn with stumps or rocks. They're built with a reinforced guide frame to withstand heavy impact, extra crawler width for excellent stability and large, double-support upper rollers unfazed by powerful vibrations.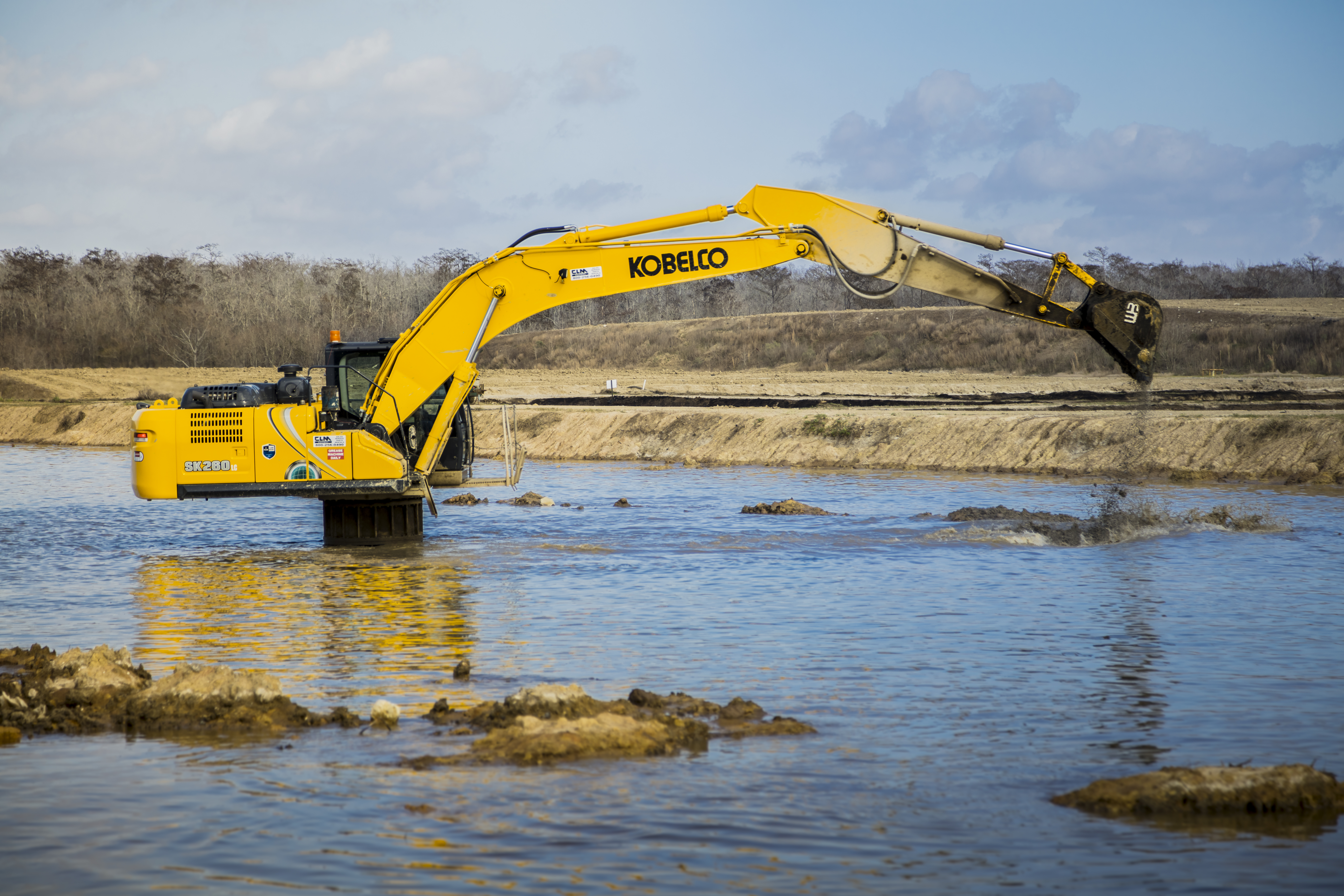 DEMOLITION EXCAVATORS
KOBELCO demolition machines provide powerful and practical solutions for almost any demolition task through the use of rugged designs, comfortable cabs, and energy-efficient engines and hydraulic systems. The SK210D Car Demolisher takes apart vehicle bodies, engines, and other metal components with precise, safe, and efficient operation. The KOBELCO SK350DLC Building Demolition excavator is engineered to demolish buildings up to seven stories high and offers practical features to increase job productivity and reduce downtime. And, the 220,000 lb. SK1000DLC Large Building Demolition machine offers flexibility with a variety of attachments for job-specific strength and reach capabilities up to 13 stories high.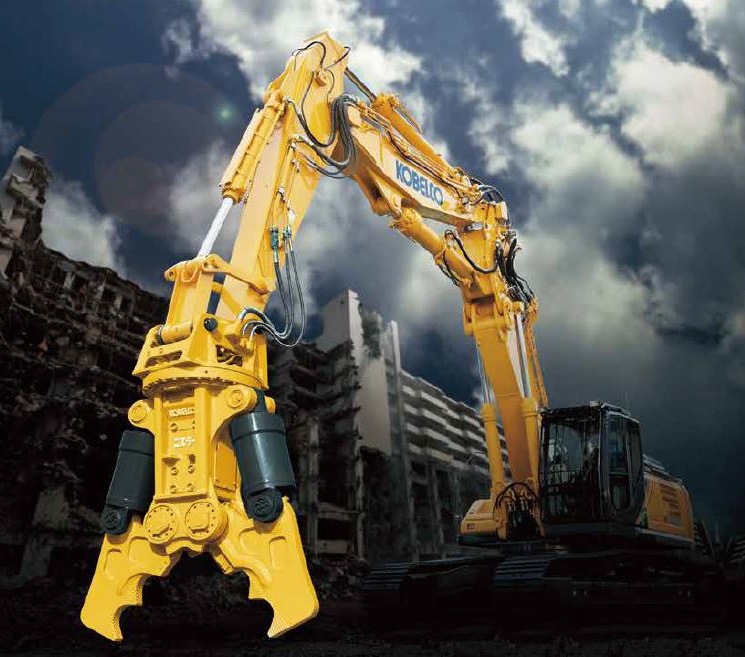 BUILT LIKE NO OTHER
Every job comes with its own set of challenges – anything from solid rock to tight spaces. That's why you need an excavator that's ready to take on whatever you can throw at it. At KOBELCO, we build excavators with features you won't find anywhere else. Features that let you power through the toughest jobs, get more done in less time, balance performance with efficiency and stay safe while you do it all.
BUILT FOR POWER
We know what it's like to sit in the operator's seat when you hit something solid. The power boost button on most excavators can deliver the extra force you need to break through, but only in short bursts. We designed the power boost function in KOBELCO excavators to have no time limit. You'll never be left demanding power your machine just can't deliver.
BUILT TO MULTITASK
When it comes to complicated tasks, KOBELCO excavators are pros. Our exclusive independent travel feature allows the machine to move, lift and swing simultaneously without experiencing any loss of power. It's safety and efficiency you just won't find anywhere else.
BUILT FOR EFFICIENCY
Extra power often comes at the cost of extra fuel consumption. With KOBELCO excavators, you get best-in-class fuel economy every time you fire up the engine – no matter how tough the job. And with the Generation 10 machines, KOBELCO is taking that efficiency to a whole new level. These new machines now boast up to a 16% increase in fuel economy in some operating conditions. At KOBELCO, we are focused on developing machine enhancements and improved fuel efficiencies – all while keeping an eye on the environment.
BUILT FOR SAFETY
From the operator's chair of a KOBELCO excavator, you get almost a 360-degree view of the jobsite. A rear view camera and rear working lights further enhance your visibility while swing flashers help others know when to stay out of your way.
SIGNATURE KOBELCO DESIGN
All KOBELCO excavators have been designed with a focus on operator comfort. A wide entry, spacious cab with excellent visibility, rear view camera, swing flashers and rear working lights are all standard on most models. Combined with a powerful automatic air conditioner, standard tropical cooling system, reclining suspension seat, adjustable arm rest, two-speaker FM/AM/USB/Bluetooth radio, spacious luggage tray and large cup holder, these feature assure an ideal operating environment.
Safety, as always, continues to be a high design priority for KOBELCO. Daily maintenance points are easily accessible, with most models offering them at ground level. A rearview camera, low rear hood design for enhanced visibility, travel alarm, swing flashers, retractable seatbelt and ROPS cabs all combine to reduce the potential of jobsite accidents.
KOBELCO's heavy-duty construction gives the company the confidence in every product manufactured to offer a factory direct full 3-year warranty. KOBELCO knows their products and understands that in the event of a maintenance issue, the primary concern is to get the machine back up and running as quickly as possible. Customers will work directly with KOBELCO personnel and their authorized KOBELCO dealer to resolve the situation, not a third party vendor. KOBELCO's confidence in its product line gives them the ability to offer a KOBELCO Premium Protection Plan warranty (KPPP), an extended warranty option that covers their equipment just as if it were new, for up to 84 months.