10 May 2023, 15:09
Learn about POWERTECH International GmbH via our interview with the company's general manager and founder Mario Sauer. We spoke about the history of the start-up, the company's product portfolio, range of customers, important markets and future plans.
L: When and by whom was your company founded and how did you come up with the idea?
MS: POWERTECH International GmbH was founded in 2019 by Mr. Mario Sauer. The idea arose from the fact that Mr. Mario Sauer encountered product problems during the assembly and service of competitor products. These were not pursued by the respective manufacturers and felt ignored. After this happened at various manufacturers, Mr. Sauer decided to found his own company for the production of fire extinguishing systems. In this company, the products are subject to constant testing and further development for the benefit of customers in terms of assembly, functionality, reliability and economy.
L: What problem(s) is your tool/product solving? Can you identify the range of your customers?
MS: Our product solves the problems of vehicle fires, the origin of which is to be found in the engine compartment or in the control cabinet. Fires are detected as they occur and are automatically extinguished. Optionally also combinable with hand release.
The customer spectrum ranges from manufacturers, dealers, service companies to users/operators of construction machinery, mining and mining equipment, tunnelling machines and boring machines to coaches and buses in public transport according to UN ECER107
L: What markets/regions do you focus on and where would you like to expand?
MS: We are currently concentrating on the D-A-CH market and would like to expand throughout Europe in these markets.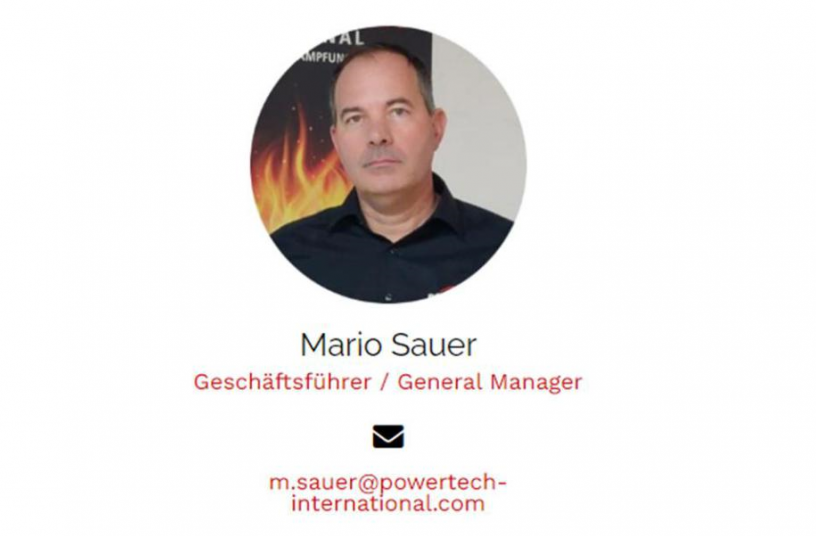 Mr. Mario Sauer, Founder and Managing Director
Phone: 06401 225997-0
e-mail: Info@powertech-international.com
Web: www.powertech-international.com
Source: LECTURA GmbH; POWERTECH International