18 April 2022, 15:01
Bridge maintenance requires machines which perform extremely precise movements and have high lifting heights. These requirements led Magni RTH range to be chosen for the maintenance of the Triborough Bridge.
The company American Structure Works took on the bridge maintenance work and chose Magni as their lifting partner. Our local dealer Able Equipment supplied the machine needed to complete the work.
Located in New York, the Triborough Bridge is a complex of three separate bridges and viaducts connecting Manhattan, Queens and the Bronx. The maintenance work began in November 2019 and will be completed in August 2022.
The maintenance work involves structural steel repairing and strengthening. In particular, Magni machines are used to replace damaged steel plates at the base of the bridge and other metal components.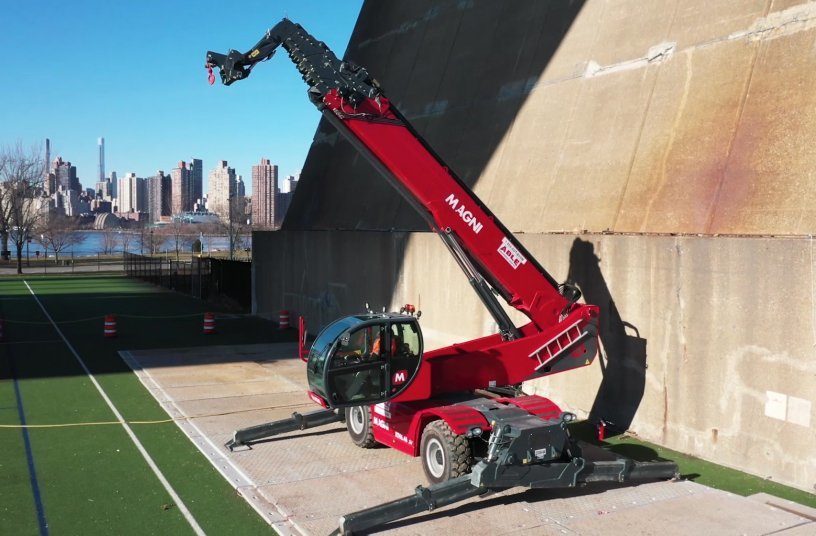 The customer is carrying out the work with two different models selected for their unique characteristics. The first one is the RTH 6.46, chosen for its 46 metres (149′ 7") lifting height as the highest points of the bridge reach 40 metres (132′). The second model is the RTH 8.25, used to handle much heavier loads at lower heights.
In order to carry out different operations, the machines have been equipped with basket, hook and forks. Thanks to the interchangeable attachment system, the machine can be used as a forklift, crane and man platform to carry out many different operations. As in many other construction sites, equipment versatility is key to increase productivity and reduce costs.
Magni machines have also been chosen because of their compact size, which allows to work in tight spaces, and their precision even at great heights.
Magni offers a wide range of rotating telehandlers to meet any requirement of the construction sector in terms of capacities and lifting heights, guaranteeing the best performance. Discover our RTH range in the product section of our website or in our range catalogues.
Source: Magni Telescopic Handlers