NEW ADDITIONS GIVE JCB LOADALL RANGE INDUSTRY BEST COVERAGE
12 November 2013
JCB, the world's number one producer of telescopic handlers, today further strengthens its range at Agritechnica with the launch of three new Loadall models.
The new 525-60 Agri has a maximum payload of 2.5 tonnes and maximum lift height of six metres and brings full-size telehandler performance and features into the compact sector alongside JCB's smallest Loadall, the new 516-40 Agri.
And the new six tonne payload to 8.1 metre lift height Loadall 560-80 Agri builds on the resounding success of JCB's existing repeat loading cycle champion (the 550-80 Agri) with a further increase in lift capacity.
Meanwhile, the latest version of the 527-58 Agri is now powered by JCB's advanced Ecomax T4 engine, while Agri variants of other Loadalls get a host of improvements which make them even more productive.
JCB Agriculture Managing Director, Richard Fox-Marrs, said: "JCB now has a Loadall range which covers the entire spectrum of modern agricultural needs. As well as the introduction of three brand new models, we have also taken the opportunity to upgrade our current products, making them more productive and efficient. From the 516-40 through to the 560-80, we have a range to meet every farmer's needs."
Loadall 525-60 Agri
This all-new compact telehandler replaces the existing 524-50 and 527-55 rear-engined designs with a thoroughly modern side-engine layout and a low boom pivot for exceptional rear three-quarters visibility.
Measuring just 1.95m to the top of its spacious cab and only 1.8m wide, the newcomer will slot into the smallest of buildings and work with ease around 'traditional' and modern farm yards. Its short wheelbase provides the ultimate in four-wheel steer agility.
The two-stage hydrostatic transmission provides working and travel speed ranges up to 30kph while ensuring the 525-60 Agri is easy to drive. The Varispeed option enables a forward speed to be dialled in regardless of engine revs – ideal for operating hydraulically-driven attachments like a rotary yard brush or auger feeding bucket.
Latest engine technology is also evident in the shape of a 2.5-litre JCB Diesel by Kohler compact four-cylinder motor developing 55kW (74hp). Service-free emissions control is to Tier 4 Final standard – there is no diesel particulate filter or SCR – with the promise of improved economy, not only compared with the handler's predecessors but also versus competitor machines.
Likely users in the pig and poultry sectors and small to medium size dairy, beef and sheep units will appreciate the spacious cabin, which JCB engineers have successfully installed from the Loadall 527-58 Agri without having to offset the boom or compromise the driver's elbow room. Particular attention has been paid to rearward visibility - so sight-lines have been carefully considered and the low boom pivot is at a seated driver's waist height, so the view to the right rear three-quarters is exceptional.
Other features drawing on technology from bigger handlers include a 90-litres/min variable displacement pump hydraulic system with flow sharing (so two functions can be used at once); a proportional control joystick; and auto alignment of the wheels when switching between steering modes.
The two-stage boom, designed for durability and trouble-free service, comes with the option of Smooth Ride Suspension and fast handling and loading cycle times thanks to the advanced hydraulic system. It all adds up to an exceptional specification for a machine of this size.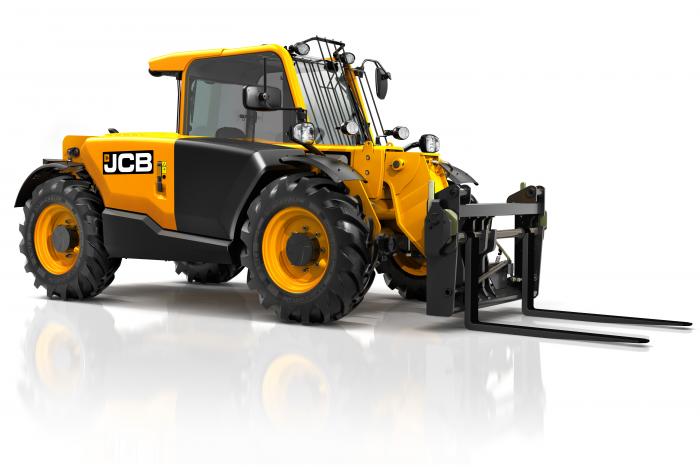 Loadall 516-40 Agri
With its unique offset single-spine chassis and hydraulic wheel motor propulsion, the new Loadall 516-40 Agri builds on the successful formula established by its predecessor (the 515-40 Agri) as a telehandler with the size and agility of a skid-steer loader.
The new version brings significant improvements in performance and usability, with improved hydrostatic drive and hydraulic services, along with extra lift capacity. Powered by a 37.5kW (51hp) 2.2-litre JCB Diesel by Kohler engine,  the new handler will lift 1.6 tonnes to 4 metres yet measures only 1.56 metres wide and 1.8 metres high. Thanks to permanent four-wheel drive and steering, it will turn through a radius of just 2.8m.
The improved transmission not only delivers increased pushing power but runs faster in the low and high ranges; low range is now more practical for running from job to job in the farm yard, while high range provides decent travel speed over longer distances.
A new adjustable constant-flow hydraulics option supplies oil to power a motor on a rotary brush, feed bucket or cubicle bedding dispenser, while Varispeed is available to regulate the transmission at a slow working pace regardless of engine revs. Operators will also appreciate the switch to hydraulic locking pin operation on the implement carriage – compatible with Loadall Compact or Skid Steer attachment couplings – and single-lever proportional joystick control of the boom and auxiliary functions, which makes the 516-40 Agri easier to operate.
Loadall 560-80 Agri
With sales two and a half times higher than initial forecasts, response to the introduction of a new heavy-weight but highly manoeuvrable telescopic handler to the world-beating JCB Loadall range has been exceptional.
So at Agritechnica, the five tonne lift 550-80 Agri will be joined by a second model with even greater capacity – the six tonne payload 560-80 Agri, which caters for large farms and commercial bulk storage enterprises wanting still higher productivity for stockpiling and out-loading to trucks.
Powered by a 108kW (145hp) version of the JCB Ecomax T4 diesel engine, the newcomer will come with the option of a new 5m³ bucket from JCB's comprehensive Agmaster range of attachments and front-end implements, and a seat-mounted servo joystick for fingertip control.
At 6000kg lift and with increased forward reach capacity, the new high-performance machine combines brawn with the versatility of a two-stage telescopic boom and heavy-duty implement carriage. The Z-bar linkage converts hydraulic power into high break-out force for fast bucket filling while providing excellent dump angle for rapid load discharge.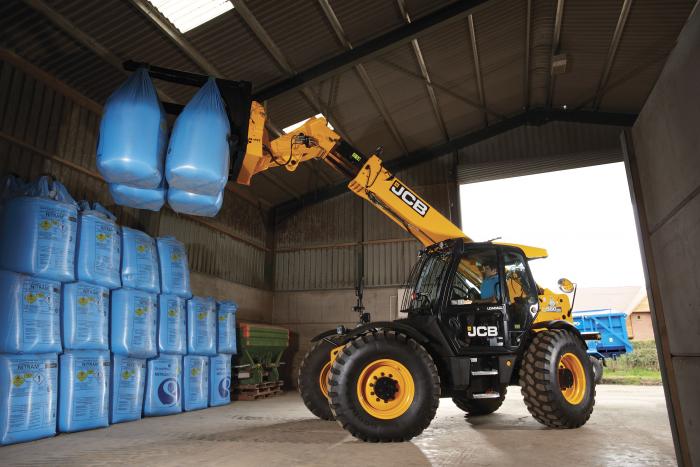 Loadall 527-58 Agri
Installing JCB's new high-performance Ecomax T4 engine into the Loadall 527-58 Agri has made a good telescopic handler even better.
Power is up 9% at 81kW (109hp) and torque is up 3.3% , whilst electronic management of the engine's high-pressure common rail fuel injection delivers improved fuel economy with excellent power and torque characteristics that are exploited by partnering the engine with a new electronically-managed version of the hydrostatic transmission.
This optimised powertrain results in a machine that responds more eagerly to the accelerator pedal and makes best use of the engine's generous torque output for greater productivity when clearing out livestock sheds or working on a field heap.
A host of other features and benefits are also evident on this new version of the Loadall 527-58 Agri, including a restyled cabin with a 3.5in TFT display to provide an improved operator interface, a variable speed cooling fan for reduced noise, improved efficiency and improved airflow through the engine bay to reduce dust blown up from underneath the machine.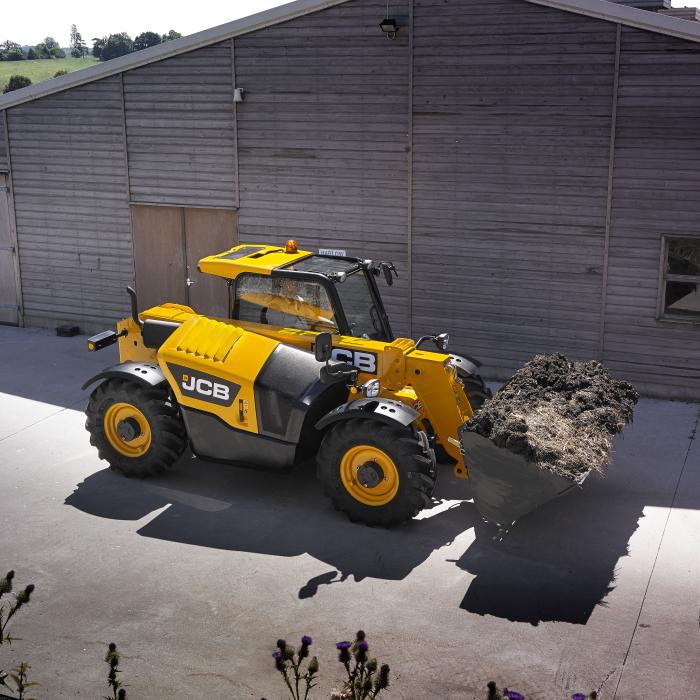 531-70 Agri to 560-80 Agri
Regenerative hydraulics, hydraulic cylinder stroke damping and a new Auto Smooth Ride Suspension engagement system are among a package of added-value features being introduced across all Agri variants of the Loadall 531-70, 536-60, 536-70, 541-70, 535-95, 550-80 and new 560-80.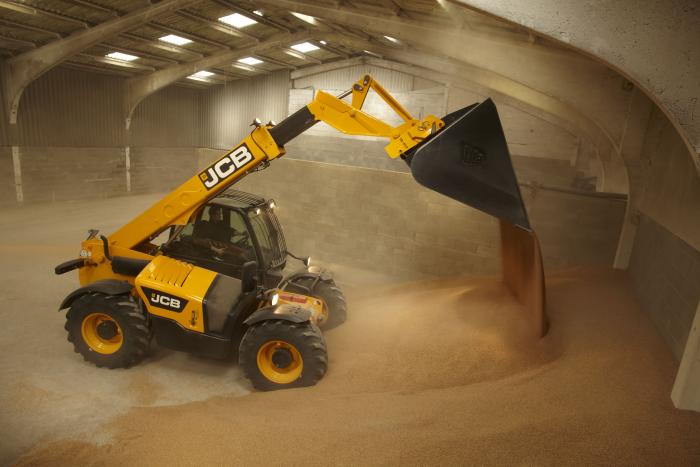 The improvements also include an innovative 'auto bucket rattle' function that will automatically shake the bucket or fork to discharge sticky materials or progressively discharge forage on to a clamp or grain into a feeder. The amount of shake induced is regulated by proportional movement of the control joystick.
Fuel economy and productivity gains will come from the revised boom hydraulics. With oil regenerated from one end of the lift rams to the other, the boom lowers faster, resulting in quicker cycle times without having to resort to a larger pump. With the standard 140-litre/min piston pumps fitted to these Loadall models, lowering time is now as quick with the engine on tick-over as it was at high revs.
The net result is faster cycle times and fuel savings of more than 4% and a19% improvement in productivity when re-handling.
Hydraulic cylinder end-stroke damping is being used to further refine the operator's experience and minimise load spillage. All agricultural Loadall handlers will benefit from end damping on boom retract and lift cylinders, a feature which will be retained on the higher specification Xtra versions, where boom extend and lower cylinder damping is already a proven feature.
Added refinement comes with a new version of JCB's Smooth Ride Suspension system that automatically engages when the machine is moving and when the additional 'auto' mode is selected, so it is no longer necessary to lower the boom when stationary to engage the system.
The operator can switch between modes on the move, selecting 'on' for full-time Smooth Ride Suspension when working at low speeds, 'off' to provide precise boom positioning control for pallet work and when attaching an implement, or the new 'auto' mode.
A button to release pressure from the auxiliary hydraulic service is now provided in the cab for added convenience, and buyers can choose to add a powerful LED lighting package for increased illumination around the machine. A rear hitch light is also an option and to meet European demand, JCB is introducing a range of Rockinger hitches.