21 October 2022, 10:11
The international technology and mechanical engineering company is developing into a provider of integrated complete solutions by 2030. At this year's bauma, PALFINGER is presenting its first successes, as shown by the range of modular smart and emission-free access platforms.

The construction site of the future requires solutions that are connected, intelligent and adaptable to various requirements. With its Vision & Strategy 2030, the global market leader in crane and lifting solutions has set the clearly defined goal of creating integrated complete solutions that proactively meet the challenges of tomorrow. The electrification of products and solutions plays an essential role here, as emission-free and reduced-noise work is increasingly required. At this year's bauma, PALFINGER impressively demonstrates the potential and benefits of electrification of access platforms.
Electrified access platforms
For PALFINGER, access platforms are future-oriented products. They enable safe and quick operation in narrow, densely built-up lanes as well as on uneven terrain. At bauma 2022, PALFINGER presents a range of current applications that enable emission-free work in noise-sensitive locations thanks to the benefits of electrification. The first prototypes of mobile and retrofittable eDRIVE battery packs demonstrate the flexibility of electrification: They enable quick and easy conversion to emission-free operation. Thanks to battery operation, these machines can even work in places without a power supply at the same speed as in diesel mode. PALFINGER is thus presenting various possible scenarios for all entry-level operators and newcomers for an electrical solution in the Low Smart, Smart, Light, Premium and Jumbo NX class models. Customer feedback from this year's bauma will be incorporated into the next implementation phases for the range of products in the series. Electric drives already integrated into vehicles are available for the P 370 KSE, which unites a diesel engine with an electric drive. This combines the lifetime of a diesel engine with significant fuel savings and lower operating costs. Another highlight are the prototypes of the all-electric emission-free access platforms, which will be on display at bauma. The P 280 CK can be seen on an eVolvo and the P 250 BK on an Iveco eDAILY. They give a first impression of what the complete conversion to electric mobility could look like for an environmentally friendly construction site.

The PALFINGER P 250 All Terrain proves its strength when used on particularly uneven ground. It combines the all-terrain expertise of an Unimog with the performance of a PALFINGER access platform and, thanks to its maximum working height of 25.3 meters, can handle even the most demanding tasks.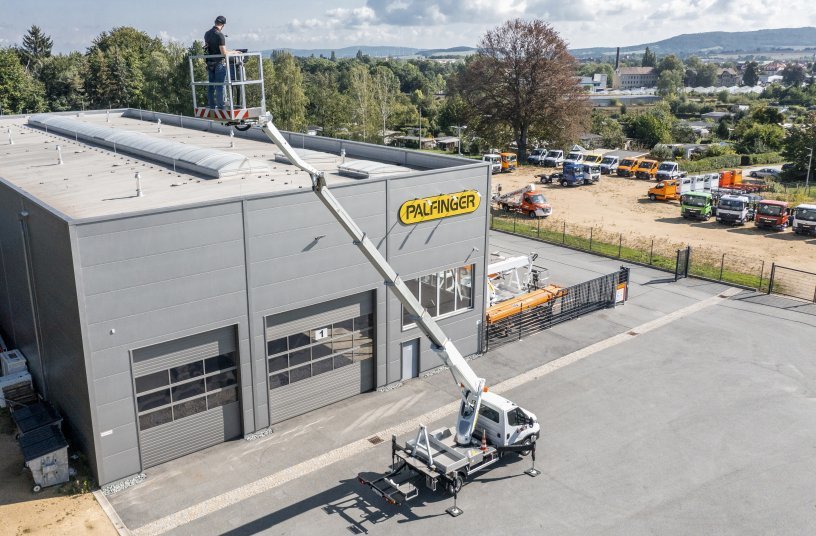 Access platforms with great future potential
"At this year's bauma, we are demonstrating the great future potential of access platforms. As flexible and already highly electrified applications, they enable work to be carried out where it would otherwise be difficult — either due to uneven terrain or emissions and noise regulations," says Gerald Pschernig, Product Line Leader Aerial Work Platforms and Special Solutions at PALFINGER. "As we continue to innovate and invest in this product area, we are focusing on two other topics in addition to advancing electrification: design engineering with more powerful materials and more digitalization." The aim is to develop purpose-specific electrical solutions for all customer segments. The technology company is showing that PALFINGER is turning words into action by expanding its existing plant to around 32,000 m2 in Löbau to become a competence center for access platforms. From 2023, in addition to light and premium classes, large work platforms will be assembled at the plant in Görlitz, Saxony. As a result, the site will be a significant pillar for future-oriented design and series developments in all specialist disciplines — from mechanical engineering to mechatronics and application programming. The three European distribution centers in Lengau (Austria), Bremen (Germany) and Toulouse (France) also ensure that spare parts are available in the shortest possible time. The electrification and digitalization of access platforms form the basis for PALFINGER to develop another future-oriented flagship product on the way to new horizons, in addition to the loader crane.

All PALFINGER platform innovations and solutions are at bauma 2022 at stand FS.1304-1, at the main booth FN.826.
Source: PALFINGER AG