17 September 2021, 10:22
LR 1700-1.0 proves its worth in the construction of a powerful wind turbine

Crane companies Hofmann and Wasel take delivery of first machines

Crawler crane sets new standards in its class – all innovations on board – Lifting capacities of the LR 1750/2 achieved or even surpassed in the wind farm
Time for something new! With the LR 1700-1.0, the Liebherr factory in Ehingen is bringing a worthy successor to the successful LR 1600/2 and the result of its latest developments in innovative crawler crane technology onto the market. A highly efficient powerhouse is coming to construction sites. The first of these are two machines – delivered recently to the German crane companies Hofmann (Paderborn) and Wasel (Bergheim near Cologne).
The new Liebherr LR 1700-1.0 crawler crane is gaining momentum. The first jobs deploying the state-of-the-art powerhouse from Ehingen have been completed with tremendous success. The 700-tonne crawler crane recently fulfilled the high expectations placed in it at its première in a wind farm near Paderborn. The local crane company Hofmann KranVermietung GmbH & Co KG, a subsidiary of the Bracht Group, used the crane to erect a Nordex Delta 4000 wind turbine. The LR 1700-1.0 masterfully dealt with the prefabricated 96-metre high concrete tower for the turbine with a hub height of 164 metres. The heaviest components were the nacelle and drive train with gross loads of 72 and 75 tonnes.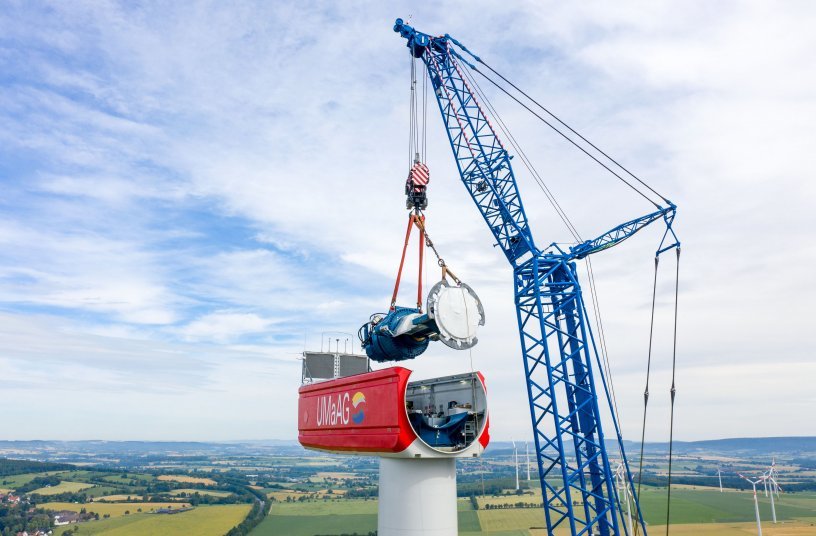 Heavy boom allows higher wind loads
At the "Holzhausen" wind farm, about 20 kilometres east of Paderborn, the LR 1700-1.0 was equipped with a 165-metre-long main boom. This includes nine lattice boom sections of the somewhat wider H-Version ("Heavy"), each twelve metres long. "The H-Boom lets us operate under higher wind loads", explains crane operator Christoph Bergmaier. The greater wind tolerance of this boom configuration can save the crane and assembly teams on site many a stoppage due to excessive wind. Liebherr allows wind speeds of 11.2 metres per second for the LR 1700-1.0 – as for all current LR crane types with special wind power equipment configurations. With only a minimally reduced maximum load, this value even increases to 13.4 metres per second. This is an invaluable advantage for customers and end users, because normally the wind stops at nine metres per second.
Hofmann's new LR 1700-1.0 comes with all the innovations of Liebherr's crawler crane development from recent years – and has other time-saving features too. "The VarioTray divisible derrick ballast and V-Frame allow us to work with 60 tonnes of derrick ballast during the entire assembly of the turbine – so we don't have to carry out any time-consuming ballasting", Christoph Bergmaier is pleased to say. The large ballast pallet is only docked for erecting or taking down the lattice boom – which, by the way, can be erected to an impressive length of 198 metres. A procedure taking about ten minutes with just four bolts – and a total of 375 tonnes of counterweight is already hanging from the derrick boom.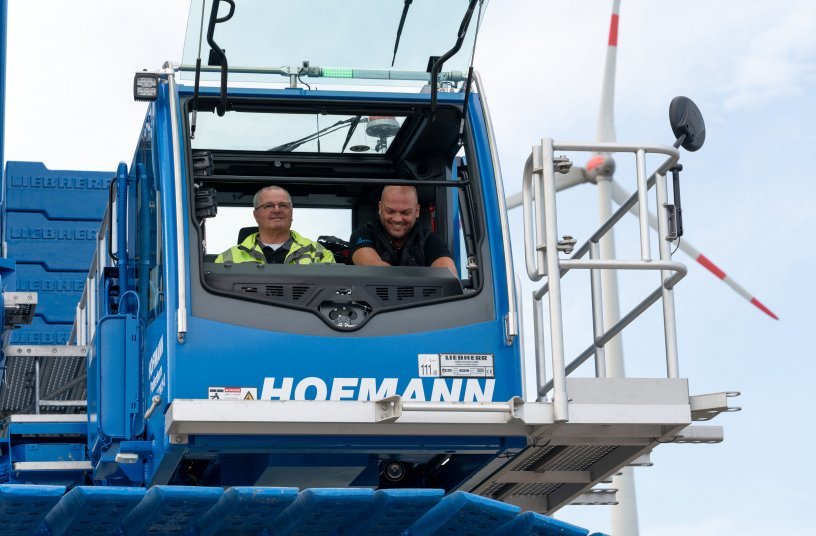 "Really user-friendly crane"
The continuously adjustable V-frame ballast radius enabled the blue-painted Hofmann crane to operate in relatively little space on the construction site near Paderborn – even during the slewing process. For the assembly of the wind turbine components, the two drivers then steered their crawler crane close to the tower – with a radius of 26 metres, all components were assembled. Even the heaviest loads on the hook, the 72-tonne nacelle and the three-tonne drive train, were handled without any problems. "The crane can be operated very smoothly and effectively even with heavy loads at height," reports Christoph Bergmaier, who takes turns with Stephan Dickel at the controls of the Liebherr crane. His succinct conclusion after the first job with the new LR 1700-1.0 at the wind farm: "Powerful crane and really userfriendly!"
Source: Liebherr-Werk Ehingen GmbH