9 June 2021, 13:02
The 250 t capacity all-terrain crane is supporting large scale projects in Singapore

It is the latest Grove addition to the company's fleet of rough-terrain and all-terrain cranes

The long history of excellent customer support offered by Manitowoc gave Sin Heng the confidence to invest in the first unit in Singapore.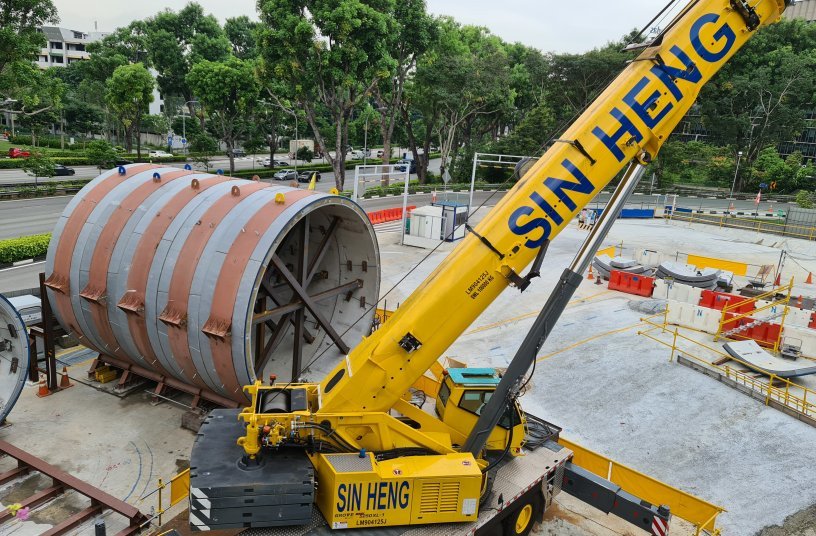 Singapore-based Sin Heng Heavy Machinery is the owner of the first Grove GMK5250XL-1 in the country. The 250 t capacity crane offers the longest boom on any five-axle all-terrain machine and one of the highest capacities in its class. It will be put to work on projects throughout Singapore on construction, civil engineering and oil and gas projects.
Sin Heng chose the GMK5250XL-1 because it needed a compact and reliable crane to compete on a range of projects, especially in the oil and gas sector. With the crane's specifications and considering Sin Heng's positive experiences with Manitowoc down the years the company decided to upgrade its fleet with the new model.
Powerful and roadable
The GMK5250XL-1 features a 78.5 m TWIN-LOCK boom – the longest in its class. This boom can be combined with an optional 17.8 m swing-away jib and extension of 2 x 8 m inserts for a total possible jib length of 33.8 m. The machine features a Mercedes OM471LA Tier 4F/Euromot 5 engine with Mercedes G280 16-speed transmission inside a small footprint, offering excellent power while remaining highly maneuverable on tight job sites. The GMK5250XL-1 has particularly good specifications for road travel, and includes the unique Grove MEGATRAK suspension system.
Manitowoc's patented MEGATRAK independent suspension includes all-wheel-steering for even better maneuverability. MEGATRAK works by ensuring that all the wheels of the crane stay on the ground while travelling, keeping stresses and weight evenly distributed.  Coupled with interchangeable counterweight slabs and self-rigging auxiliary hoists, operators can expect easy transport and handling from the crane.
First-rate service
A Manitowoc customer since 2007, Sin Heng has purchased a wide range of the company's cranes including Grove GMK5130, GMK6220L, GMK6300 and GMK4100L all-terrain cranes, and RT9130 rough-terrain cranes. The quality of the after-sales support is a key reason for Sin Heng being repeat buyers of Manitowoc cranes.
Sin Heng is an established provider of heavy lifting services in Singapore, involved in the rental and sales of cranes, aerial lifts and other heavy lifting equipment. The company also provides engineering services as well as sales and distribution of related equipment and parts.
Source: THE MANITOWOC COMPANY, INC.