SKY Agriculture´s leadership in France in 2016 now confirmed
19 April 2017
The AXEMA (the French union of the agricultural machinery manufacturer) published the manufacturer´s market shares for the trailed sawing machines. SKY AGRICULTURE´s leadership in the field in 2016 has now been confirmed.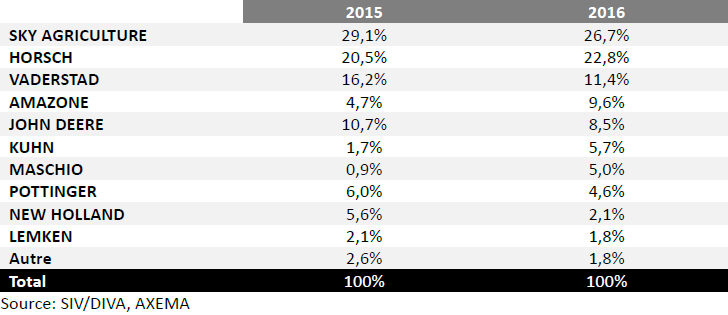 Launched in 2013, SKY AGRICULTURE has rapidly found its place in the French market. Of course, this is due to a combined effort of a whole team with our dealer network comprising in 2013 25 dealers in France and increased to 30 to date.
Since its launch, SKY AGRICULTURE has clearly sought to promote the agriculture of soil conservation. The agriculture is in crisis and we are convinced that more and more farmers will be intrigued by these new methods for soil cultivation.
The 3 pillars of soil conservation are as follows:
1. Low soil perturbation, direct seeding and minimum tillage techniques
2. Maximum soil coverage: cover crops and green seeding
3. Biodiversity: extending the rotations, seeding companion plants, promoting auxiliary plants, mixing plants and so more innovative ways to proceed.
To guide the farmers through this process, SKY AGRICULTURE was established on a farm. La Conillais farm in the French Department Loire-Atlantique disposes of a training centre for the promotion of the conservation agriculture. There, we offer throughout the year numerous training sessions to farmers, schools, dealers and importers. We also have set up a European Road show for the conservation agriculture. Our whole team and all trainers and speakers collaborating with us are aware of those conservation issues. As our head quarter is located on a farm, SKY AGRICCULTURE´s team is directly involved in the daily agricultural and farmers´ concerns and problems.
Simultaneously, SKY AGRICULTURE has invested in a high quality service. A technician is accompanying the start-up of each machine and ensures that everything is going well. In the wintertime, the technician visits the users again and monitors the farmers´ satisfaction to forward the wished ameliorations from the field to the department of Research & Development. We have a close relationship with our users, and you can find on YouTube 40 clear testimonies of farmers using our drill machines in France.
Finally, SKY AGRICULTURE relies on world-class factory. Both production plants are certified (ISO 9001) and continuously adapt the products according to the farmers´ feedbacks. Our product line has been designed and developed to implement the principles of the conservation agriculture.
Discs for seeding into "big" multi-species cover crops

Reduced discs angles to reduce the soil disturbance

Multi-tanks to enable the seeding of mixed plants, of companion plants

Possibility of 2 different depths in the same slot

Fertilisation and seeding

Low power consumption for the use of lighter tractors
Of course and at the end, we would like to thank all our users for their trust. They are our best ambassadors and they are at the core of our concerns.
We invite you, after the spring seeding and before the harvesting season, to join our next training sessions. The dates and locations are available on our website.