13 November 2023, 11:16
For companies in the construction industry, introducing digital tool management means taking an important step towards intelligent resource utilisation. The basis for this is the ability to monitor each tool over the duration of its use. This is not just about allocating tools to current construction projects on a daily basis. 
Under the keyword "digital equipment file", all the information required for scheduling, management and practical use on site is to be collected and made available. The Swiss provider Timly has developed its software solution with a special focus on the construction industry. Its database can be a valuable basis for the digitalisation of construction sites.
Where the journey is taking us: digital trends in the construction industry
The digital transformation is omnipresent. New trends are finding their way into most people's everyday professional and private lives at ever shorter intervals, changing habits and processes. Numerous innovations in recent years are important for the construction industry:
Building information modelling: The term building information modelling (BIM) refers to the structured and networked planning of construction projects using software. Modelling is carried out digitally so that interdependencies between trades can be simulated at very early planning stages. BIM software also plays a role during the construction phase and even during subsequent management.

Artificial intelligence and machine learning: Artificial intelligence (AI) and machine learning have become practicable. Simulations and automated evaluation of mass data are now possible with astonishing precision. There is potential here for the construction industry, for example in the optimisation of work processes.

Cloud computing and mobile applications: When documents and important information are only available in digital form, easy access on site must be guaranteed. Cloud services, software-as-a-service models and apps for mobile devices help to ensure that data can be accessed from any work location. The up-to-dateness of the database is also increased if entries are made directly on the construction site. 

Internet of Things: Smart sensor technology that is networked with centralised control software enables the automation of processes. Machines and tools can be tracked. Real-time data is permanently available and can be stored with actions when predefined events occur. In practice, for example, ordering processes for material are automated when the fill level falls below a certain level.

Data analysis: Valuable conclusions can be drawn from the collected data, which can be used to support decision-making processes. It is crucial for effectiveness that data records from different, incompatible sources do not have to be merged first.                                                                                      

Data protection and cyber security: At the same time, there is the new challenge of protecting data from unauthorised access and taking precautions against cyber attacks. The more networked devices are integrated into everyday processes, the more dependent companies become on their functionality.
Holistic IT concepts are also becoming increasingly important in the construction industry. The more heterogeneous the tools used, the greater the challenge of being able to record them in a standardised tool management and tool tracking system.
Digital tool management: the skilled trades and construction industry have special needs
Changing work locations, demanding working conditions and a high turnover of employees on a construction site are among the factors that make tool management so challenging for the skilled trades in general and the construction industry in particular. Added to this are work tools that could not be more different. 
Vehicles, self-propelled machines, classic hand tools and consumables are just some of them. Trying to accommodate these items uniformly on a worksheet in the spreadsheet programme without having to leave out important information seems almost hopeless.
Database-based programmes have an advantage here. They can be used to create any number of complex and interlinked collections of information. However, the user is only ever shown a dynamically generated view for the respective application purpose. This makes user interfaces clearer. 
Data processing in the backend, on the other hand, is very effective in a database. Information does not have to be stored multiple times. Powerful database programming languages are used internally for queries and filtering. Databases are also universal. They can store simple text entries and numerical values as well as large files, for example.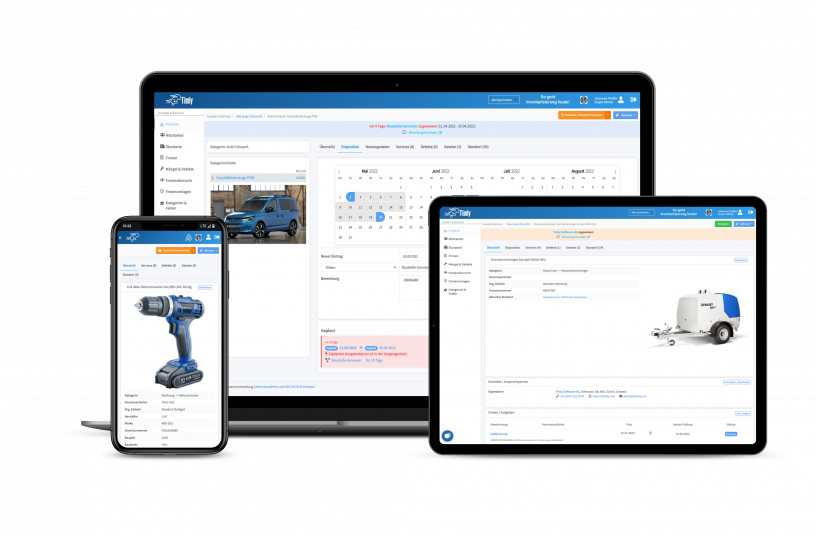 Using software for efficient tool management
Developers, such as those of Timly's inventory management software, combine several of the technologies presented. In addition, digital tool management is part of a software package that was originally developed for the needs of a medium-sized construction company. To summarise, the software follows the following principles:
Standardised recording: The user has the option of creating templates for different work equipment and defining the required attributes themselves. 

Categorisation criteria: All assets can be assigned to a superordinate category, such as vehicles or construction machinery. It is also possible to assign work equipment to locations and persons.

Logical groupings: A container function can be used to create logical groupings to which other work equipment can then be linked. Possible container objects are, for example, customer service vehicles, toolboxes or premises.

Centralised appointment management: The calendar integrated for each asset enables appointments to be filtered in the maintenance planner. Optionally, those responsible are automatically informed of upcoming events.

Software-as-a-Service: Timly is offered as a cloud-based web service. Access is via a stationary or mobile device over the internet. In the vast majority of cases, this enables access directly from the construction site. For the user, this form of software provision has the advantage that administration and protection of the cloud server are the responsibility of the provider due to the licence agreement.
Use the app as an interface for smart tool management
Conventional IT devices, such as laptops or even workstation PCs, are only suitable to a limited extent for operating tool management, even on large construction sites. Dirt and weather conditions would quickly impair the functionality of the hardware. 
Those responsible at Timly have also recognised this. That is why the software includes an app for access via mobile device. QR codes are also available, which can be printed out in different sizes and can therefore also be used to label small tools. 
When using the app on a smartphone or tablet, the integrated camera is also used as a barcode scanner. This makes it possible to call up device profiles without having to make manual entries. In this way, documents are available digitally at every workstation. In some cases, it is also possible to process forms for inspection processes without paper.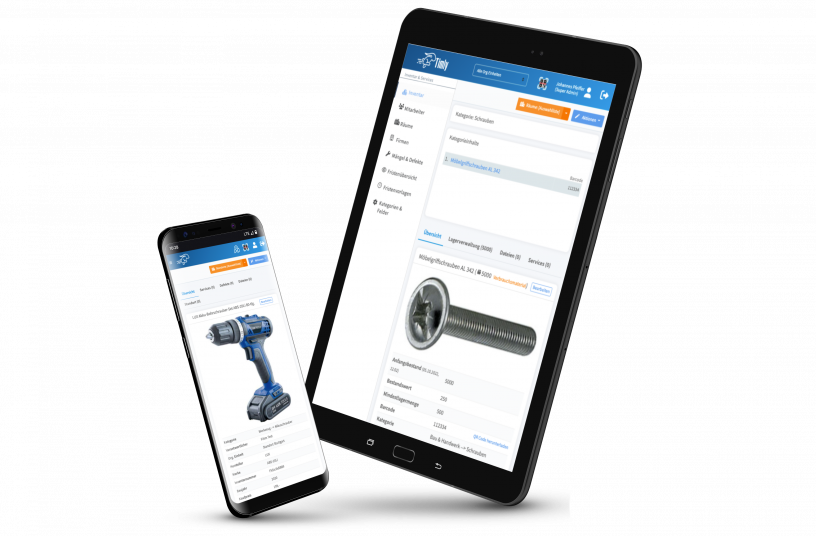 IoT sensors in practical use
Only when measurement results from IoT trackers can be processed natively in application software do they represent more than a mere convenience function. Professional products are able, for example, to check the fill levels of operating materials, monitor the ambient temperature or record distances travelled and operating hours of construction machinery via GPS. 
The security aspect also plays an important role given the high risk of theft in the construction industry. In this area, Timly offers the option of natively integrating IoT trackers from Swiss partner company adnexo for its tool management. Outputs are processed, for example, in location management and by forwarding messages in the software's internal messaging system.
Tool management as an important building block for information management in the construction industry
The term Industry 4.0 is well established in manufacturing and, as we know, refers to the smart networking of machines and systems. Rigid IT infrastructures are rather unsuitable for construction projects. Nevertheless, there are many reasons why the benefits of smart technologies should not go unnoticed in this sector either. Approaches that are still relatively new, such as Timly's digital tool management, can serve as an interface for the necessary information processing.
Source: Timly