5 July 2021, 06:00
Strabag has deployed Germany's first Potain MDT 809 tower crane, which, with a capacity of up to 40 t and 80 m of jib, is the largest topless crane ever to be built by Manitowoc.

The Austrian contractor required the giant crane to meet its capacity and reach requirements for the FAIR particle accelerator facility construction project in Darmstadt, Germany, where it was installed on March 31 and will remain for three years.

Strabag chose the Potain MDT 809 over other tower cranes in the 800 mt category for its simple transport, erection and disassembly requirements, which are the same as for a smaller crane of standard size.
Following its successful market launch at Bauma 2019, the Potain MDT 809 has arrived on several construction sites in North America, Asia Pacific and Europe. Since December 2019, the brand's largest topless crane to date has extended one of the world's most famous skylines as it helps to reconstruct the Notre Dame Cathedral in Paris, France. Now Germany has seen its first MDT 809 rise up from the ground to construct the FAIR particle accelerator plant in Darmstadt, where it will work alongside an MDT 259 and among a lot of other cranes for at least two years.
Austrian construction company Strabag took delivery of the giant crane at the end of 2020, having selected it for its topless design, high load capacity, optimized transport, quick and efficient assembly, low operating costs and outstanding performance thanks to the latest technology and Manitowoc Crane Control System (CCS).
The Potain MDT 809 topless tower crane is available in three payload variants – 25 t, 32 t and 40 t. Strabag chose the 32 t variant, which offers a maximum load of 8.3 t at the jib tip. The crane on site is set up with 80 m jib length and 67.10 m height under hook. The erection on fixing angles took just one day for the masts and the slewing part. This was possible thanks to the preparatory work Strabag did, such as preparing the 15 m long tower segments and assembling the jib in 15 m sections.
Love at first sight
"When I first saw the Potain MDT 809 at Bauma 2019, I could tell immediately that this crane concept was a good one. For me, it was the only real innovation at the fair," said tower crane expert Thomas Kühner, who has worked for Strabag since 2006.
"One year after Bauma, the FAIR project came through, which required us to be able to lift 5 t and reach the whole construction site. Out of the cranes available, the Potain MDT 809 was the best option for ease and speed of transport, erection and dismantling," he continued.
"The main advantage was that the jib is only 1.4 m wide and less than 2.5 m high, which leads to compact transport with fewer containers and trucks. In fact, it has the same transport and erection requirements for a 450 mt crane of standard size. This is best in class for an 800 mt topless crane," he continued.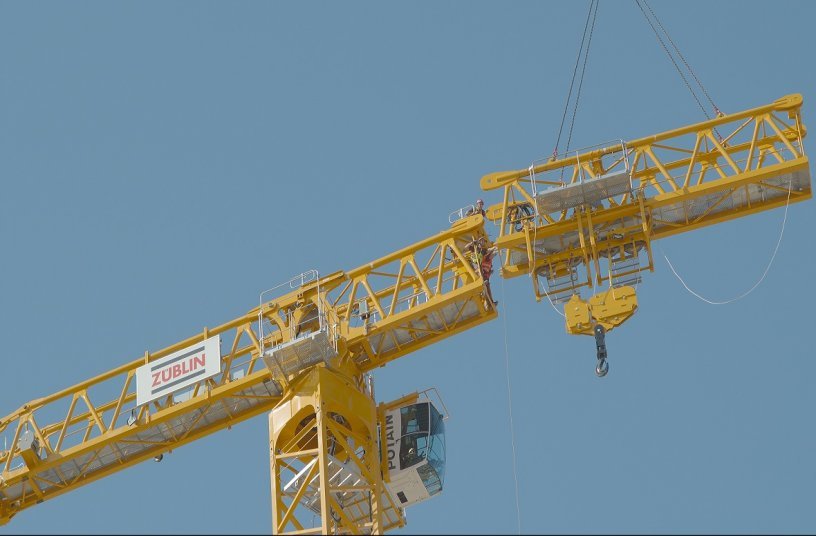 Since the Potain MDT 809 arrived on site, Strabag has been 100% satisfied with it. The crane is used for various jobs on the site and can move the 4 cubic meter bucket, which weighs 10 t, out to 70 m.
With its simple transport and erection requirements – which reduce logistics and mobilization costs – the MDT 809 meets all of Strabag's expectations, so it's to be expected that the crane will also fully fulfill the requirements at the FAIR construction site with its strong load curve, its fast mechanisms and its precise and adaptable hoisting. The Crane Control System (CCS), which is already a very popular feature on all Potain MDT topless models, further improves the driving experience and ensures the required efficiency on construction sites of this size.
Together with CCS, the CraneSTAR Diag functionality optimizes the operating time. CraneSTAR Diag enables remote access to all parameters of the crane by providing real-time information on the use of the crane, thus facilitating preventive maintenance.
A mega crane for a mega project
The 150,000 m2 FAIR particle accelerator facility in Darmstadt is one of the world's largest construction projects for international cutting-edge research. At the heart of the complex, a 1,100 m long tunnel for the particle accelerator will be located up to 17 m underground and surrounded by 25 buildings and other operational and supply structures. 600,000 m3 of concrete (as much as eight Frankfurt soccer stadiums) and 65,000 t of steel (as much as for nine Eiffel Towers) will be required to complete the project.
Source: MANITOWOC COMPANY, INC.