26 July 2023, 10:13
Kaeser Kompressoren provides sustainable compressed air solutions for industrial needs

New CSD/CSDX and CSG series compressors showcased at EMO

Focus on rotary screw compressors, oil-free compression, and condensate treatment device

Compressors have low energy consumption and efficient drives

CSG series requires 19% less floor space than predecessor range

Models available with air- or water-cooling, refrigeration dryer or i.HOC

Speed-controlled versions available for fluctuating compressed air demand

High-quality, durable airends with innovative wear-free PEEK coating

Aquamat i.CF redefines condensate treatment with active management and simplified maintenance

Kaeser compressors are sustainable, economical, and produced in Germany to strict quality standards

Components used in manufacture are recyclable

Kaeser represents a plus point for nature and the environment in compressed air supply.
Whether through oil-free or oil-lubricated compression, Kaeser Kompressoren provides the perfect solution for all industrial compressed air generation needs. The new CSD/CSDX and CSG series compressors on show at the EMO demonstrate how it's done.
This year, particular focus is being laid on rotary screw compressors from the CSD/CSDX range, oil-free compression CSG-series compressors and the Aquamat i.CF condensate treatment device. The most important highlight of the compressors is their low energy consumption, which is the result of a variety of sophisticated solutions. Both model series impress with drives of the best possible efficiency class, thanks to state-of-the-art synchronous reluctance motors and optimal component layout, which results in particularly low pressure losses whilst reducing energy costs and improving the customer's CO² footprint.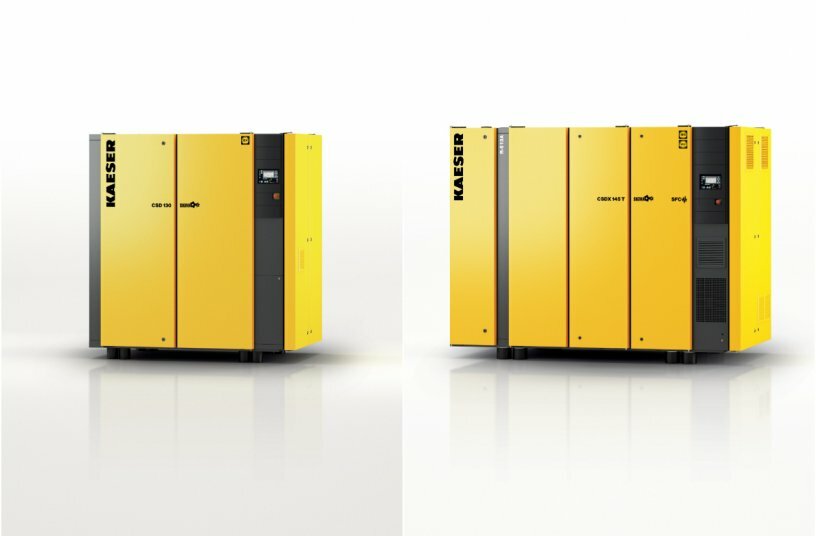 The CSG series provides highly efficient compressed air generation, yet requires 19 percent less floor space than its predecessor range. Models are available with air- or water-cooling, with integrated refrigeration dryer or i.HOC (Heat of Compression dryer), and for flow rates ranging from 4 to 15 m³/min. For applications with fluctuating compressed air demand, speed-controlled "SFC" versions are available.
The CSG series is equipped with high-quality, durable airends featuring the energy-efficient Sigma Profile for which Kaeser is world-renowned. The rotors now feature an innovative new wear-free PEEK coating, which is also particularly temperature-resistant. Biocompatible, FDA-certified and in compliance with European requirements for food contact materials, this coating is perfectly adapted for the pharmaceuticals and foodstuff industries.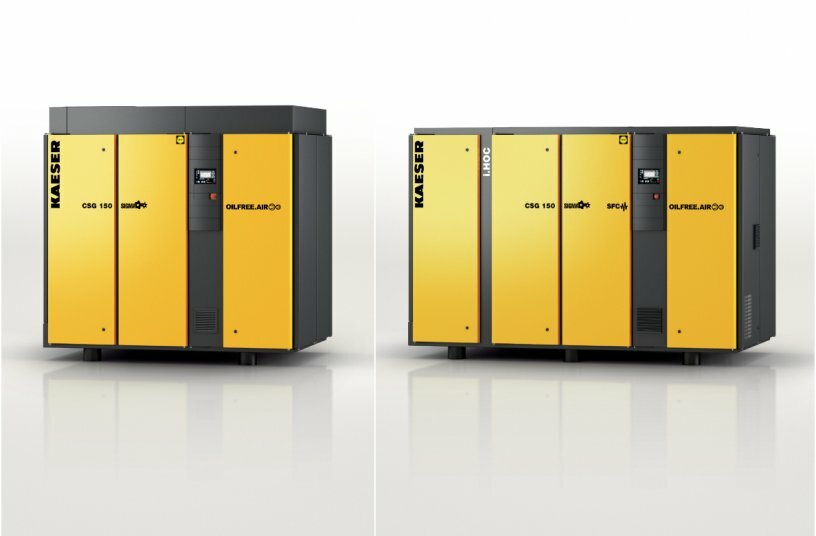 With the intelligent Aquamat i.CF, Kaeser Kompressoren has redefined condensate treatment. Available for delivery volumes up to 90 m³/min, this new oil-water separator now comes equipped for the first time with the Aquamat Control internal controller, which undertakes active management of the process whilst simplifying maintenance planning and making service work safe and environmentally friendly.   
All Kaeser rotary screw compressors impress when it comes to the question of sustainability. Not only do they operate extremely economically, but they are produced in Germany to the strictest quality standards and requirements. Exceptional durability means they can serve a company for many decades to come. Should it ever become necessary to replace them, many of the components used in their manufacture are recyclable. When it comes to your compressed air supply, Kaeser also represents a plus point with regard to nature and the environment.
All product mentioned here can be viewed at EMO in Hall 12, Stand A20.
Source: KAESER KOMPRESSOREN SE