10 June 2021, 11:00
The Merlo P65.14HM telehandler is ready to meet any heavy load handling job in any industry with a specific height and weight requirement. Compact and high performing, the P65.14HM telehandler has a maximum operating capacity of 14,400 lbs. with a maximum lift height of 45'7". Load capacity at the maximum lift is 8,800 lbs.  The maximum reach of 29'5" easily supports up to 3,500 lbs.
This high capacity telehandler packs a lot of power and versatility into its compact (19'4" x 8'3" x 9'4") size. The Iveco 4 cyl. diesel delivers 170HP. The P65.14HM travels quite well at 25 MPH thanks to its CVtronic hydrostatic transmission. The 4WD, with three steering modes, ensure nimble maneuverability on every job site.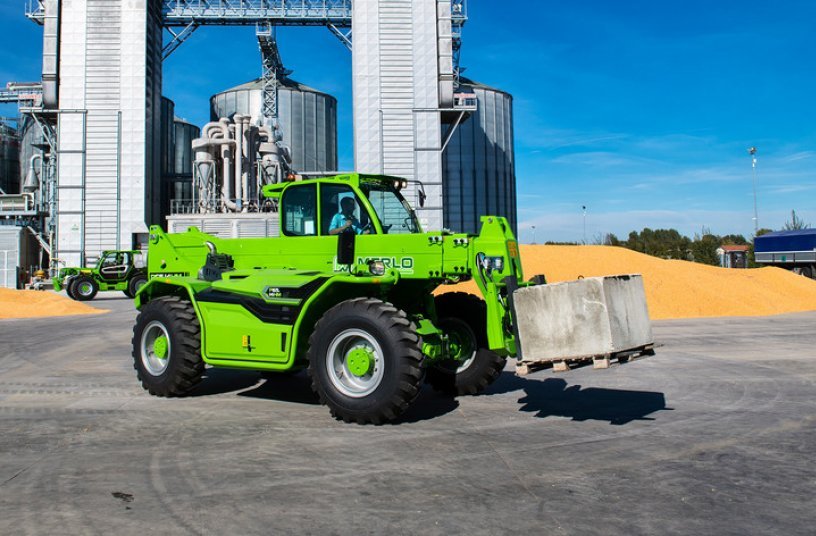 This enclosed FOPS and ROPS cab is mounted on isolation pads to reduce noise and vibration.  The wide, split-door leads into a spacious first-class operation center with heat and AC.  Ergonomic seating is standard. The dashboard, with its automotive look and feel, is engineered for quick fingertip access to all the controls.  The electronic joystick is comfortably easy to use. The machine shuttle is located on the joystick and the steering column. The low pivot boom, coupled with over 42 sq. feet of glass, ensures the operator has a continuous (360°) view of the machine, the surroundings, and the load at all times. Three windshield wipers-front, back, and roof - are standard.
The automatic frame leveling ensures a perfect vertical lift even on uneven ground. Boom side-shift enables an operator to move the boom to the left, and the right, for safe,precision load placement.
The MCDC (Merlo Dynamic Load Control) synchs up with a large 10.1" color display that shows, in real-time, attachment recognition, the machine's geometric configuration, boom extension, angle, and other working parameters. Plus, the no flex, ground engaging boom's Tac-lock system is safely controlled from the cab for quick, safe connection of a wide array of attachments such as buckets, jibs, hooks, winches, and platforms.
Source: Merlo (AMS)