23 June 2022, 14:58
KITO EUROPE establishes a new product category with the new KITO RX. In addition to electric and manual chain hoists, the Japanese high-tech manufacturer now also offers an electric wire rope hoist of highest quality and safety. And the debut has it all, because the new KITO RX is literally up to all requirements. It can be flexibly configured, it is powerful in every version, and is so simple to handle that maintenance can easily be taken over by the operating company or a local
service company.
The new KITO RX: simplicity you can trust!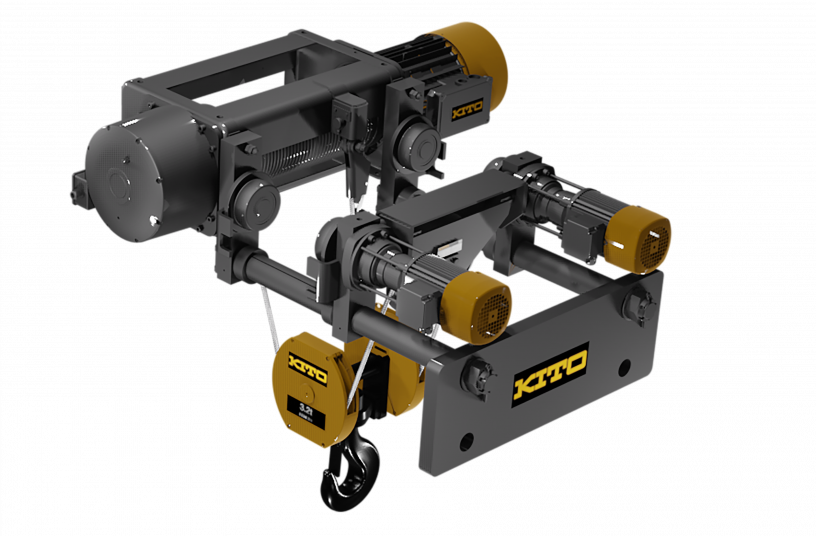 Simply sophisticated
The new KITO RX Wire Rope Hoist is the best choice, if you are looking for a lifting solution for loads of up to 50 tons1. The wire rope hoist can be used on crane systems with a wide variety of applications, and in a wide variety of industries – for example in steel mills, cement plants, paper industries or in general mechanical engineering. The KITO RX is a standard hoist that can be flexibly and modularly assembled into an exclusive hoist. Due to its strong frame, different variants can be built using the basic hoist: The KITO RX can have a standing, a pendent or a lateral suspension on the trolley frame.

Wolfgang Klepper, Senior Business Development Manager at Kito Europe GmbH, on the new electric wire rope hoist: "The KITO RX can be adapted exactly to the customer's needs – an absolute advantage for all businesses where a hoist needs to be replaced quickly and easily because its service life has expired, or the upcoming repair costs don't seem profitable."
Durable in use
Not only the robust exterior, but also the high-quality interior of the KITO RX is designed for durability. You can expect an above-average service life thanks to planetary gears with a linear and enclosed drive concept, motors with thermal monitoring and disc brakes made in Germany.
Features such as gear limit switches, weighing cells, load display, automatic load summation, remaining life time recording, anti sway control, radio control or external auxiliary ventilation for the hoist motor can be added as options. Customized special designs are also possible.
Ensure quality, save costs
The electrical equipment of the KITO RX Wire Rope Hoist is designed without encryption to be safe and extremely user-friendly. The entire electrical equipment, including overload protection, can be programmed by any electronics expert. The customer decides who takes care of the set-up and commissioning of the new electric wire rope hoist, without having to pay extra for trained staff from the manufacturer. In addition, the KITO RX consists of simple and easily accessible modules, so that all
components can be inspected and maintained inhouse by service or operating personnel.
The KITO RX is available as of now from KITO distributors and will immediately become a long-term team member for smooth running operations.
Source: Kito Europe GmbH