Three SENNEBOGEN 830 Mobiles: Metaal Recycling Twente invests in new equipment
4 June 2015
Metal recycling company MRT in Enschede is committed to investing in the future. The scrapyard has been expanded, a new building constructed, now all that is missing is the right material handler. In April, three SENNEBOGEN 830s left Straubing on their way to Holland.
This is something that Zacharias Ince and Martin Titsing of Metaal Recycling Twente wanted to see with their own eyes. The two men from Enschede traveled to Straubing, in Lower Bavaria, to receive their new machines, retrieve the keys and tour the factory. Managing Director Erich Sennebogen, together with sales representative Paul Helmink, handed over the symbolic green key and ensured that, with this purchase, everything right had been done to be equipped for the future. For MRT Managing Director Titsing and Operations Manager Ince, the good reliability and low operating costs were ultimately the deciding factors. With Kuiken as their full service provider, every need will be met and top consultation provided in advance, the two stated.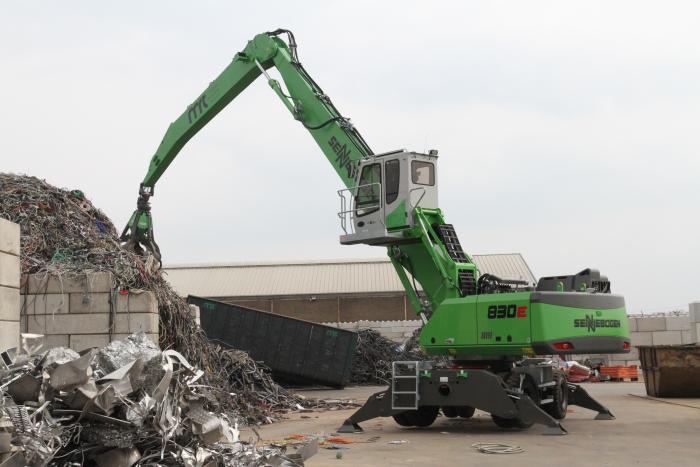 From the factory to the field – optimally equipped with SENNEBOGEN grapples
With the key handed over, the machines were ready for their one-way trip across Germany on the back of a truck – around 700 km to the premises in Enschede.
A few days later, back in Holland, the arrival of the three SENNEBOGEN 830s was being eagerly awaited. The machines will be used to move around 80,000 t of scrap metal, sort electrical cables, supply the shredder, or load barges at the port. This is why the mobile material handlers were equipped with a 2.7 m extendable cab in order to always have an ideal view of the work area. The 17 m long equipment, together with the mobile undercarriage and a powerful 168 kW diesel engine, ensure top flexibility. As the three flatbed trucks finally rolled into the yard, they also had three SENNEBOGEN grapples in tow. The 5-part multi-shell grab capable of hauling 600 l are perfectly calibrated to the handling machines at the factory and will soon be installed by the service technicians at Kuiken NV.
"The new place is now fully equipped and work can begin," Ince rejoiced. And also Kuiken sales representative Helmink was excited to have won over a satisfied customer with plenty of development potential.