4 November 2021, 11:31
Transporting a complete air separation plant, consisting of several large 85-ton oversized units, and over 50 standard and oversized truckloads of parts and materials from 4 different countries via road and ocean to Moglino in Russia. A complex project, but just a regular day's work for the Ahlers' projects and machinery business unit.
Planning and Organization
The receiving company in Moglino ordered a complete air separation plant from their supplier in Italy. The entire plant was transported to Moglino, Russia. The parts and materials came from Italy, Spain, Turkey, and Korea. A total volume of about six thousand freight tonnes had to be moved, and over 50 regular and oversized truckloads were engaged to transport the cargo from Italy, Spain, and Turkey.
The largest units leaving the factory in Italy were 2 cold boxes where the largest one was 35 meters long, 5,5 meters wide, and 5 meters high. These cold boxes were first transported by road to the Port of Marghera (Venice) where they left for Ust-Luga port in Russia by chartered vessel. Upon arrival to the destination port, these units were again reloaded onto trucks and transported to the final Jobsite. Another lot of heavily oversized units was shipped by vessel from Masan, Korea, via Zeebrugge, Belgium to St. Petersburg, Russia. Upon arrival to St Petersburg, these units were also reloaded to trucks and delivered to Moglino, Russia.
Oversized Challenges
Transporting oversized units can be very challenging—the bigger and heavier the cargo, the bigger the challenge. Each route has limitations in terms of the size and weight of the load that can be transported. This can be because of bridges or tunnels, other landmarks or buildings that make it impossible. Most of the oversized cargo was shipped through the Port of St. Petersburg and transported further to Moglino, but this was not an option for the 2 largest units.
For these units, transporting them from the factory in Italy up to the nearest port was already a challenge. Because of all the required works on the route, such as railway crossings, electrical wire lifting, and removal of street furniture – covering a distance of approximately 250 km took 6 days. However, the main challenge was the transport on the Russian territory. As previously conducted route survey showed that transport from St Petersburg was not feasible, we found an alternative route using the Port of Ust-Luga. Port of Ust-Luga is mainly a bulk cargo port, so the challenge here was that there was no suitable equipment readily available at the port to unload the units from the arriving vessel. Ahlers team designed and certified special beams and spreaders, which made it possible to safely handle this cargo.
The main hurdle for the remaining leg of the trip of these cold boxes was several bridges that needed to be crossed en route to the final job site. The composition of the trailers together with the cargo was too heavy to cross these bridges. After an agreement with the relevant transport authorities, certain civil works were done and whenever the load was too heavy for a bridge, we installed temporary fly-over bridges. This operation was done for 3 bridges in the Pskov region and to assist with the installation of these temporary fly-over bridges, suitable cranes were brought to the location and normal traffic was re-routed for the duration of this operation.  Transporting oversized cargo through Russia not only poses operational challenges but equally carries legal and procedural challenges. Permits to move oversized units through tunnels, towns, and across bridges require obtaining authorizations from local authorities and infrastructure owners. These are then submitted to the federal authorities for obtaining the final permit for the entire route. Having a local presence with local knowledge helps facilitate this process.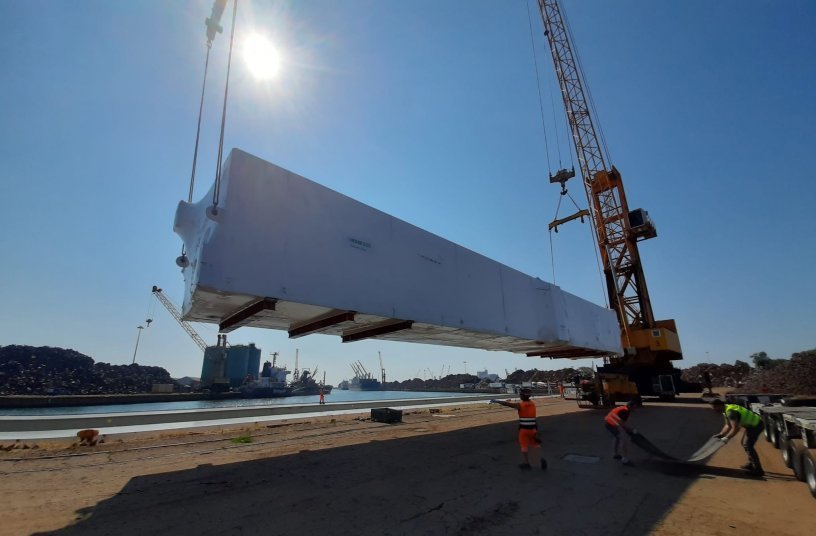 Customs Challenges
Another big challenge for this project was customs-related. The product here was a complete air separation plant. The seller needed to import the plant from various origins to Russia. All paperwork that needed to be submitted to the Russian Customs Authorities was arranged and managed by Ahlers customs specialists.  
For the buyer, it was essential to import the plant as a whole production line, because then a zero percent import duty would apply. This means that a classification decision was needed from the Russian Customs Authorities, allowing all components to be imported under 1 HS code. Preparation and application for a classification decision take four to six months and entail a lot of paperwork. The Customs Authority requires an extreme level of detail when it comes to information about the parts. This ranges from designs of the plant itself to technical details of each smallest component that needs to be imported. Basically, they need to make sure that each component, each nut, and bolt is actually an integral part of the production line.
All this information needed to be submitted to the Customs Authorities while the actual procurement of the parts was still ongoing. With projects as complex as this, the complete list of components is subject to change. For example, if one supplier has no parts available, parts may be procured from another supplier. But with the parts list already submitted, you would have to start several additional procedures with the Customs Authorities to update the list of parts for the classification decision. Our team's extensive knowledge and experience with Russian Customs' rules and regulations ensured a favorable classification decision for the project. In this specific project, Ahlers took care of the customs process for both the seller and the buyer, which made importing into Russia as smooth as possible.
Why Outsource Your Project Logistics?
If you outsource your project logistics, you can leverage the knowledge and experience of your logistics provider. Especially when exporting to or importing into Russia, local knowledge and expertise are vital.
Having a logistics provider that can also take care of all customs issues decreases the risk of delays or other issues. Having the same provider handle both the logistics and the import formalities increases the chances of all shipments arriving without hassle or delay due to customs issues. It helps when one single team has a complete view of the project. 
If you have any questions about project logistics, contact one of our specialists.
Source: Ahlers