Wacker Neuson adds special concrete edition dumper to line
21 March 2017
Wacker Neuson is introducing a new special concrete edition of its 3-ton dumper. The 3001 Concrete Edition is outfitted with a specially designed concrete chute that will allow delivery and placement of concrete to be faster and more efficient.
Wacker Neuson engineers, with the help of concrete contractors, designed the concrete chute and dumper's special bucket shape to allow transport and placement of concrete with less spilling and precise placement while reducing splattering of the concrete. The metal chute has been shaped with high side walls to avoid spilling and the narrow shaped front enables precise pouring into the desired location. The 3001 bucket has been designed with special walls that are higher and tapered inward to avoid spilling while transporting concrete.
The larger capacity of the dumper, compared to a concrete buggy, allows contractors to transport 40 cubic feet of concrete per load, plus the dumper travels up to 14 miles per hour, making the concrete placement process faster and more efficient, reducing cycle times. The dumper has a small foot print that reduces the risk of rutting, and by adding optional turf tires, the dumper will not disturb finished surfaces.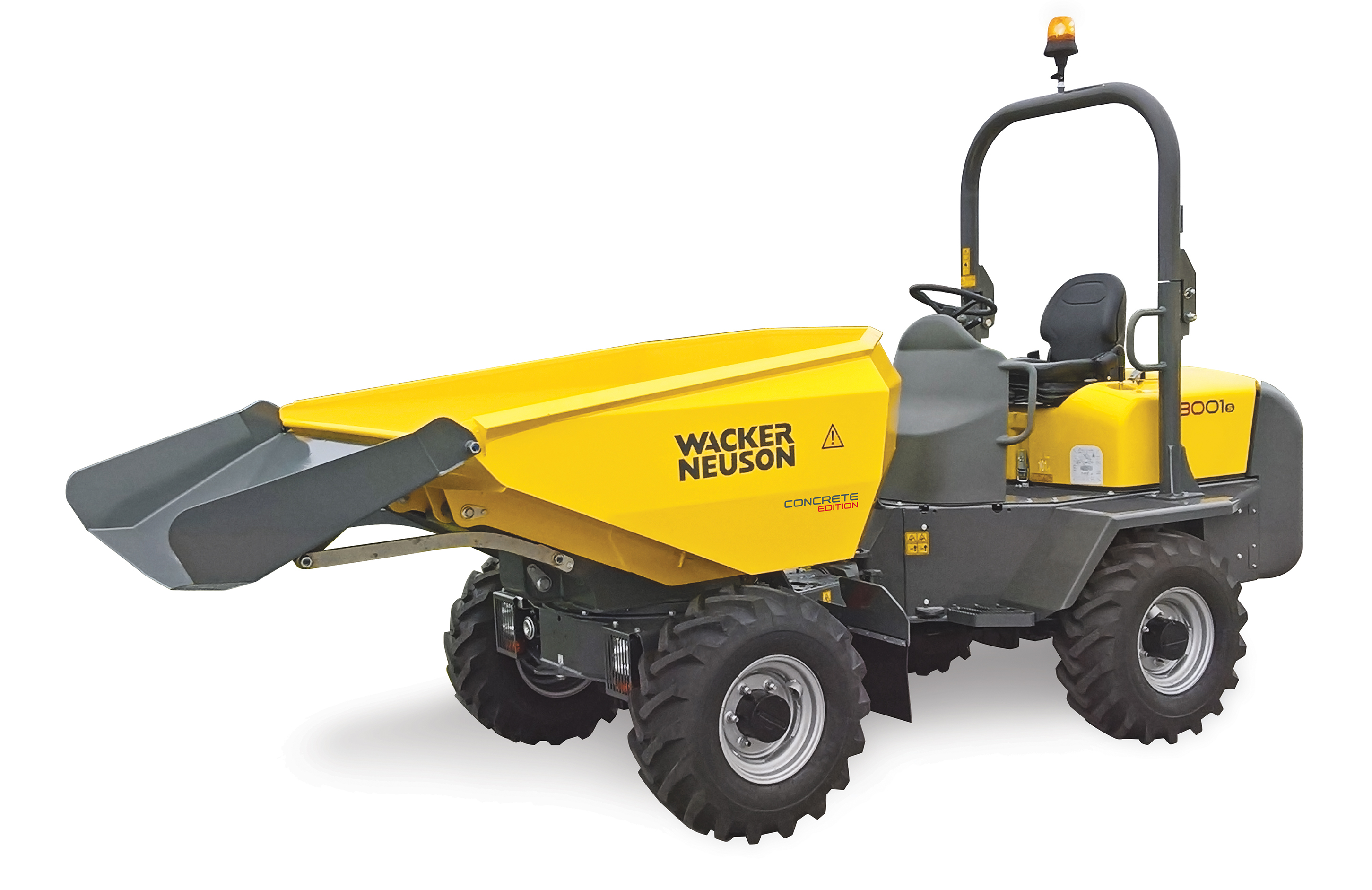 Wacker Neuson's 3001 dumper offers all-wheel hydrostatic drive that allows transportation over rough terrain and in remote areas where the concrete truck can't access. The articulated steering allows for a tight turning radius which is especially beneficial in confined area sites. Further enhancing the precise placement of the concrete is the ability of bucket to swivel, allowing material to be unloaded from front or either side of the unit. The comfortable operator's platform with foldable ROPS is easily accessible from both sides of the machine and is easy to drive with user-friendly controls.
Wacker Neuson also offers the DW50, DW60 and DW90 dumpers. These professional material handling machines combine a compact design with powerful engines and hydrostatic all-wheel drive making them capable of hauling more in less time, reducing cycle times and increasing efficiency.