22 January 2021, 08:48
At the end of October 2020, Manitowoc handed over a new Grove GMK5150L all-terrain crane to German crane and heavy transport specialist Wiesbauer.

Florian and Felix Wiesbauer took part in the handover ceremony along with crane operators Jannik Weigle, Ralf Hoffmann and Samuele Polidori.

Wiesbauer chose to purchase the GMK5150L based on previous good experiences with Grove cranes, highlighting their high capacities, impressive price-performance ratio and their popularity among operators.
German crane and heavy transport specialist Wiesbauer strengthened its fleet at the end of October with a new Grove GMK5150L. Florian and Felix Wiesbauer traveled to the Manitowoc factory in Wilhelmshaven for the handover, along with three of their crane operators.
"The strong price-performance ratio from Grove along with the high capacity of the GMK5150L convinced us to invest in the 150 t Grove crane. As a family-owned business, it is important to us that our crane operators feel comfortable at work. The Grove cab and MAXbase system definitely contribute to this," Felix Wiesbauer said.
With the MAXbase technology, the crane's outrigger base can be adjusted asymmetrically. This further increases the lifting capacity and also provides greater flexibility to set up the crane in confined work areas.
"The MAXbase option makes work easier," said Jannik Weigle — a statement with which fellow crane operators Ralf Hoffmann and Samuele Polidori were in full agreement. "You can adapt the crane to suit the site conditions and, on the side, facing away from the load, for example, operate with half extended outriggers," he continued.
Furthermore, Wiesbauer's GMK5150L is equipped with a 17.8 m bifold swingaway, which makes the crane even more flexible to deploy by offering greater reach.
With its 60 m long MEGAFORM boom with TWIN-LOCK pinning system, the 150 t Grove crane is ideally equipped for its future tasks: erecting tower cranes, lifting prefabricated elements onto roof surfaces, installing air conditioning units in buildings or mounting billboards at great heights. These are all tasks the GMK5150L can complete with ease thanks to its high capacities, compact footprint and outstanding maneuverability.
After the handover, the GMK5150L was driven to the Wiesbauer headquarters in Bietigheim-Bissingen where its first jobs were waiting. The first task was to relocate a fire water tank weighing almost 22 t. The second assignment was to erect a Potain MDT 178 tower crane from a distance of 18 m. The components of the Potain crane weighed between 6.5 t (tower crane tip and counter jib) and 10.5 t (main tower crane jib).
Wiesbauer's new addition is now the second GMK5150L to join the fleet, which already includes around a dozen Grove cranes.
Lukas Brämer, sales representative for dealer KranAgentur Werner, thanked Florian and Felix Wiesbauer at the handover ceremony for their trust and good cooperation: "I am glad the decision was clearly in favor of the GMK5150L and that we can help make the Wiesbauer crane operators happy. High utilization for the future!"
Wiesbauer is headquartered in Bietigheim-Bissingen, Germany, and has four other branches across Baden-Württemberg. The traditional family business offers crane and heavy-duty logistics services to customers throughout Europe and employs around 160 people. The company's fleet comprises approximately 80 cranes, including Grove models from 80 t to 300 t, as well as other transport vehicles and forklifts.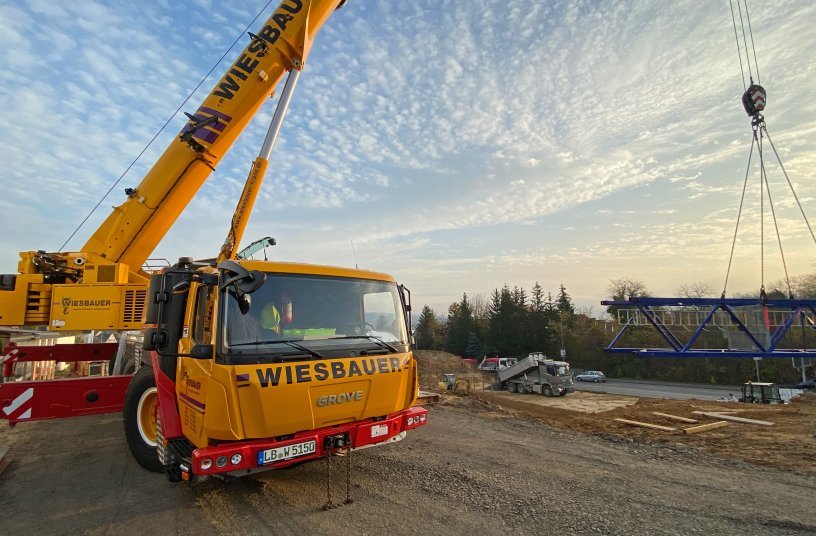 Source: MANITOWOC COMPANY, INC.